As you know by now, I am a complete Disney addict. I love the parks, the movies, all of it. So much so, my husband and I are annual passholders. I must say, the best decision we have made. Why? We can visit just about anytime we want (except for a few blockout dates) But, I find my clothes need a bit of updating when the winter months come around. So, what should be on your Disney packing list? Here is what to wear in Disney World in December.
First off, the quick and easy answer is… layers. Plan on layers. In the morning the temps in Central Florida can be in the mid to upper 50's but by the afternoon, the sun risings those temps to the lower 80's. Then when the sun goes down, we drop again. See? Layers is the best answer. But seriously, let's explore the many choices and options you should consider packing for your winter Disney vacation.
Personal Preference
A lot of this is up to personal preference. If you are like me and get cold easily, then I always have something with long sleeves with me (usually a pullover) Coming from a state that is currently experiencing cold weather? Then you will probably think flip flops and short sleeved shirts are perfect. But, it also depends on which of the theme parks you will be visiting.
How to carry all of the stuff
I know, I'm talking layers and you're saying… how am I going to carry all of this? My suggestion? A backpack. Personally, I love the mini Disney themed backpacks. Why? They aren't that big, they are so darn cute and best of all… I can match my ears (Disney of course) to my bag. Some of my favorites are from Loungefly. I have certain bags I plan to wear to certain parks. An animal print one with matching ears… perfect for Animal Kingdom, see?
So far I sound like a seasoned pro, but it has taken me about five years of visiting the Parks to get to this point. I started trying to put stuff in my pockets, which doesn't work very well. Then I tried to have my husband carry stuff in his camera bag, well that only works if he brings the camera bag. Thus, I morphed into THAT person who wears the Disney ears and has the matching bag. But, it was out of necessity, really.. promise!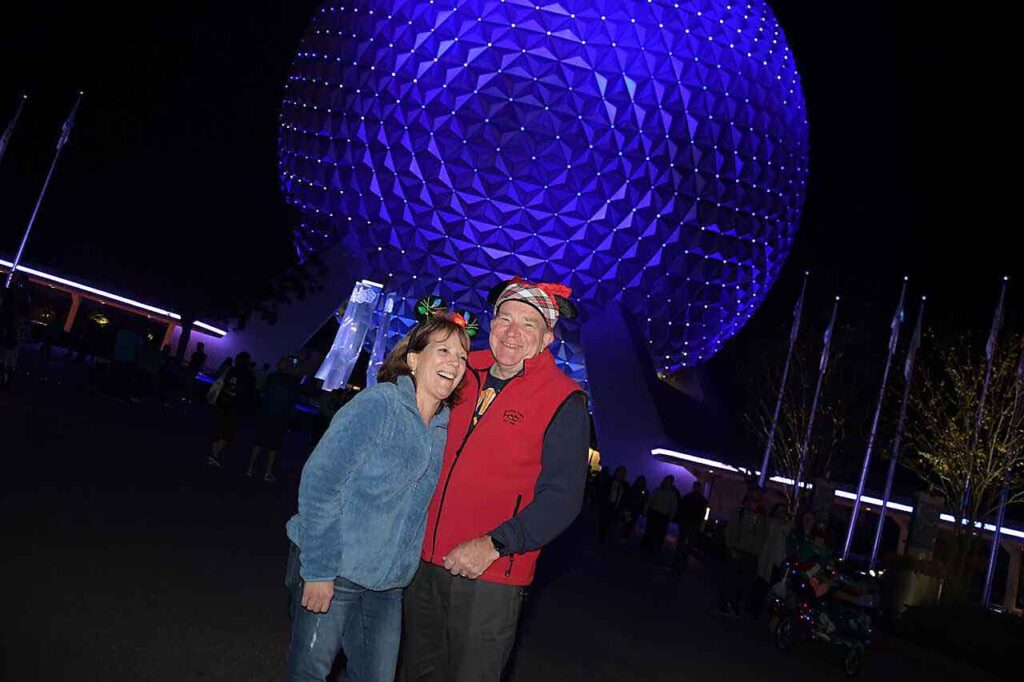 Theme Parks
There are four Disney parks to choose from. Magic Kingdom, Hollywood Studios, Epcot, and Animal Kingdom. I plan what to wear based on the park I am visiting that day. No… I don't go all out, but I try to keep the spirit of the park in mind.
So, certain bags are set aside for certain parks. Also, certain holiday bags are for certain holidays… Halloween, Christmas, Fourth of July, you get the point. Then, of course, my clothes HAVE to at least sorta match the bags. It sounds so complicated, right? Nah, you get the hang of it pretty quickly. Let's explore some options.
Let's say we are heading over to Epcot for a late afternoon snack, dinner, and then the fireworks. I will probably have a light jacket tucked into my bag to toss on once the sunsets.
Or, planning to park hop? Then a long-sleeved shirt in the morning over a tee shirt would work. Then your light jacket would be perfect to slip on after the sun goes down. See, not so complicated.
Water Parks
Now you say, what about the water parks and water rides? Well, here is where your Disney bag comes in perfectly. Carry a raincoat (one of those really inexpensive disposable kind) to wear so you won't get that wet on the water rides. If it's a bit chilly that day, I personally wouldn't ride a ride that would get me wet without something to keep a lot of the water off of me. Probably will be cold and will take a lot longer to dry than during the summer months.
A perfect example of this would be Splash Mountain. Great ride, lots of fun, especially on those Florida summer hot days. In December, could be a bit chilly, but still lots of fun. Most kids, and kids at heart, wouldn't want to miss out on this ride, so packing an extra layer or raincoat lets you experience the ride without being miserable afterward. You're welcome.
The Disney water parks usually are not open if it's cold. Watch the weather if you have plans to visit a water park while in town. Blizzard Beach usually closes after the first of the year for annual maintenance, but Typhoon Lagoon is then open. (as of December 2021 – Typhoon Lagoon remains closed for refurbishment).
If you are planning to visit one of the water parks, be sure you follow the dress code. Your bathing suit needs to be family friendly – see the full dress code here. But, make sure to pack your bathing suit. If you stay at one of the amazing Disney resorts (or what's known as staying on property) the pools are heated and a lot of fun.
How Much to Pack
Totally get if you are now thinking… how on earth will I get all of this in my suitcase?? Depending on how many days you will be enjoying a Disney vacation, maybe plan on doing a load of laundry. A lot of the resorts offer an onsite laundry facility (usually next to the pool and pool bar). Maybe only one Disney backpack is needed… and that becomes your personal item when you fly. I know, laundry on vacation?? But, if it's next to the pool and bar… then not a bad way to spend an hour, right?
In the end, you need to determine what you are comfortable taking and also leaving at home. I plan, even in the summer months for a rainy cool day, you never know. But, I always leave room for souvenirs. Who goes on vacation and doesn't bring something back?
17 Best Souvenirs to Buy in Florida
Tips and Insights
Overall, December is a great time to visit Walt Disney World resort. The Christmas decorations are up and it's simply magical. Hotel room pricing can be at a premium and wait times for rides can be longer around holiday dates, but this is one place you should plan to visit at least once for the Holidays.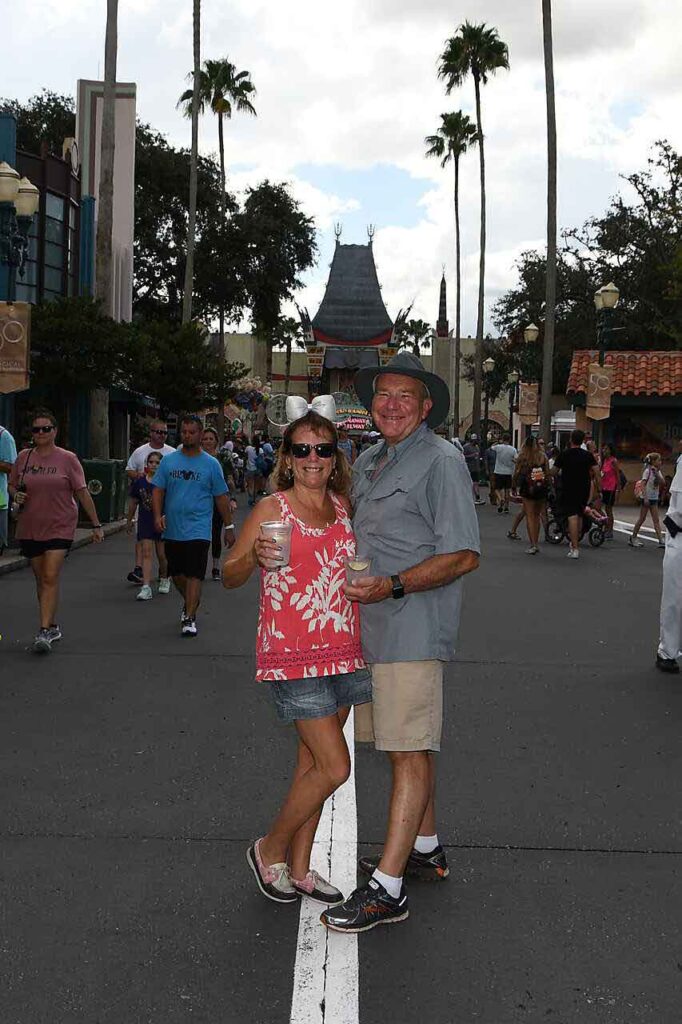 Remember you can bring in your own water bottle. Most locations in the parks will provide free water to refill. Great way to save money and stay hydrated.
What to Expect and More Tips
What can you expect for your Disney trip during this time of year? I think it's the best time and best place to spend time with family. To make it extra special, and possibly avoid long lines at Magic Kingdom, book the Merry Christmas Party. Hot cocoa, cookies, and the opportunity to ride all the rides you love without the long lines. Plus the nighttime parades are so much fun and imagine all of the memories you will make. My family still talks about that time at Disney when we did this and that.
Which reminds me… if you are a large group or really want to eat at a special place, make your dining reservations far in advance. That way, you are not searching for a place to eat with hungry and grumpy people in tow. You can make reservations to see your favorite Disney characters. Imagine breakfast with your favorite Disney characters and then a relaxed dinner at Disney Springs. I
Over, expect a lot of fun and memories (think about adding the photo package to capture all of those group photos). Pack your tank tops, short sleeve shirts, long pants, and the most important thing… comfortable walking shoes and plan for a magical experience.
P.S. don't forget the light jacket!