Any newbie to wine always says… where do I start? The wine section is very overwhelming. Not to mention the wine list you are handed at dinner. Let's start off with whites, sauvignon blanc vs chardonnay, what's the difference?
First off, neither of these is considered a sweet wine. If you looking for something sweet, consider a Reisling or a Moscato. But, if you are looking for dry white wines, these are the two popular white wines you should start with.
Looking at red wines? Pinot Noir is a very light red wine. Because of this, it's a red wine a white wine drinker might want to try. Cabernet Sauvignon is the world's most popular red wine. Sauvignon means "savage" which represents this wine well. It's dark red in color and is often aged in oak barrels. I think you will see similarities between these two red and white wines, although the taste profiles will be different.
Chardonnay
By far, the most popular of the two white wines is Chardonnay wine. It can be what's called "oaked" or "unoaked". What that means is the taste can range from creamy and buttery to minerally and acidic. It's a dry, medium to full body wine. Given how much the taste can vary bottle to bottle, there should be a chardonnay out there for everyone.
Quick note – when we are talking about the body of a wine, it's the mouthfeel it has. It is determined by several factors, the grapes used, alcohol level, and sweetness. Once you nail down the "body" of the wine you like, then it will help lead you to the style of wine you will truly enjoy.
Sauvignon Blanc
Like chardonnay, sauvignon blanc wines have a full range of flavors. These flavors include tropical fruit notes to green and herbaceous to earthy and flinty. It's also more acidic than chardonnay. This higher level of acidity can make this wine much more bold. Interesting fact, a lot of chardonnay and pinot grigio drinkers find they like a sauvignon blanc, its crisp and light body makes it a very nice wine.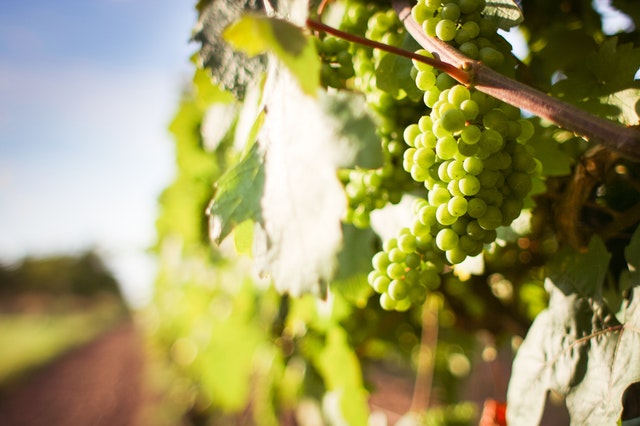 Grapes
Both of these wines are made from the flesh of the grapes. But, the variety of the flavors comes from their different regions and a little bit from the grape variety. Sauvignon Blanc grapes originated in France but can be grown in a lot of different climates. The grapes made their way from France to New Zealand, which is where they also found their fame. Some of the best sauvignon blanc's come from New Zealand. But, the grapes are also grown in France, South Africa, California, Australia, and Chile.
Depending on the region, the flavors vary. Warmer climates tend to produce wines that have more tropical fruit notes, while cooler climates produce wines that have more green notes. The green notes come from pyrazines. This is a chemical compound found in grape skins. Years ago if you could taste these green notes, the wine was considered a failure. Today, it adds an amazing complexity to the wine that would be missed by the drinker. But, it's a balance. Harvest the grapes too soon, it causes too much pyrazines.
Chardonnays from cool climates will be medium-bodied and have notes of apple, pear, and green plum. And sauvignon blancs from these regions will have hints of green apple and green bell pepper.
When I refer to tropical, citrus notes, think limes, passion fruit, peach, or grapefruit. While wine from the Loire Valley in France, a cool climate, could be much more flinty and earthy. Then again choosing a wine from Marlborough New Zealand, a warm climate, could have the bright citrus notes but also have a fresh cut grass smell. It captures the green notes classic to a sauv blanc.
If you tend to lean towards a pinot grigio, then try a sauvignon blanc from New Zealand. The flavor profile will be very similar.
Chardonnay grapes also originated in France and are very similar to sauvignon blanc grapes. But, they differ in where they originated from. Sauvignon blanc came from Bordeau while chardonnay comes from Burgandy. Chardonnay grapes are used not only to make white wines, but also sparkling wines and champagne.
Acidity
I have been talking a lot about acidity. What does this mean when it comes to wine? It refers to the "pucker or tartness" of the wine. The acidity and body of wine go hand in hand. If a wine is less acidic, it will feel heavier or full bodied.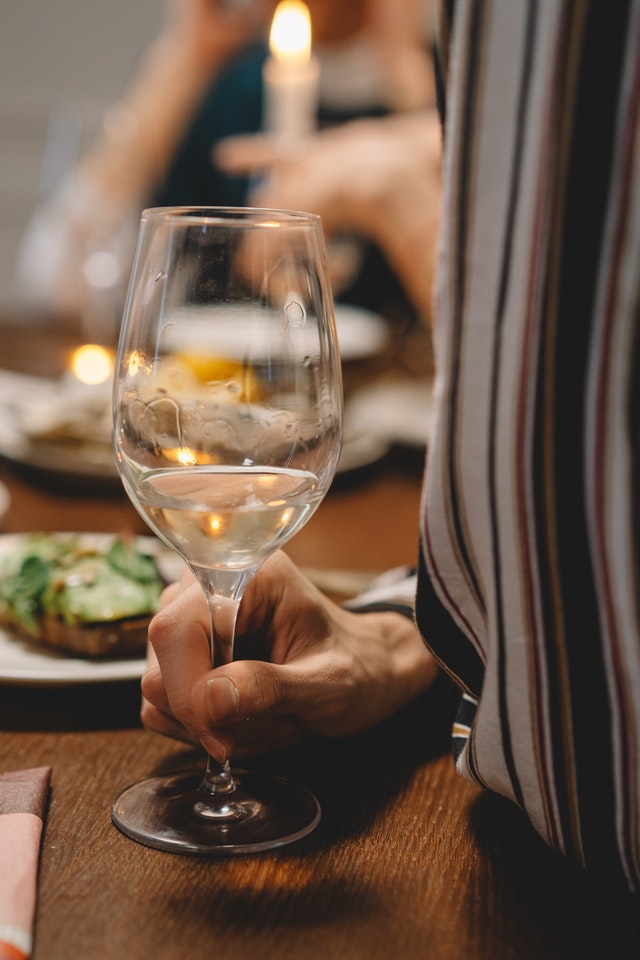 Food Pairings
Think lighter foods when paring a sauvignon blanc with dinner. This wine goes great with goat cheese, seafood, green vegetables, and light summer salads.
Chardonnay pairs well with cream sauces, fish, and poultry. Think richer foods that complement this fuller-bodied wine.
Sauvignon blanc is very popular in Chile, while the chardonnay is common in Italy, Canada, and the United States.
Fermentation
When white wine is "oaked" that means it was fermented in oak barrels. Oaked wines go through the malolactic fermentation process. This causes the wines to be less acidic and have notes of butter, vanilla, hazelnut, spice, or honey. Both of these wines can be oaked or unoaked.
During this process, the winemaker will monitor the falling malic acid levels and the rising lactic acid levels. Lactic acid is the principal acid in wine. A higher level will create a smoother flavored wine that has less acidity.
Sauvignon blanc wine is usually fermented in stainless steel tanks to preserve the higher acidity level.
What does all of this mean? If you like the richer, buttery notes of an oaked wine, then stick with a chardonnay. If you prefer a lighter-bodied, crisp wine, then go with a sauvignon blanc. The key here is to note if the wine is oaked or unoaked, as that is the process that will have the biggest impact on the taste of the wine.
I like to track the wines I try with the Vivino. Check it out here.
Have more questions you want to ask a bartender? Check out my list of questions (with answers) here!