Located in Monongalia County along the banks of the Monongahela River and tucked in the Appalachian Mountains you will find Morgantown, WV. A little more than an hour south of Pittsburgh, Morgantown is the home to West Virginia University and just minutes from my home. I spend a lot of time exploring this city and here's my list of the best things to do in Morgantown.
Background
First, did you know Morgantown is named after its founder Colonel Zackquill Morgan? The city was incorporated in 1901 and is one of the fastest-growing counties in the state of West Virginia. Home to more than 30,000 people, there is a lot fun things to do year-round in this city.
College Town
Home to WVU, this is a college town. When school is in session, more than 25,000 students who attend WVU will be in town. But, that is a good thing for all of us who live here. We get to take advantage of the University's activities, sports, museums, creative arts and so much more.
WVU is a Division I school. So, you can see all kinds of sporting events. Basketball, football, baseball, and hockey, just to name a few. WVU is part of the Big 12, so plan to follow your favorite team as they visit Morgantown to take on the Mountaineers.
Mylan Puskar Stadium is home to the football team. On any home game day, Morgantown is the largest city in the state. Fun fact, no city in WV has more than 50,000 people. But, plan to be in town for a home football game? Be sure to make your way early to Mountaineer Field to take part in our world-famous tailgating party!
Is basketball more your sport? Then check out the WVU Coliseum for an exciting basketball game. The 14,000-seat place is home to the Mountaineers basketball team as well as concerts and so much more.
Want to catch a baseball game? Check out the Mon County Ballpark. Home to not only the WVU baseball game but the Black Bears. The Black Bears are the 2022 MLB Draft League Champions. The park holds 3,500 people and offers a great game day experience.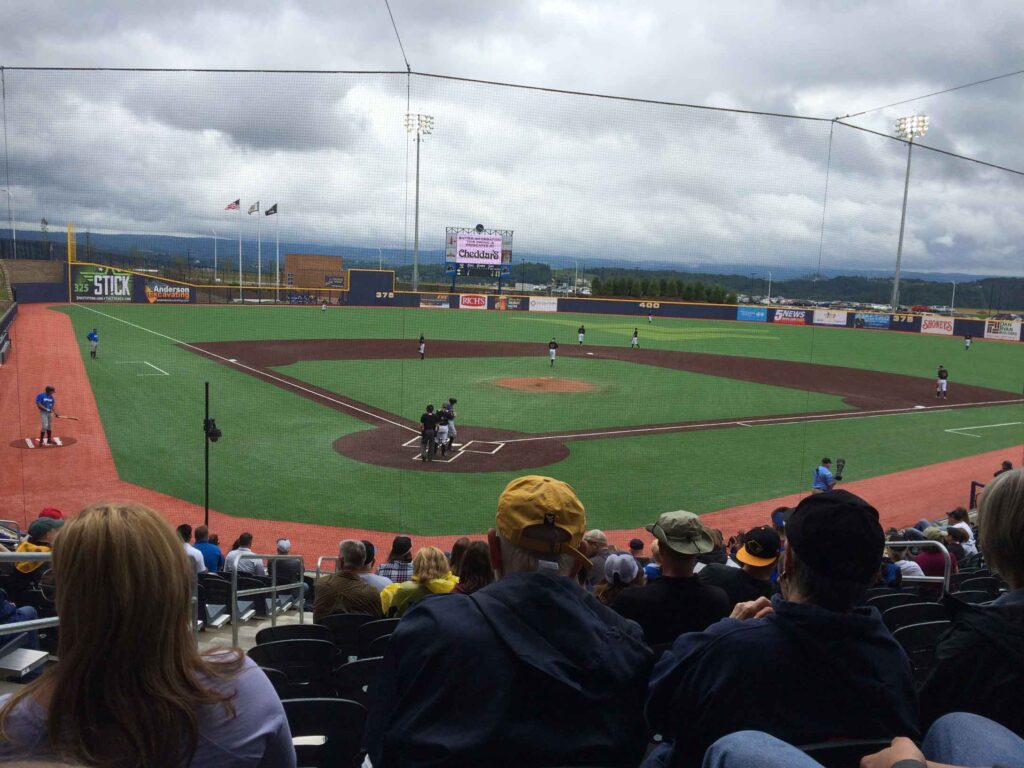 Outdoor Activities
There is no lack of outdoor activities to do when in Morgantown. Grab your bike and explore the rail trail. Kayak the rivers. Try your hand at frisbee golf. Or simply enjoy a stroll in the wharf district after a great meal.
Caperton Trail
Running 5.7 miles this trail connects Morgantown to Star City. If you start in Morgantown, you will head north to Star City. This is a 5.7-mile paved rail trail and, on most days, is busy with walkers, runners, and cyclists.
This section of the trail is a great starting point for the rail trail system in Morgantown. If you go north to Star City, you can continue and the trail will take you all the way to Pittsburgh. Or head south from Morgantown and head towards Fort Prickett's State Park. Or head west and explore Preston County and Reedsville. Parking and trail information can be found here.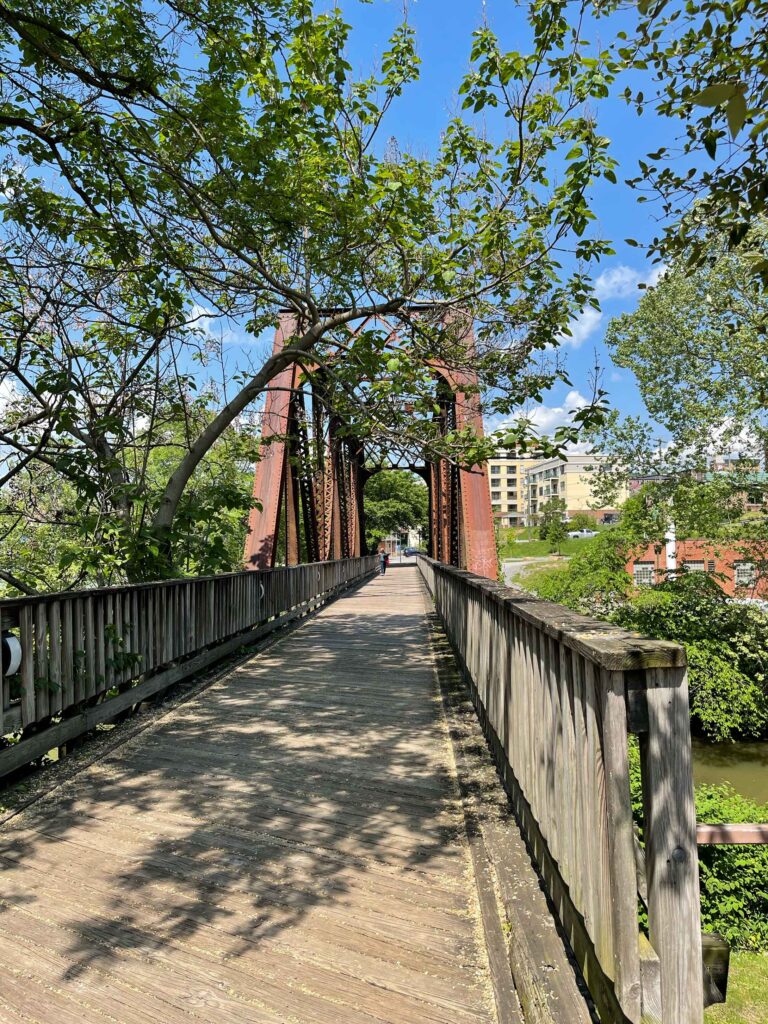 White Park
This park is home to the Morgantown Ice Arena (home to the WVU Hockey team). Baseball and softball fields are also found in this 170 acre park. When the WVU Hockey team isn't using the ice arena, they offer public sessions throughout the year. Check out the programs and other activities here.
Krepp's Park
Looking for an outdoor pool? Or maybe a place to play pickleball? This is your park. Krepps Park has 36 acres with 20 acres of woods and trails. They even have a dog park. So if you are in town with your furry friend, here's a place they can run. Check out their hours and activities here.
Dorsey's Knob Park
Located along US 119, this park is just outside of downtown Morgantown, but you will feel like it's miles away from everywhere. There are trails to wander, a disc golf course, a glass mosaic art mural, and so much more. There is an overlook from Sky Rock which stands 600 feet. For more information click here.
Coopers Rock State Forest Park
Just 13 miles outside of Morgantown is Coopers Rock. Established in 1936 this State Forest has some of the most iconic views of WV. There are 50 miles of hiking and biking trails, sandstone cliffs for climbing and so much more. Learn more here.
Breweries, wineries, food… oh my!
Morgantown and the surrounding area boast so many options to partake in locally crafted beers, wines, and yummy food.
If your first stop is a local brewery, then here are the best places to try when in town.
Opened in 2005, the original location can be found in Thomas, WV. A short and scenic drive from Morgantown. In Morgantown, they can be found at the waterfront. Along the bike trail, it's a great location to stop and enjoy a pint or two after a long bike ride. They offer a menu that will satisfy anyone looking for salads, pizza and so much more. Their flagship beers pair perfectly with their menu. Not in the mood for beer? They also have wine and signature cocktails.
Chestnut Brew Works
Another brewery located in Morgantown. They serve locally brewed craft beer.
This brewery offers an eclectic menu of beer. They have catchy names too. Such as Mr. 100 Worldwide, Mrs. Fluffy Peaches and Face Tattoos are the Future. You now want to run, not walk to check these out right? Their menu features a build-ur-own burger and mac & cheese of the month.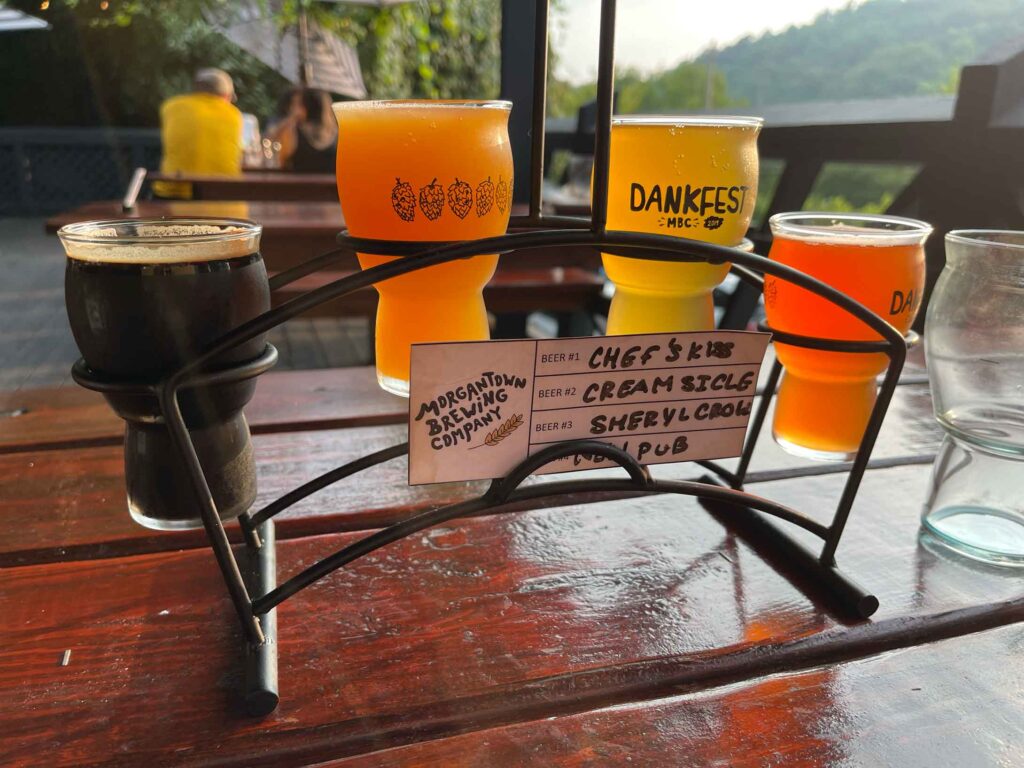 Want to explore the areas around Morgantown? Head over to Preston county. Here you can enjoy High Ground Brewing (one of my favorites) and Screech Owl (hubby loves their Who's Your Daddy IPA). Want to head up into the mountains? Then make Stump Town Ales your destination. Of course, it goes without saying… drink responsibly and always have a designated driver.
Craft Beer not your thing? Love wine? Morgantown and the surrounding area have you covered.
Produces more than 20,000 gallons of wine a year. During fair weather, they have deck seating. They offer a great variety of wines and a beautiful view to enjoy a glass of wine.
Located 20 or so minutes south of Morgantown, this place offers a cork room and amazing charcuterie boards. They don't allow anyone under 21 to enter, so be prepared if traveling with younger people.
A bit further south is Batton Hollow in Lost Creek. They are only open Friday and Saturday. But on a nice afternoon, they are worth the drive. Sit outside and enjoy one of their amazing wines.
Looking for food? Well, a lot of these places offer food or snacks. But, if you want a sit-down experience check out these places.
Looking to cook something yourself? Check out the Morgantown Farmers Market. Open on Saturday they offer a winter location so you won't miss out on any of your favorite vendors.
Other Activities
Started in 2011 as the first city-sponsored museum in the area. They are on a mission to promote and preserve regional and local history. Open Wednesday through Sunday.
This is a public green space that has a botanical garden. From dawn to dusk, daily, visitors can explore the area for free. Also has free parking. Established in 1948 there are 3 miles of trails with more than 150 species of planted trees and shrubs. Fun fact, an arboretum is typically a botanical garden devoted to trees.
Located on High Street, just outside of the Metropolitan Theater sits the Don Knotts statue. Walk down and take a picture with him.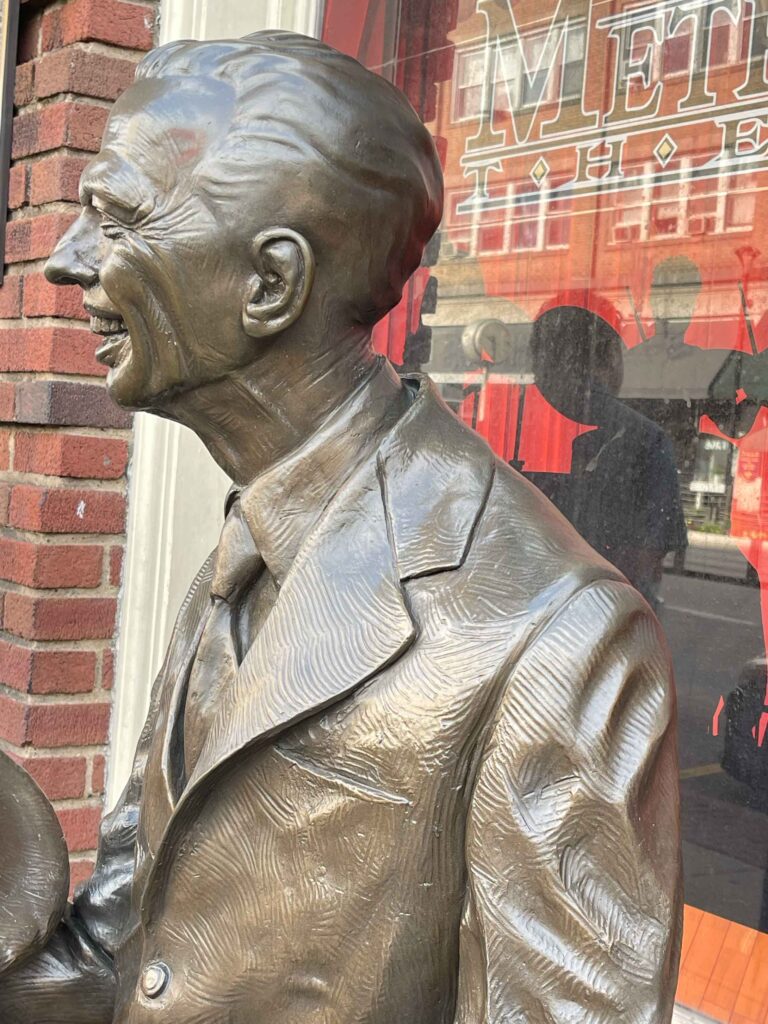 Love art? This is your spot. With over 4,000 pieces of art and FREE admission, plan to spend some time here. Check out their rotating exhibits.
Just outside of Morgantown lies this 85-acre place. With over 4 miles of trails to explore in the Tibbs Run Reservoir.
This Children's Museum's mission is to inspire people of all ages to explore science and the arts through hands-on exhibits and programs that spark a lifeline love of learning. Learn what a nano is, all about the Universe, dinosaurs and so much more.
Originally part of the University's School of Mines, since the 1930s they collected historical artifacts from the mining and petroleum industries. You can see mine rescue equipment, canary cages, and model oil derricks.
Located in a restored historic building, the MAC is a vibrant, community-driven arts center offering a home for visual, performing, and literary arts. They host two galleries and the historic Tanner Theatre.
Love escape rooms? Then this is a place you have to check out. A private escape room, where you never play with strangers. It's just your group in the room. As you will see from their website, group size is important for your ability to escape. Traveling with a group? Make it an evening of fun. Plan to grab dinner after to celebrate your escape.
Located in Kingwood, West Virginia (a short drive from Morgantown) is Hovatter's Zoo. Open seasonally from April to October (check their website for hours). They have over 30 different species of native and exotic animals from all over the world.
Culture
Check their website for upcoming events. Every year over 35,000 patrons attend events at the Met. They offer concerts, plays, films, and performances. The Met opened its doors in 1924 with the title of "West Virginia's Most Beautiful Playhouse". In 1984 the theatre was added to the National Register of Historic Places.
This is the area's premier outdoor concert venue. The amphitheater seats over 1500. During the summer, come enjoy one of the free concert series, art, or food festivals. The park also offers green space to simply hang out as well as river access.
As you can see there is so much to do in Morgantown. Honestly, this is just a taste of what you can see and do when visiting this amazing city. It's a great place to spend a weekend or make it your home base to explore North Central West Virginia.