Everywhere we travel, there is THE cookie you have to try. A local specialty. But, a consistent cookie we find is the shortbread cookie. Even in tropical climates, these cookies are very popular. Let's explore these Puerto Rican cookie recipes.
What makes a shortbread cookie so yummy? Well, let's start with the star of the recipe… butter. Some recipes call for shortening or a combination of butter and shortening. Well, I say, make it all butter. The cookies will taste amazing.
Shortbread cookies have no eggs or a leavening agent added to the dough. So, perfect for those of us who don't stock up on these types of items often. These cookies are a great snack, even on a hot summer's day.
Puerto Rican cuisine is influenced by those who have visited and inhabited the island. Its cuisine has roots in Spain, Africa, and the native Tainos.
When exploring other popular desserts found in Puerto Rico, of course, these are at the top. But there are others I want to try. How about you?
Popular Puerto Rican Desserts
Flan de Queso
This dessert has a traditional version, and then a variation found in Puerto Rico. The traditional version features a creamy custard topped with caramel. The custard is made with condensed milk, evaporated milk, and eggs. But, in Puerto Rico, they add cream cheese.
Piragua
Plan to escape any hot tropical day with shaved ice in a cup with syrup. Very popular in most tropical climates.
Tembleque
Usually served at Christmas, this is a creamy coconut pudding.
Tres Leches Cake
As the name implies, this cake is made with three kinds of milk. Imagine how yummy a cake made with whole milk, evaporated milk, and sweetened condensed milk would be.
Arroz con Dulce
Here's another pudding. This one is a rice pudding with raisins and cinnamon.
Dulce de Lechosa
These are candied unripe papayas. The papayas are steeped with brown sugar and cinnamon sticks. Served cold this is a very yummy treat found throughout the region.
Besitos de Coco
Translated these are coconut kisses. Think of a macaroon drizzled with chocolate.
Quesitos de Guayaba
These are one of my favorites. A pastry filled with guava and cream cheese. I think of these as a sweet treat for breakfast or anytime during the day.
Dulce de Grosellas
Many traditional cookbooks reference this yummy treat. This is red currant jam. Usually made with just red currants and sugar. Served on many things – maybe swap this instead of guava jelly in this traditional Puerto Rican recipe for mantecaditos.
All of these sound so yummy! But, let's make our Puerto Rican Cookies!
Puerto Rican Cookies – Steps
First, preheat your oven to 350 degrees. Line your cookie sheets with parchment paper.
In a large bowl cream your butter, and sugar until light and fluffy. Add your extract, salt, and flour until well combined on low speed. Confession time… I added a bit too much flour and my dough was dry and crumbly. I added a bit more butter to make the dough creamy. So, word of caution, add your flour slowly. You may not need all that the recipe calls for.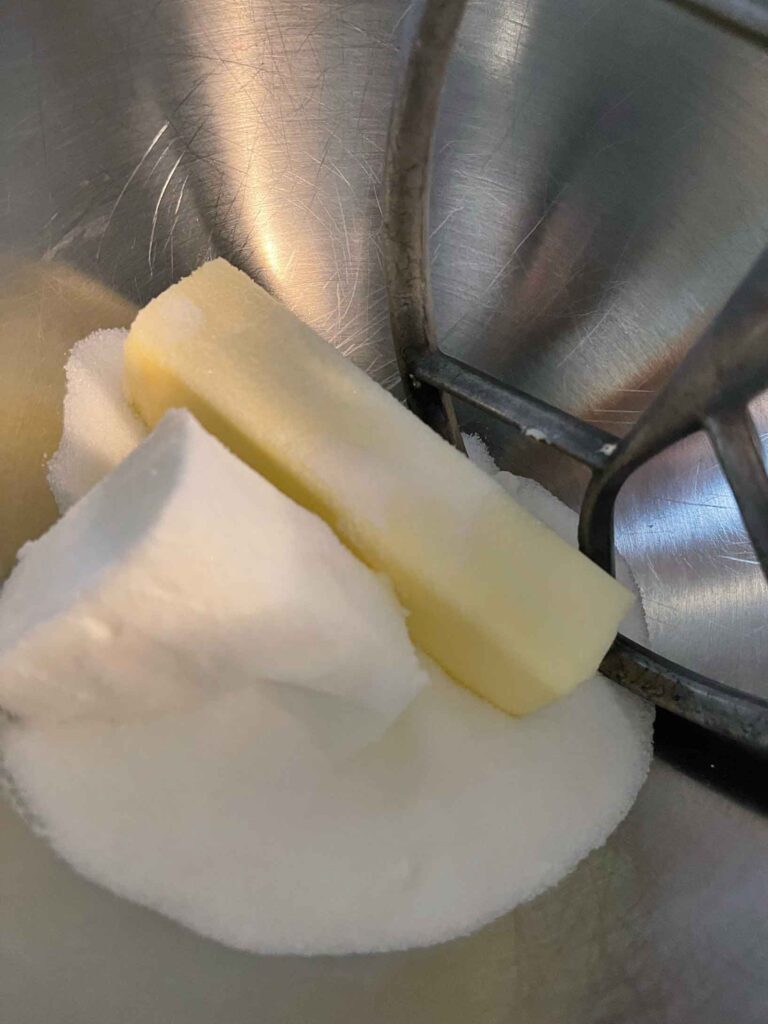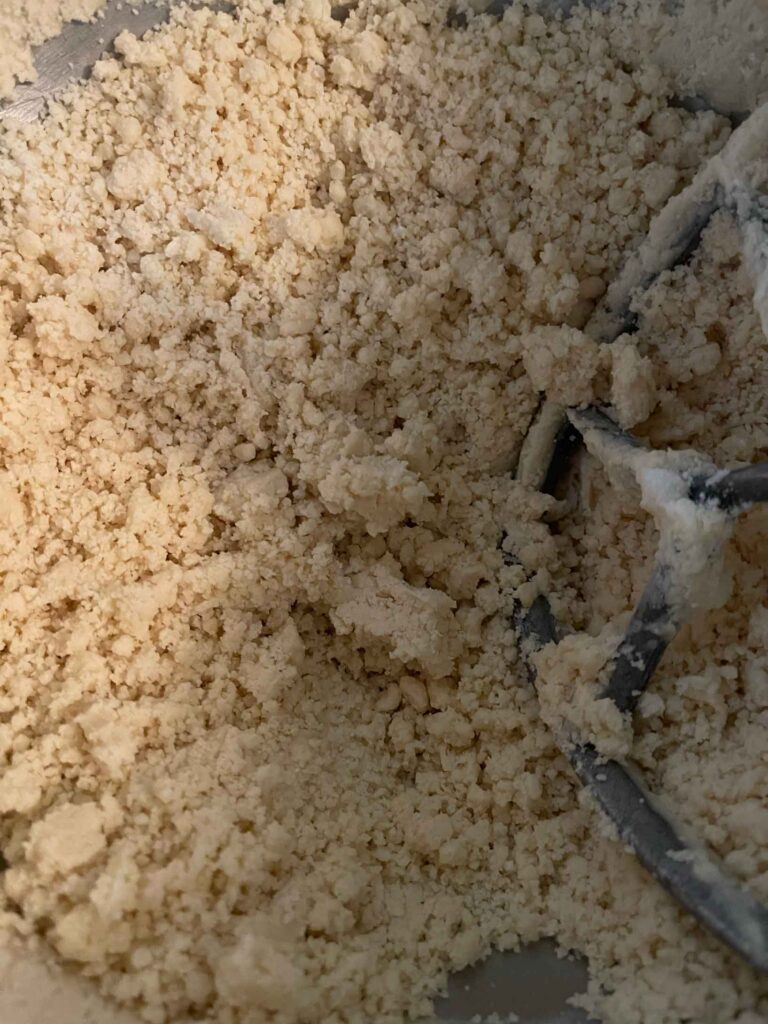 Roll the dough into small balls about 1 1/2 teaspoons each. I used a small scoop to keep them a consistent size.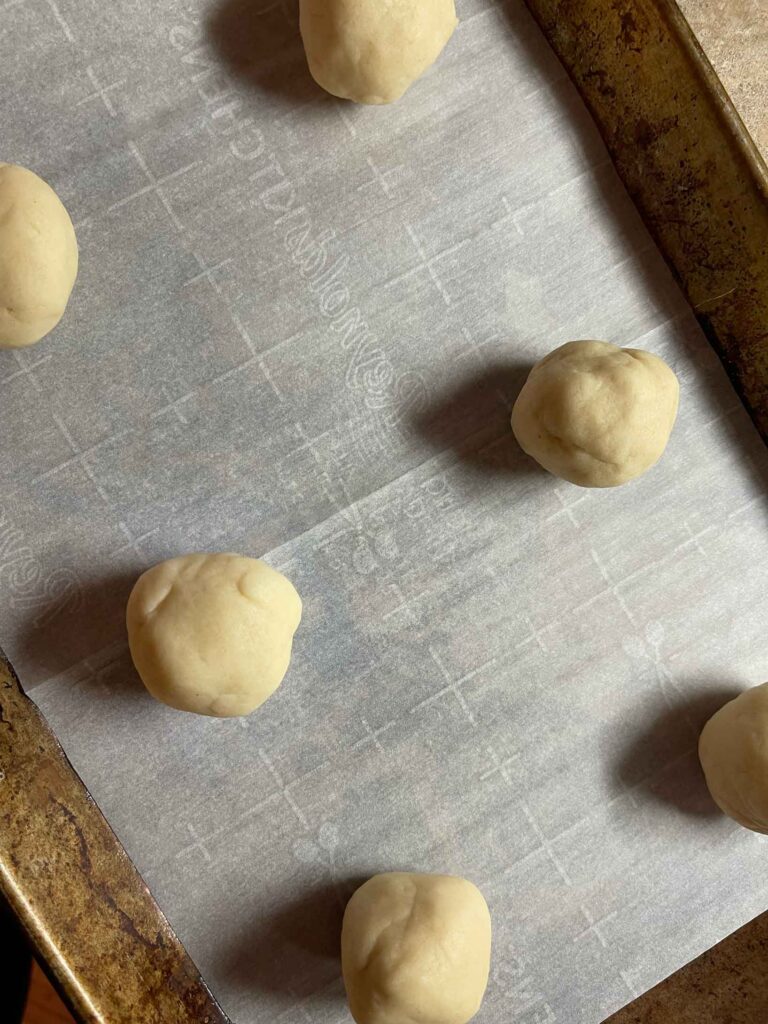 Create an indent in the cookies with your thumb.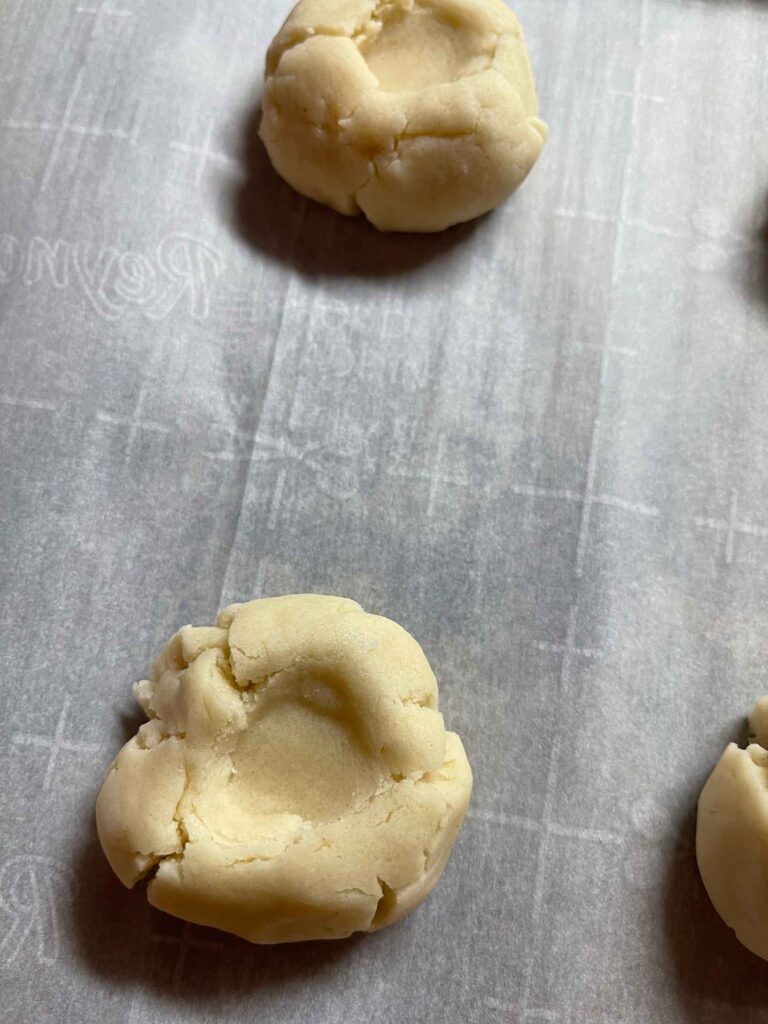 Add sprinkles, guava paste, or guava jelly into the indent. Want to be a bit different? Try putting maraschino cherries into the indent. A festive option for Christmas time. These would be the perfect cookie for a cookie swap.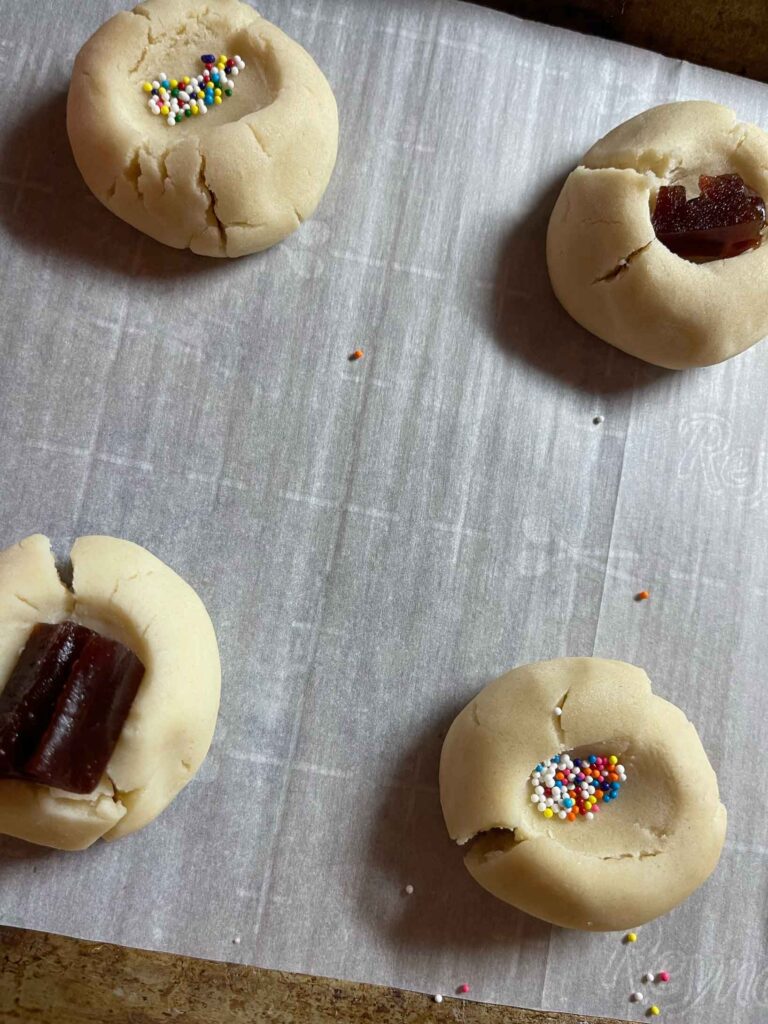 Bake for 15-20 minutes until the edges are golden brown. Cool for about 5 minutes and then transfer to a wire rack. Store in an airtight container. Trust me… these delicious cookies won't last long.
As a variation, think about adding some orange zest to the cookie dough. It would certainly highlight the citrus notes of the guava. Not the traditional Puerto Rican dessert, but I love to add something extra to make the recipe my own. You too?
Thinking about visiting Puerto Rico?
Check out our other Island Inspired Recipes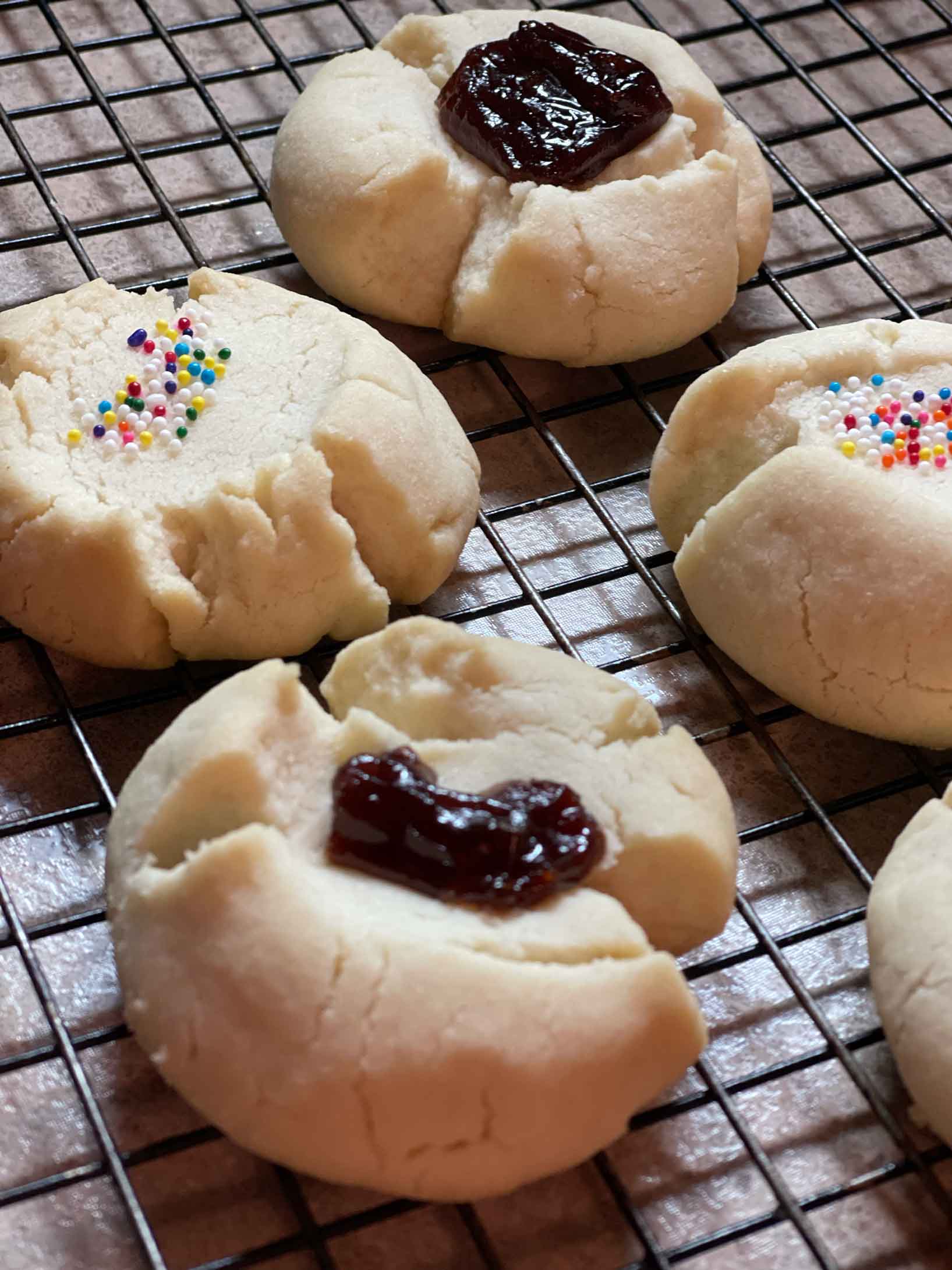 Easy Mantecaditos Recipe (Puerto Rican Cookies)
Yummy and easy Puerto Rican shortbread cookie recipe
Ingredients
1

cup

unsalted butter

1/2

cup

sugar

1

teaspoon

almond extract (or vanilla extract)

1/2

teaspoon

salt

2 1/4

cups

all purpose flour

Sprinkles or guava paste for filling
Instructions
Preheat oven to 350 degrees. Line cookie sheet with parchment paper

In a large bowl, cream butter and sugar until light and fluffly. About 3 minutes.

Add almond extract, salt and flour until well combined.

Roll dough into small balls, about 1 1/2 teaspoon each

Place dough ball on cookie sheet and create an indent in each cookie with your thumb.

Add sprinkles or a small cube of guava paste or a dollop of guava jelly into the indent. (about 1/2 inch cube of guava paste)

Bake for 15 to 20 minutes until the edges of the cookie are golden

Cool on cookie sheet about 5 minutes before transfering to a wire rack to finish cooling.
Notes
Don't overmix the flour or add too much, or the cookies will be dry and tough.  You want them to be soft and buttery.