I love quick and easy cocktails. Throw a few items into a blender or cocktail shaker and then pour and enjoy. This Chili's Frozen Strawberry Margarita recipe is one of those… quick easy and yummy. Plus… I add a bonus recipe (or two) at the end.
If you love a frozen margarita, this will become your go-to recipe. You can use fresh strawberries, if in season, or frozen strawberries work great all year round. Fresh real strawberries may not be as sweet. If you want a bit more sweetness, feel free to add simple syrup. Usually, a heavy splash is all you will need.
Speaking of simple syrup, it's really easy to make… save money, make a batch, and store it in the fridge. Here's how…combine equal parts water and sugar and heat on the stove until the sugar dissolves. Cool and store in an airtight container. Want it even easier? Consider adding a few splashes of agave nectar.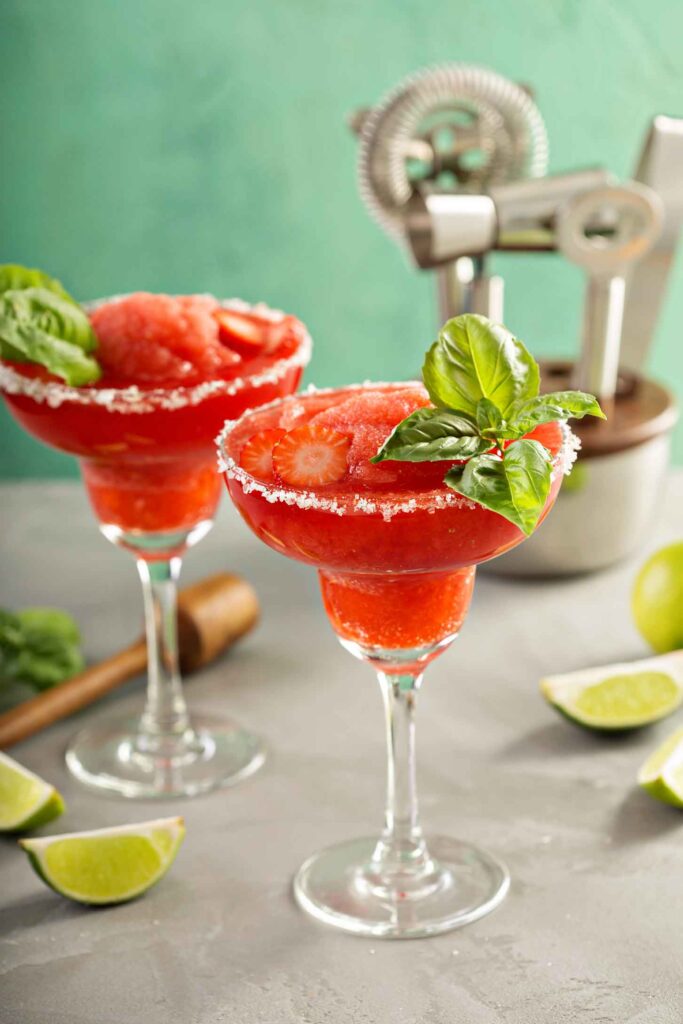 Chili's Frozen Strawberry Margarita Recipe
Makes two servings – Because frozen margaritas are always best served in pairs!
6 oz tequila – (use silver for best taste)
2 oz Triple Sec (can substitute Grand Marnier)
8 oz frozen sliced strawberries (or use fresh)
4 oz frozen limeade concentrate
Salt or sugar for the rim
Lime
Put your margarita glasses into the freezer for a few minutes to get really cold. Then run the lime around the rim of the glasses and dip it into salt or sugar. I prefer a sugared rim over a salted rim, but up to your taste.
Put the rest of the ingredients into a blender and blend until smooth. If using fresh strawberries, add ice for a nice restaurant-style frozen texture. Garnish with a lime wedge.
I prefer to use silver tequila but experiment with what you like. If you like a deeper richer tequila flavor, opt for a gold tequila. Or, like it a bit smokey? Then substitute mezcal. But… always chose a good quality tequila, it really makes a difference in the end drink.
There you go… it's that easy.
Prefer an on-the-rocks margarita? Then you must try the Chili's Presidente Margarita. In the restaurant, they state it is "hand shaken 25 times". Can you shake it 25 times?
Presidente Margarita
Makes one serving
3 cubes ice
4 oz sweet and sour mix
1 1/2 oz tequila
1/2 oz orange liqueur (Grand Marnier or Triple Sec)
1/2 oz Presidente Brandy
Splash of fresh lime juice
Add all of the ingredients to a cocktail shaker… shake….shake ….shake. Then pour into a lowball glass filled with ice. If you want rim the glass with salt before adding the ice and margarita.
How about one more strawberry margarita recipe? This one is so easy… it will become your Thirsty Thursday favorite.
Strawberry Lemonade Margarita
Makes one serving
4 oz strawberry lemonade
1/2 oz lime juice
1/2 oz triple sec
2 oz tequila (I prefer silver, but feel free to experiment)
Place all of the ingredients into a cocktail shaker filled with ice. Shake. Pour into a margarita glass rimmed with salt or sugar. Garnish with fresh strawberry and lime slices. Simple ingredients, but oh so yummy.
Helpful Hints
If you are going to add salt or sugar to the rim of the glass, experiment. Add some chili powder for an extra punch of heat or try adding Tajin seasoning. It's savory and with a bit of a heat kick.
Always try to use fresh ingredients as much as possible. Fresh limes and fresh juices, will elevate your favorite cocktail and truly impress your friends.
A Chili's margarita is easy to replicate at home. But, try different combinations. Add some frozen mango, or add a splash of Mezcal to the top of each glass before serving. That's the fun of making drinks at home. Experiment with flavors.
Looking for an easy summer cocktail? Check out these Strawberry Daiquiri recipes.
A perfect cocktail is one shared with friends. Grab some ingredients and plan a party … now you see how easy it is to make frozen and on the rocks margaritas.