On a typical Saturday morning, we were wandering through the Farmer's Market in Winter Garden, Flordia, and stumbled upon a booth selling… freeze-dried Skittles. They were amazing. Which got me thinking, what could you do with Skittles to make them more "adult"? Well, I looked around and found a Skittles Shot recipe.
I know, what? Yep, a cocktail made from Skittles and it's only for adults. Sorry kids… not sorry.
The Skittles Shot recipe starts with vodka. Go for a good-quality one here. It really does make a difference. The bottom line is you are going to infuse the vodka with Skittles. Takes about 24 hours to do, so plan ahead.
Here's where your creativity can come into play. The infused vodka takes on the color of the Skittles used. You can match the color of vodka to your party's theme, or just make a mixture of colors and flavors. I've given you some ideas with the cocktail recipes below, but let your imagination run wild.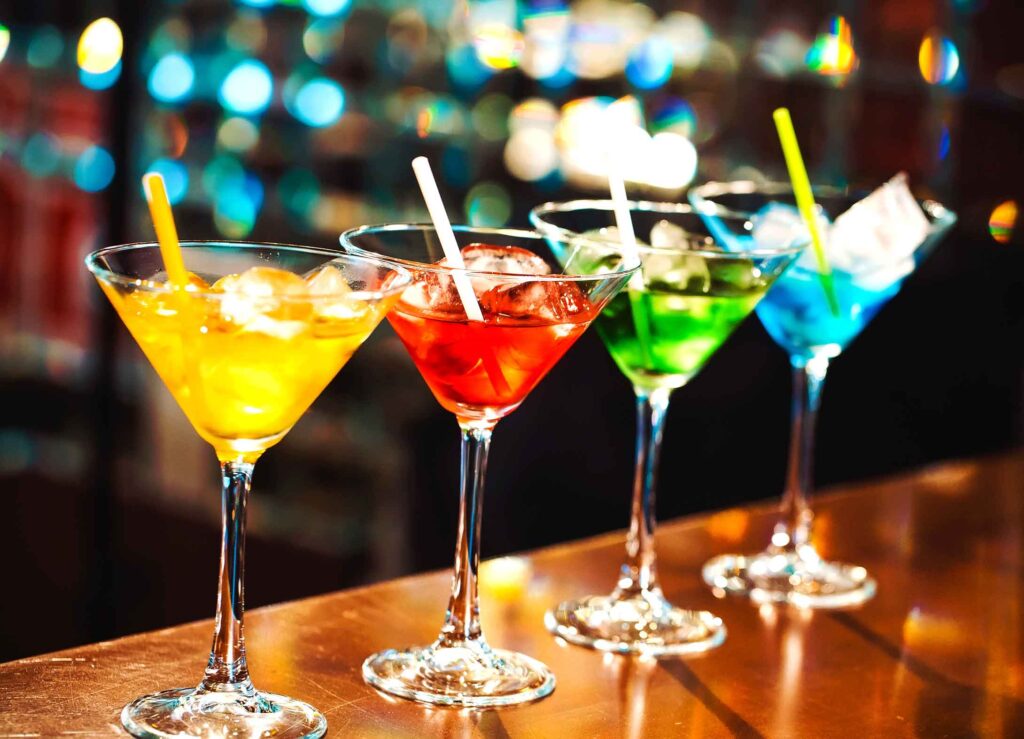 Skittles Vodka
To create this, first, choose your Skittles. Sort by color/flavor, etc.
1/2 cup Skittles
1 1/2 cups vodka
Combine the Skittles and vodka into an airtight container (I use a Mason Jar) and let sit overnight. Strain the liquid through a mesh strainer (or a coffee filter). The infused vodka is now ready to go.
Skittles Vodka Cocktail
1 1/2 oz Skittles Vodka
1 oz Cherry juice
1 oz Lemonade
3 oz lemon-lime soda (think Sprite or 7-UP)
Combine the vodka, cherry juice, and lemonade in a cocktail shaker filled with ice. Shake. Pour into a cocktail glass filled with ice. Top off with the soda.
Garnish with a lime slice and/or cherries.
Want something that doesn't require Skittles, but still tastes like Skittles? Check this out.
Skittle Shot
1 oz vodka (regular – good quality)
1 oz Sweet and Sour mix
1 oz Melon liqueur (like Midori)
1 oz Southern Comfort
1 oz pineapple juice
Combine all of the ingredients into a cocktail shaker filled with ice. Pour into two shot glasses. Enjoy
Another interesting twist on the Skittles theme is this rum-based drink.
Skittles Cocktail
Combine all of the ingredients into a pitcher and stir well. Pour into glasses filled with ice. Garnish with strawberries.
Want to try an interesting drink? Well, it's more of a bomb shot, but it really does taste like Skittles.
Skittle Bomb
8 oz Red Bull energy drink
1 shot Cointreau
Fill a glass with Red Bull. Drop the shot glass of Cointreau into the Red Bull and then drink quickly.
Other Ideas
Want to taste the rainbow? Make infused vodka in different colors of the rainbow. Then pour each color into a different shot glass arranged in the colors of the rainbow. (red, orange, yellow, green, blue, indigo, and violet)
You can use an Instapot to make the infused vodka. It makes a sweeter version (if you opt to add the sugar). Try it and see which version you like best.
Instant Pot Skittles Vodka
6 cups vodka
1 cup Skittles
1 cup sugar
Add all ingredients and then lock the pressure cooker lid. Cook on high pressure for 3 minutes, then let naturally release for 15 minutes.
Pour into mason jars and let sit for 24 hours. Strain and return to jars. Can store in the fridge for a week or so. Or store in the freezer. The vodka will keep the mixture from freezing.