I have always wanted to see Savannah. After reading Midnight in the Garden of Good and Evil, doesn't everyone? Well, I got my chance but only had one day to explore this amazing city. This got me thinking about things to see in Savannah, GA in one day.
First off, the weather could not have been any more perfect for our trip. It didn't rain and it wasn't too hot. I had heard stories about how hot Savannah can be, especially in the summer. When is the best time to visit Savannah? I think that truly depends on what you want to see and do.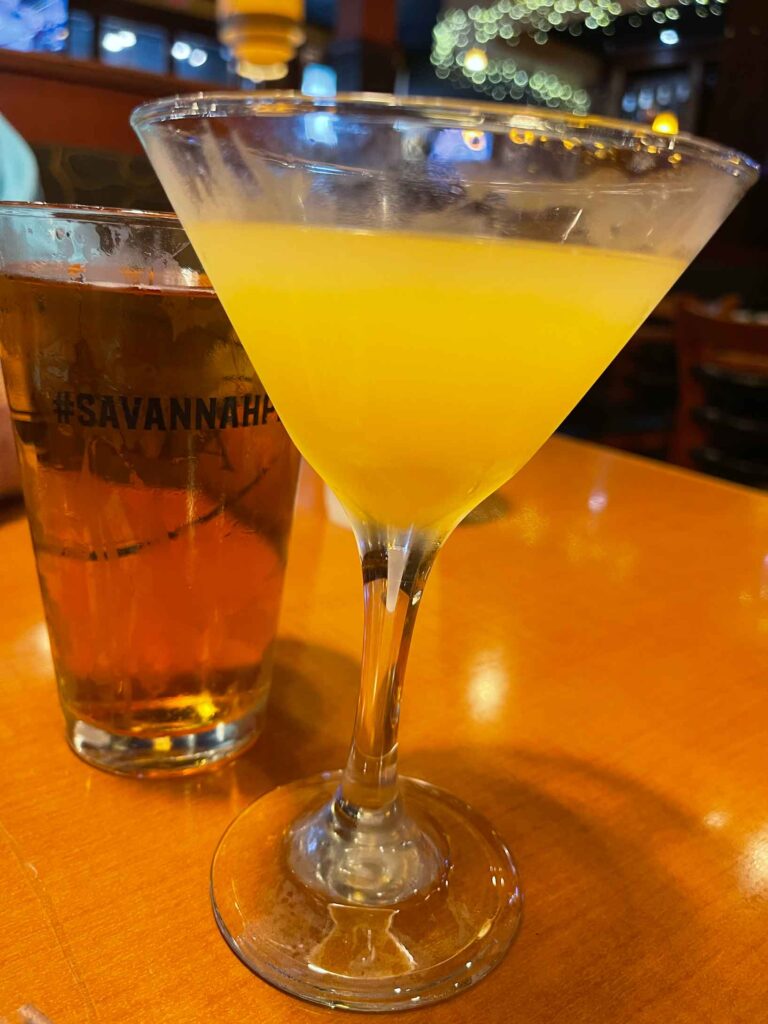 Arrival
Since we were only going to be in town for one day, I chose a hotel that was close to the action. The Hampton Inn on E. Bay Street did not disappoint. It was located across from River Street and in the heart of the historic district. Which meant we could walk wherever we wanted to go.
Like other Hampton Inns, it offers a great room at a reasonable price. Plus as a Hilton Honors member, I get to log in more points.
After checking in and dropping our luggage in the room. We headed out for a bite to eat.
Savannah's food scene is amazing. You can choose from standard Southern fare to upscale and trendy. But, there are a few places you must check out.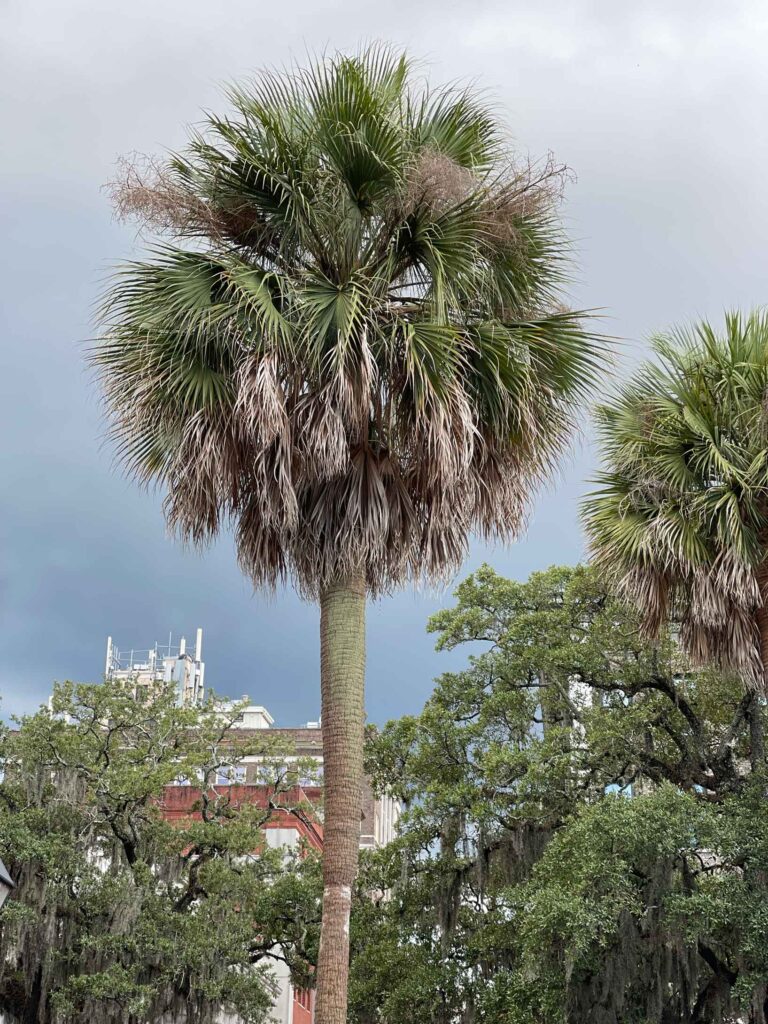 Food Scene
The Olde Pink House offers a menu of new Southern cuisine in an amazing setting. The building is, indeed, pink. From its beginnings, it was a red brick home that the owner decided to paint white. But, the red from the bricks continued to bleed through making the house look pink. In the 1920s the new owner decided to embrace the quirk and simply painted the building pink. As a side note, this place is thought to be one of the most haunted buildings in Savannah.
Looking to meet new people and enjoy traditional Southern food? Then make Mrs. Wilkes Dining Room your destination. Open 11am to 2pm, the line begins to form each morning before they open. The meals are served family style in the true sense of the word. Tables seat 10 and are filled with strangers … who will most likely become your friends after the meal.
The Pirates' House has a rich history. Originally built as an inn it then fell into hard times. By the 1940s it was slated for demolition. But, it was saved and restored into a restaurant. Today, you can feel the history of the place and enjoy Southern food and drinks. Of course, given the history of this place, it is thought to be haunted. The tunnels that run from the restaurant to the river, add to the mystery.
We opted for a local tavern by the hotel rumored to be haunted, Tondee's Tavern. We didn't see anything but enjoyed our meal. Sadly, it is now permanently closed. But if you are looking for other haunted restaurants in town, be sure to check out:
We did check out Moon River Brewing Company after dinner. This place is also said to be haunted. The beer was great. We then set out to explore the city.
Roof Top Views
I was surprised to see rooftop bars are very popular in Savannah. But, given the views from that vantage, I can see why. We found Peregrin Roof Top Lounge and we were impressed by the view and the drinks.
The story of how we found this place really reflects how we travel and find most places. We were walking around town and heard sounds … think glasses clinking, people talking and music. Kevin looks up and see the lights and says let's go see what's going on. I'm thinking we may not get in, since it's in a hotel. But, throwing caution to the wind, we set off to find our way to the rooftop. Lesson here? Go explore.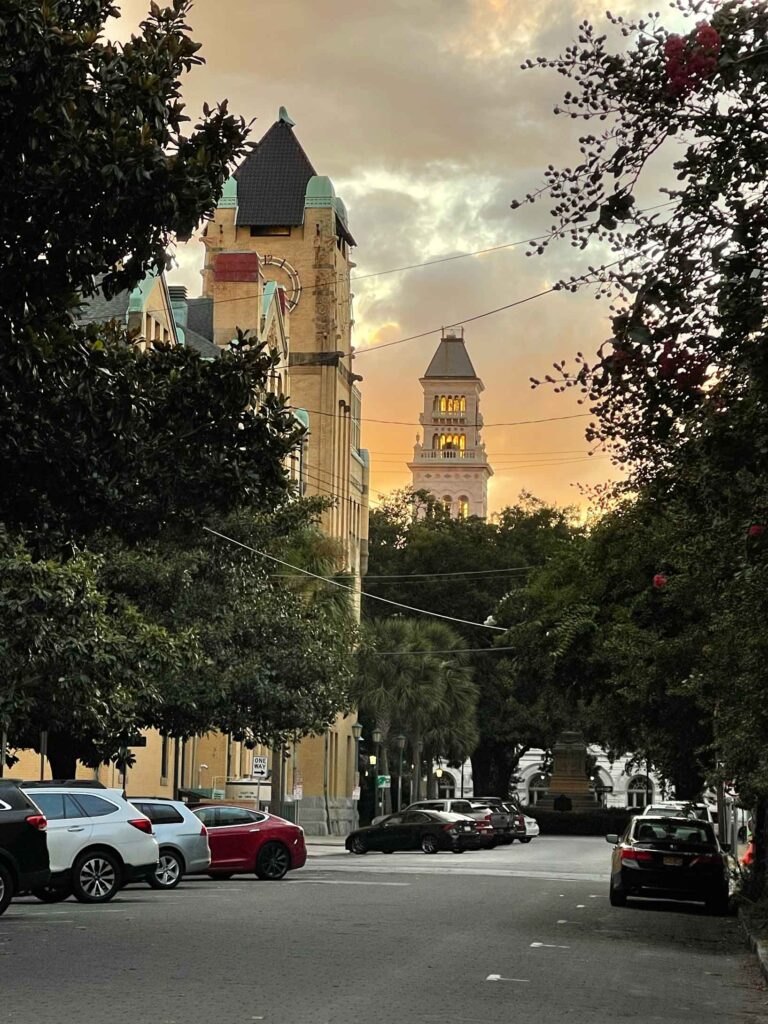 Check out these other rooftop lounges:
Ghost Tours
After enjoying the sunset we then headed out to meet up with our ghost tour. I had booked our tour before we arrived in town because I wanted to make sure we were able to get a spot. These tours always sell out. I chose the Beyond Good and Evil tour. It lived up to its online description.
Our tour guide was entertaining and gave us a great overview of the haunted side of Savannah. Highly recommend this tour. Of course, I am not going to give away all of the cool things you learn on the tour… but walking through Historic Savannah, at night, on a ghost tour, is very very cool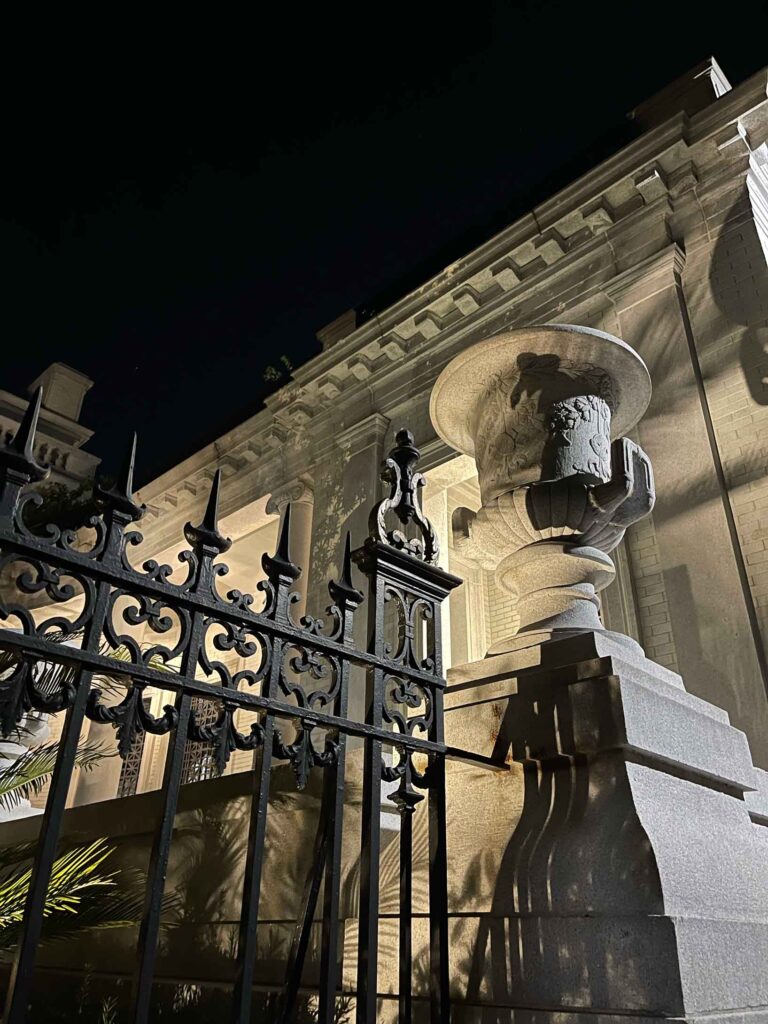 Some of my favorite highlights included seeing the Mercer Wiliams House and the Colonial Park Cemetary. Then, after the tour, walking through Historic Savannah and exploring the city. One of the iconic places we stopped to see was Forsyth Park.
Forsyth Park
This park is one of the largest and most beautiful green spaces in the city, covering over 30 acres of land. One of the main features of the park is its iconic fountain, which was built in the early 1900s and is surrounded by shady live oak trees and vibrant flowers.
But the park also offers plenty of other attractions, such as walking paths, playgrounds, tennis courts, and even a farmer's market on Saturdays. You can spend hours exploring the different areas of the park, from the fragrant gardens to the historic monuments and statues.
Plus, if you visit during the spring season, you'll get to witness the stunning sight of the park's azaleas in full bloom. Forsyth Park truly is a must-see destination for anyone visiting Savannah.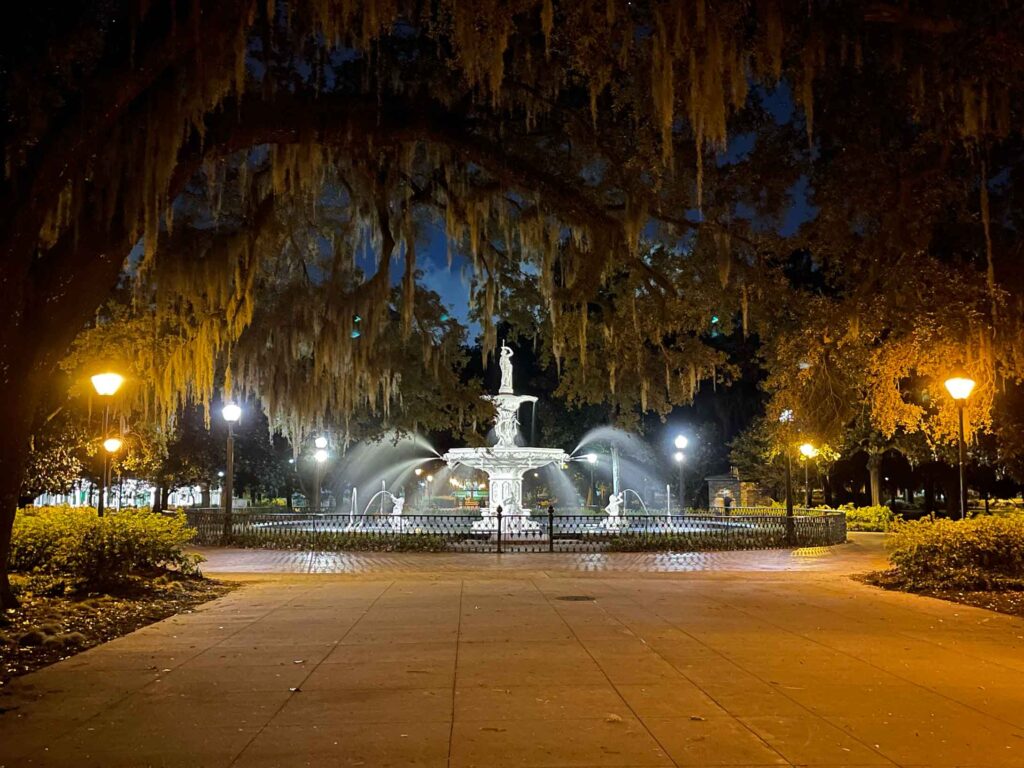 Cathedral of St. John the Baptist
Another highlight was the Cathedral of St. John the Baptist. This stunning historic church dates back to the late 1800s and is one of the most impressive architectural feats in the city. From the outside, you'll be struck by its towering spires and intricate stonework, but it's inside where the real magic happens.
The cathedral boasts a magnificent altar, intricate stained glass windows, and ornate plasterwork that'll leave you in awe. And if you're lucky enough to catch a service or concert while you're there, you'll be treated to the heavenly sounds of the cathedral's pipe organ.
Don't forget to snap a few photos of the cathedral's grand façade before you leave – it's a sight you won't soon forget!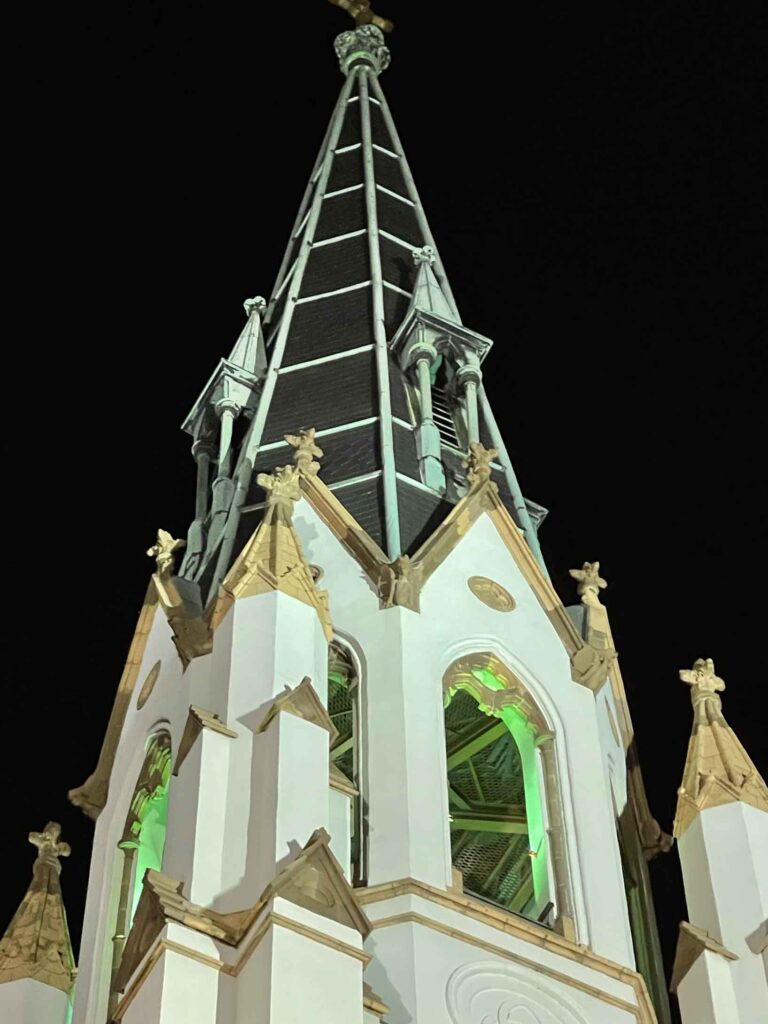 Of course, after the tour it was time for a snack, so we headed over to the world-famous Parker's.
Parker's Market opened in Savannah in 1999 and they have been serving Southern-style food ever since. Think biscuits, fried chicken, and pimento cheese. Yep, worth checking this place out.
Breakfast
I am a huge fan of breakfast. So, the next morning we set out to find an amazing place to have an endless cup of coffee and rib-sticking breakfast food. And … we found it across the street from the hotel at Two Cracked Eggs.
The view of the Savannah River is simply gorgeous. As we sat, enjoying our coffee, a ship made its way down the river. Not a bad way to start off the day. The food at Two Cracked Eggs offers large portions of yummy food. We had never had shrimp and grits, so that was an absolute must-have. Second, the Clothesline Bacon with mango salsa was a great option. The last thing we tried was a breakfast biscuit sandwich.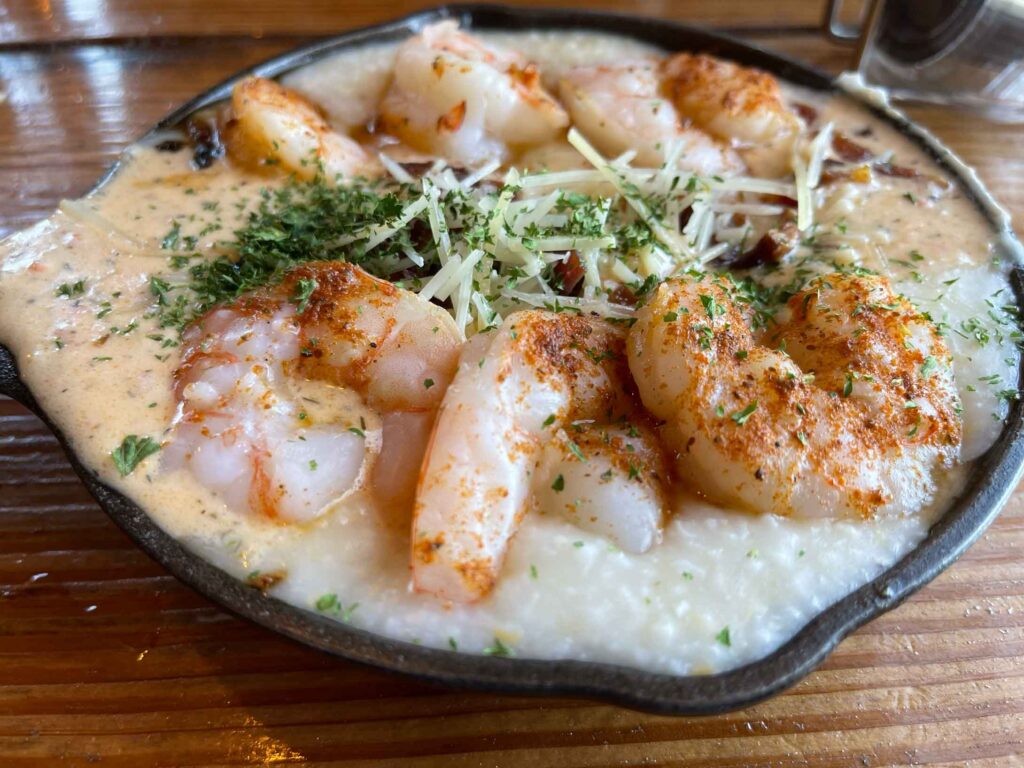 You can't pass up a biscuit when in the South right? We stuffed ourselves silly and ended up taking some to go to enjoy later. Breakfast is always a busy time for restaurants, so plan to wait, especially if you have a large group.
Tour of the Town
We knew we would have to leave this wonderful city early in the afternoon, and thought, the best way to explore the city was by the Old Town Trolley Tour. We sat back, enjoyed the ride, and saw so much of the city.
Heard the stories, and saw places we plan to come back and see again. I always suggest a tour like this to get your bearings in a new city, or to simply see the highlights if you are short on time.
You can hop on and hop off this kind of tour, so take advantage of this, if you have the time.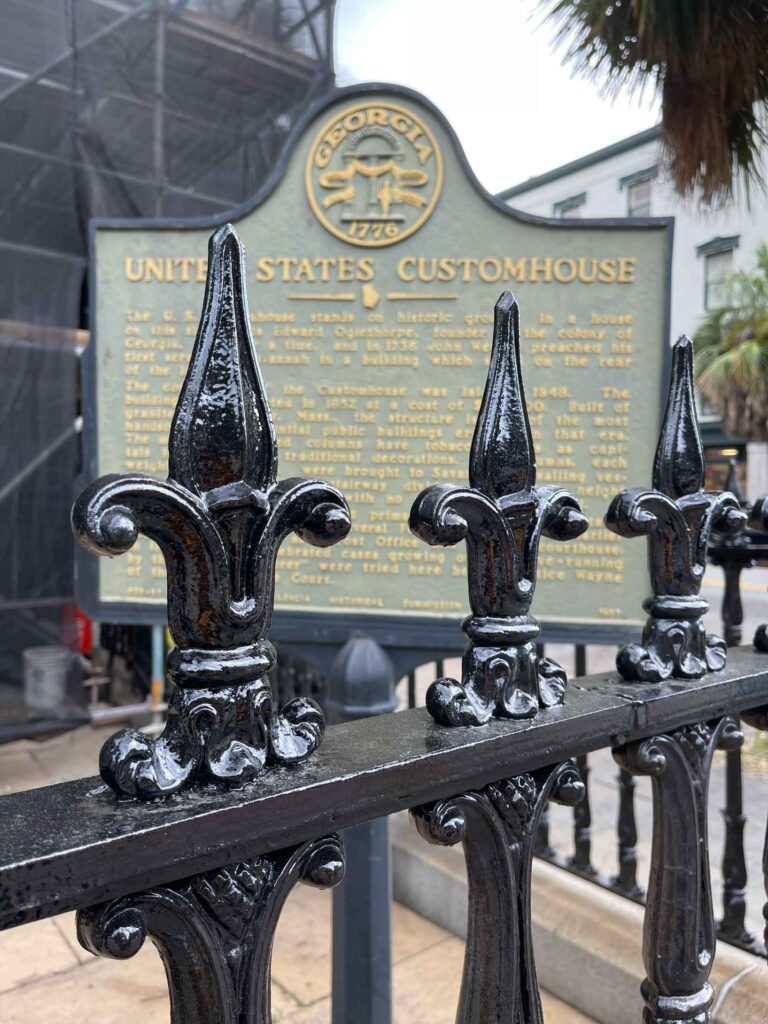 Well, our time in Savannah was quickly coming to an end. But, we had one last stop… Bonaventure Cemetery.
Bonaventure Cemetery
This is such a peaceful place. Yeah, I know, it's a cemetery it should be, but this place really has a sense of peace. The water view and the Spanish moss are simply breathtaking.
If you don't take the guided tour, do download the app. It's well worth the cost. The app will tell you all about the cemetery and its residents.
The cemetery spans over 100 acres and is like stepping back in time to a place of mystery and beauty that captivates visitors and leaves them in awe.
Have more time to spend in Savannah? Then you must add these to your must-see, must-do list.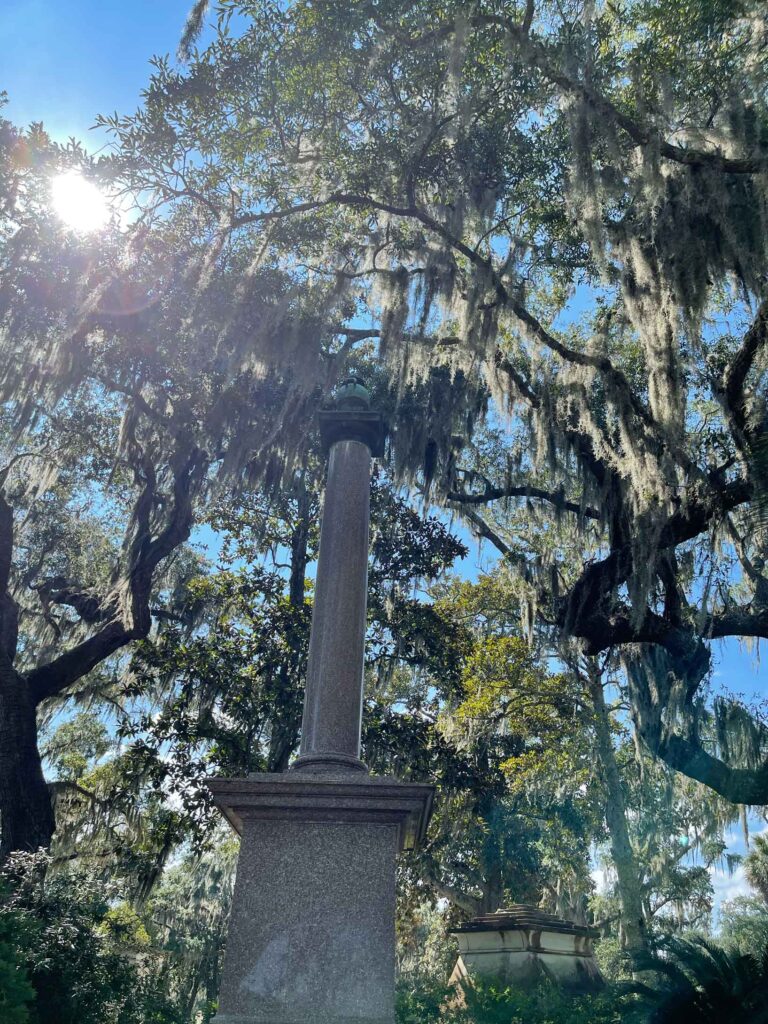 River Boat Cruise
It's definitely one of the best ways to explore the city and take in the stunning sight of the Savannah River that runs through it. You can hop on a riverboat from Historic River Street and enjoy a leisurely ride down the river, passing under historic bridges and taking in the impressive architecture of the city's waterfront buildings.
Plus, some riverboat cruises even offer live entertainment and delicious food and drinks on board, so you can sit back, relax, and enjoy the sights and sounds of Savannah in style. And don't forget to keep an eye out for some of the wildlife that calls the Savannah River home, such as bottlenose dolphins and manatees.
Trust me, a riverboat cruise in Savannah is an unforgettable experience that you won't want to miss.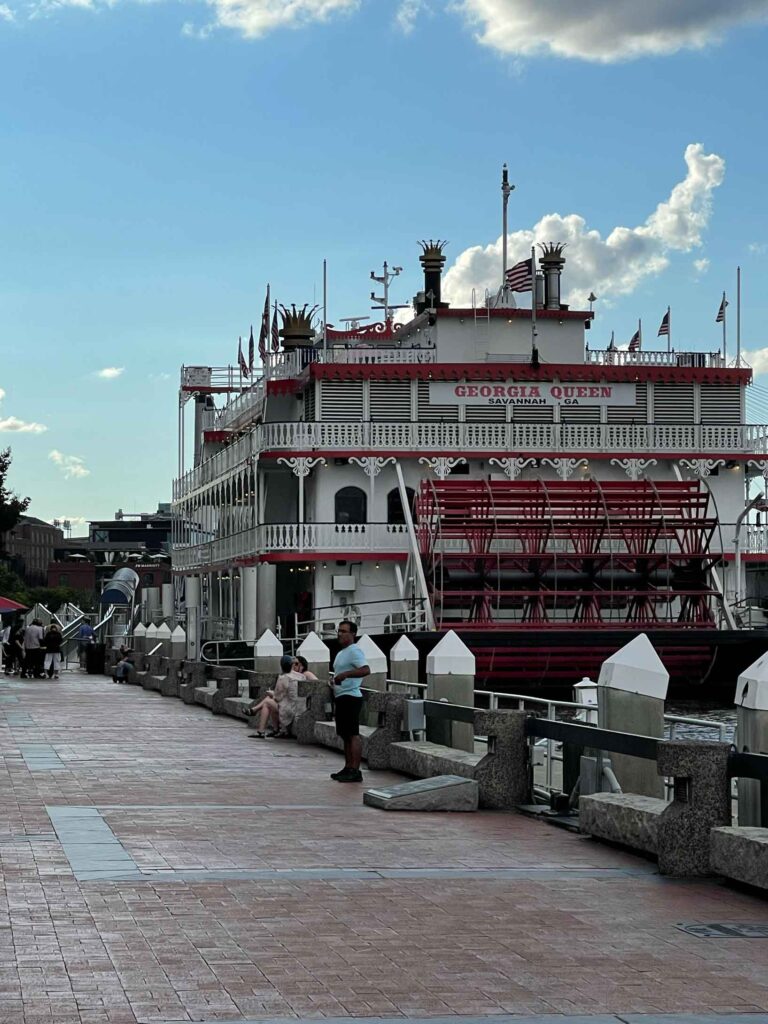 Owens-Thomas House and Slave Quarters
Oh, and if you're interested in learning about Savannah's history, you can't miss the Owens-Thomas House and Slave Quarters. This stunning mansion was built in the early 19th century and is now open for tours, showcasing its impressive architecture and ornate furnishings. But what makes this historic landmark even more fascinating is its connection to Savannah's complicated past of slavery.
The slave quarters, located on the property, are a stark reminder of the brutal reality of the slave trade in the antebellum South. Visitors can learn about the stories of the enslaved people who labored on the property and gain a deeper understanding of the impact of slavery on the city's history. It's a sobering but important experience that will leave a lasting impression.
And if you're especially interested in this aspect of Savannah's history, you can also visit the nearby Ralph Mark Gilbert Civil Rights Museum to learn about the struggle for civil rights in the city.
City Market
This open-air marketplace is a hub of activity in the heart of Savannah's historic district, offering a unique shopping and dining experience for visitors. With over four blocks of shops, restaurants, and galleries, there's something for everyone at City Market.
You can browse local art and handcrafted souvenirs, satisfy your appetite with Southern-style cuisine, or grab a drink and listen to live music on the weekends. And speaking of drinks, don't forget to try a refreshing sip of Savannah's famous sweet tea while you're here!
But City Market isn't just a tourist spot – it's also a beloved gathering place for locals, who come here to celebrate festivals and events throughout the year. So whether you're looking for a fun night out or a place to soak up the local culture, City Market is the perfect destination for you.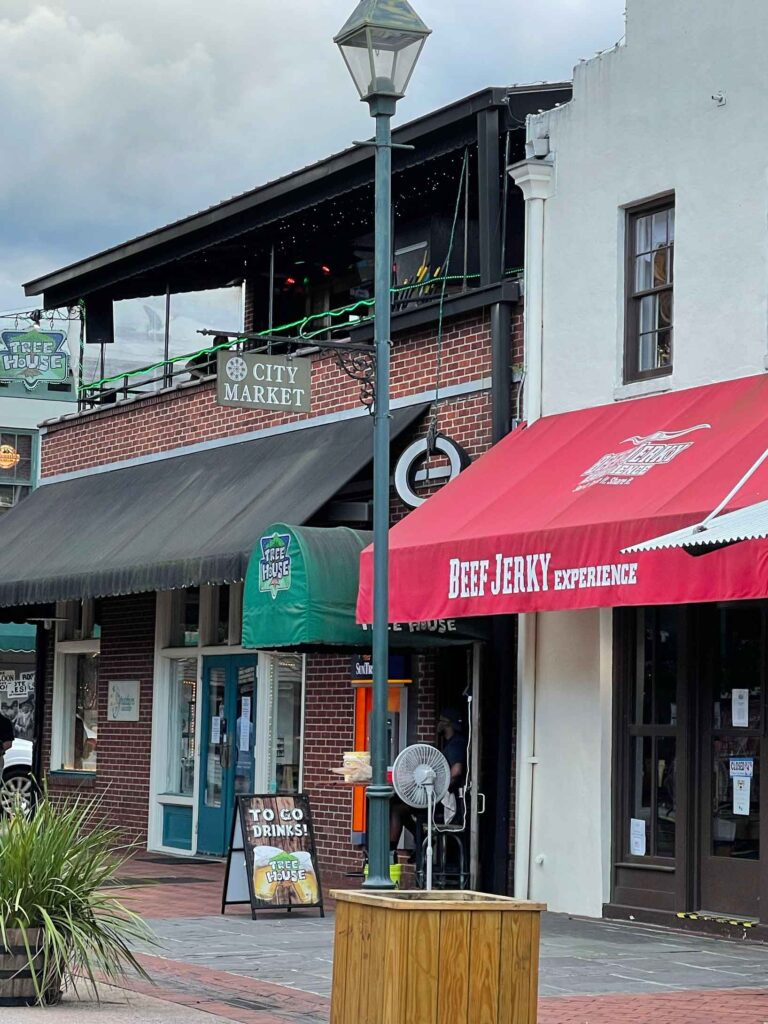 Telfair Museum of Art
This is a must-see destination for any art lover. The museum is housed in three historic buildings, including the Telfair Academy, which was built in 1818, making it the oldest public art museum in the Southeast. Inside, you'll find an impressive collection of American and European art, including works by artists such as Winslow Homer, Claude Monet, and Mary Cassatt.
The museum also has a permanent collection of decorative arts, featuring stunning examples of furniture, ceramics, and silverware from throughout the centuries. Plus, the museum often hosts rotating exhibitions, so there's always something new and exciting to see.
And if you're traveling with kids, be sure to check out the Jepson Center for the Arts, which has a dedicated kids' area and lots of hands-on activities. Trust me, a trip to the Telfair Museum of Art is a must-see for anyone visiting Savannah.
Tybee Island
Oh, and let me tell you about one of the best beaches near Savannah – Tybee Island. This little island is just a short drive from the city, and it's the perfect place to kick back, relax, and soak up some sun. A great day trip! The beach is wide and sandy, with clear water that's perfect for swimming or wading. And if you're feeling adventurous, you can even try your hand at surfing or paddleboarding.
But Tybee Island isn't just about the beach – there are plenty of other things to do here, too. You can explore the island's historic lighthouse, which dates back to 1736 and is still standing strong today. And if you're into wildlife, you'll love the Tybee Island Marine Science Center, where you can learn about the local ecosystem and even get up close and personal with some of the sea creatures that call the area home.
Plus, the island has plenty of great restaurants and shops, so you can indulge in some local cuisine or pick up a souvenir or two. Trust me, Tybee Island is a hidden gem that's not to be missed.
Wormsloe Historic Site
Oh, I can't believe I almost forgot to mention the Wormsloe State Historic Site! It's one of the most breathtaking places in Savannah, and it's an absolute must-see for anyone visiting the city. The historic site is located just outside of downtown Savannah, and it's home to the ruins of Wormsloe, an estate that was established in the 1730s by a prominent Savannah family.
But what really makes this site special is the gorgeous avenue of live oak trees that leads visitors into the estate. The avenue is lined with hundreds of oak trees, draped with Spanish moss, that create a natural tunnel you won't forget.
And once you arrive at the estate, you can explore the ruins of the original house, as well as the beautiful gardens and walking trails. The site's museum and visitor center have great exhibits on Georgia's colonial history, providing context and learning opportunities that visitors often miss. It's a true glimpse into the past, and the perfect place to relax and immerse in the beauty of nature while learning about Savannah's rich history.
Fort James Jackson
This is one of the coolest historical landmarks in the city, and a must-visit attraction for anyone interested in learning about Savannah's past. The fort was built in the early 19th century, during the War of 1812, as a defense against potential British invasion. It played a key role in the Battle of Savannah, which took place in 1779 during the American Revolution.
Today, you can explore the fort and its surrounding grounds, including the barracks, gunpowder magazine, and moat. And if you're lucky, you might even catch a glimpse of the cannon firing demonstrations that are held on weekends.
But what really sets Fort James Jackson apart is the stunning view it offers of the Savannah River and the city skyline. You can climb to the top of the fort's ramparts and soak in the panoramic vistas, imagining what it must have been like to defend the city against enemy forces. It's a fascinating glimpse into Savannah's military history and a great place to spend a few hours taking in the sights and sounds of the city.
Historic Savannah Theater
This is a real gem in the city's cultural landscape and a must-see destination for anyone who loves old-school entertainment. The theater first opened its doors in 1818, making it the oldest continuously operating theater in the United States. And let me tell you, stepping into the theater feels like stepping back in time.
The elegant interior is decorated with ornate carvings and gilded accents, and the stage is set with classic red velvet curtains. But the real star of the show here is the entertainment – the Historic Savannah Theatre is known for its top-notch live performances, ranging from musical revues to comedy shows to dramatic plays. And the best part? Many of the shows are interactive, meaning you can sing along, dance in the aisles, and even get pulled up on stage!
Plus, the theater offers dinner and show packages, so you can make a night of it and enjoy a delicious meal before the performance. Trust me, a trip to the Historic Savannah Theatre is a one-of-a-kind experience that you won't soon forget.
River Street
Oh man, River Street in Savannah is the ultimate spot for anyone looking for a good time! This historic street runs right along the Savannah River, offering stunning views and plenty of things to see and do. You can stroll along the cobblestone streets and browse the unique shops and boutiques, where you'll find everything from handmade jewelry to vintage clothing. And when you get hungry, there are plenty of restaurants and cafes to choose from.
I highly recommend trying some of the local seafood, like shrimp and grits or fried green tomatoes. But the real magic of River Street comes alive at night when the street comes alive with live music and entertainment. You can catch a concert at one of the outdoor venues, sip on a cocktail at one of the bars, or simply people-watch from a bench. And if you're lucky, you might catch a glimpse of one of the massive cargo ships that pass by on the river. Trust me, River Street is a must-visit destination that you'll fall in love with.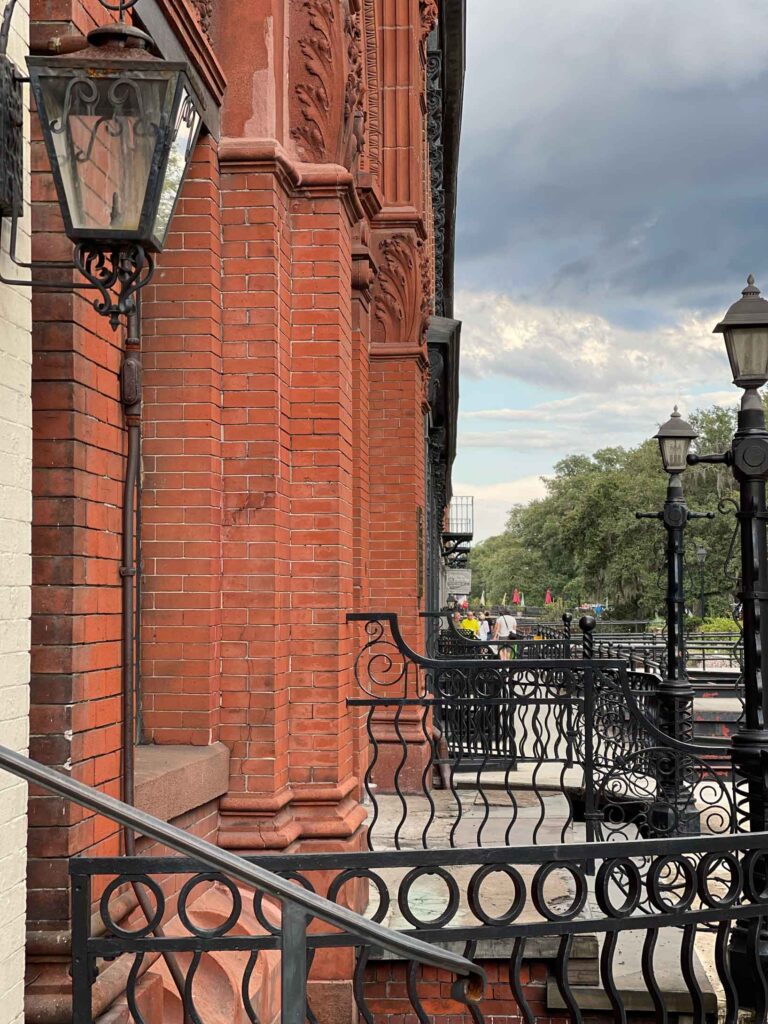 University of Georgia Aquarium
The aquarium is located on Skidaway Island, just a short drive from downtown Savannah, and it's home to a stunning array of creatures that call the Georgia coast home. You can watch playful river otters swim and play, marvel at the grace of majestic jellyfish, and get up close and personal with rays and sharks in the touch tank.
But what really sets the University of Georgia Aquarium apart is its focus on conservation and education. The exhibits are full of information about the ocean ecosystem and the animals that live there, and the staff are eager to share their knowledge with visitors.
Plus, the aquarium is home to a sea turtle rehabilitation program, where injured turtles are taken in and cared for until they are strong enough to be released back into the ocean. It's a truly inspiring place that will leave you feeling both amazed and informed.
Johnny Mercer House
This historic mansion is a real hidden gem in Savannah, and it's a must-see for anyone interested in music history. The house was originally built in the 1860s, and it's now a museum dedicated to the life and career of Johnny Mercer, one of Savannah's most famous sons.
Mercer was a prolific songwriter and lyricist who wrote some of the most iconic songs of the 20th century, including "Moon River" and "Hooray for Hollywood." The museum takes visitors through Mercer's life and career, showcasing his awards, personal effects, and even handwritten lyrics. But what really makes the museum special is its connection to Savannah's culture and history – through Mercer's story, visitors can learn about the city's jazz scene, its role in the film industry, and its vibrant artistic community.
The house itself is a beautiful example of Victorian architecture, with stunning period details and furnishings. It's a must-visit for any music lover or history buff and a great way to learn about the cultural legacy of Savannah.
Girl Scouts
Hey, did you know that Savannah is also the birthplace of the Girl Scouts? Yep, that's right! The founder of the Girl Scouts, Juliette Gordon Low, was born and raised right here in Savannah. And if you're a Girl Scout or just a fan of the organization, you can't miss the Juliette Gordon Low Birthplace.
The Birthplace is a museum and historic home located in the heart of Savannah's historic district, and it's dedicated to preserving the legacy of Juliette Gordon Low and the history of the Girl Scouts. You can take a guided tour of the birthplace and see the rooms where Juliette grew up, surrounded by her family's art and artifacts. Plus, the museum has lots of interactive exhibits that teach visitors about the history and impact of the Girl Scouts, from their early beginnings to their modern-day programs.
And if you're lucky, you might even get to participate in some Girl Scout activities or earn a badge! It's the perfect place to learn about the inspiring woman who started it all and the amazing organization she created.
Broughton Street
This is a charming and historic street that's filled with plenty of unique shops, boutiques, and cafes. The architecture is absolutely stunning and it really takes you back in time. You'll find everything from designer clothing stores to artisanal bakeries on this lively street.
But what I love the most about Broughton Street are the hidden gems tucked away in alleyways and side streets. There's so much to discover! Plus, the atmosphere is just electric. Whether you're window shopping or looking for some serious retail therapy, Broughton Street has definitely got you covered.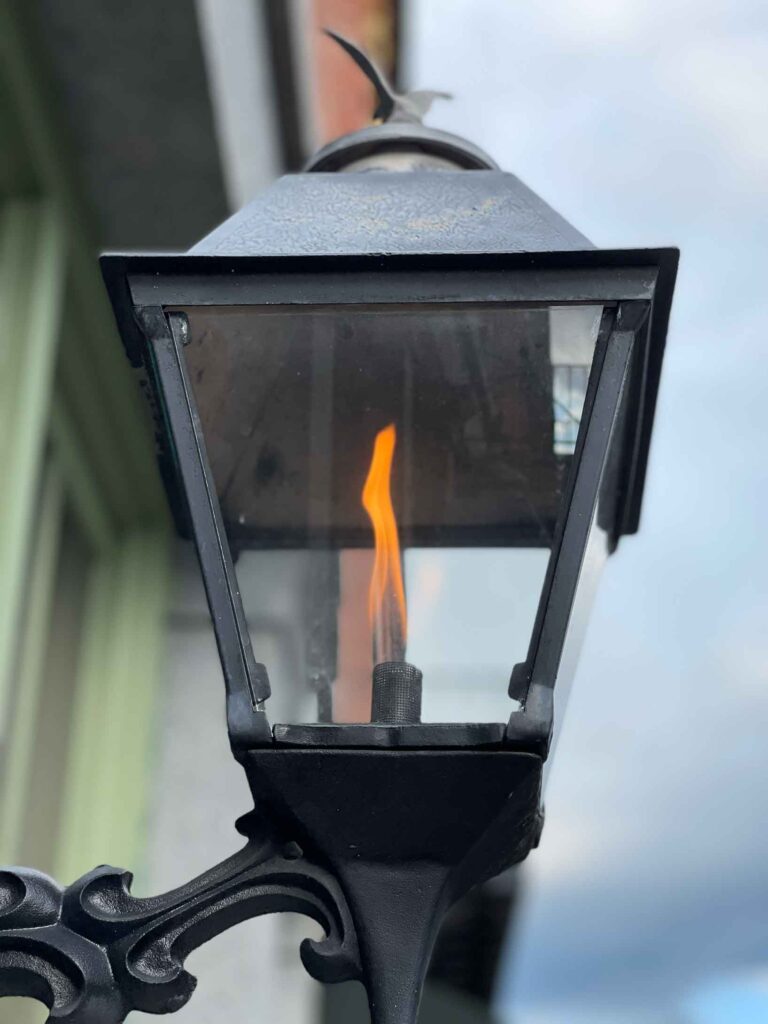 Leopold's Ice Cream
Oh man, let me tell you about Leopold's Ice Cream in Savannah. It's a must-visit spot on Broughton Street! This place has been around for over 100 years, and it's still serving up some of the best ice cream in the country. I mean, they even have their own dairy farm where they source their milk and cream. How cool is that?
And the flavors are out of this world. They have everything from classic vanilla to unique options like lavender and honeycomb. But what really sets them apart is their sundaes and old-fashioned soda fountain drinks. Trust me, you won't find anything like it anywhere else.
Plus, the interior is just as charming as the rest of Broughton Street. You really feel like you're stepping back in time when you walk through those doors. It's a must-visit spot and a Savannah tradition!
Bull Street
Now let me tell you a little bit about Bull Street in Savannah. It's another gem in the city that you won't want to miss. This historic street is lined with beautifully preserved buildings that will transport you back in time. One of the most iconic landmarks on Bull Street is the Cathedral of St. John the Baptist, which boasts breathtaking architectural details both inside and out.
But Bull Street is also home to some of the city's best shopping and dining options. You'll find everything from high-end boutiques to cozy cafes along this bustling street. One of my personal favorites is the Paris Market, a whimsical store filled with unique home decor and gifts from around the world. And if you're a foodie, you won't want to miss out on The Grey, a restaurant housed in a restored 1938 Greyhound bus terminal that serves up delicious southern-inspired cuisine. Bull Street definitely has a lot to offer, and it's a must-see destination for anyone visiting the City of Savannah.
Fort Pulaski
Oh, have you heard of Fort Pulaski? It's a historic landmark located just outside of Savannah that's definitely worth a visit. This fort played a significant role in the Civil War and was actually one of the first forts to be constructed with brick and concrete.
The technology used to build Fort Pulaski was groundbreaking for its time, and it was considered to be nearly impenetrable. But during the Civil War, Union forces were able to use newly developed rifled artillery to breach the fort's walls.
Today, visitors can explore the fort's interior and learn about its fascinating history through exhibits and guided tours. Plus, the surrounding area is absolutely beautiful, with scenic walking trails and stunning views of the Savannah River. It's definitely a must-see for history buffs and anyone interested in the military history of the United States.
Historic Squares
Finally, as you wander the streets of Historic Savannah, you will wonder about the Historic Squares. These beautiful green spaces are scattered throughout the city's historic district, each one with its own unique charm and character.
There are 22 squares in total, dating back to the 18th and 19th centuries, and each one has a fascinating history and significance. For example, there's Johnson Square, the oldest and largest square in Savannah, which was named after Governor Robert Johnson and served as a gathering place for political and social events.
Then there's Chippewa Square, which might look familiar to movie buffs … it's where the famous bench scene from the movie "Forrest Gump" was filmed! But beyond their historical significance, the squares are simply beautiful to behold. They're shaded by towering oak trees, surrounded by gorgeous architecture, and often dotted with monuments and statues.
And during the spring, they're bursting with color from the blooming azaleas and dogwoods. So if you're in Savannah, be sure to take a stroll through the historic squares – it's a truly magical experience!
So there you have it … a whole list of amazing things to see and do in Savannah! But let's say you only have one day to explore the city – what should you prioritize? Best things to see? Best places to go?
Well, it all depends on your interests. If you're a history buff, you might want to start your day at the Owens-Thomas House and Slave Quarters, followed by a visit to Fort James Jackson and a walk through the historic squares.
If you're more into art and culture, start your day at the Telfair Museum of Art, then head to the Johnny Mercer House and the Historic Savannah Theatre for a dose of entertainment.
And if you're looking for outdoor adventures, spend your day at Forsyth Park, followed by a riverboat cruise on the Savannah River and a trip to Tybee Island. No matter what you choose, though, you can't go wrong in this beautiful and historic city.
Happy exploring!