As an annual pass holder, I have to admit that I am a bit of a Walt Disney World theme park pro. I know all the insider tips and tricks to make my visits as smooth and enjoyable as possible. And one thing that every theme park visitor needs to know about is wait times.
Now, if you're a seasoned park-goer like me, you probably already know that wait times can make or break your day. That's why I always make sure to plan ahead and avoid the peak times when visiting Epcot. But how exactly do I do that? And should you pay for the new lightning lane system? Don't worry, I've got all the answers for you.
My Disney Experience App
First things first, let's talk about the My Disney Experience app. If you haven't downloaded this magical tool yet, do it now. Trust me, it will be your best friend when navigating through Epcot or any of the other Disney parks. Not only does it have a map of the park and showtimes for all attractions, but it also provides real-time wait times for each ride, which is one of my favorite features. So instead of aimlessly wandering around the park, trying to see each ride's posted wait time, you can strategically plan your next move based on wait times found on the app.
Lightning Lane
Now, let's address the lightning lane. Disney recently introduced this paid system that allows guests to skip the regular line and enter through a special queue. But is it worth it? Well, that depends. If you only have a limited amount of time at Epcot and really want to ride a specific attraction, then it might be worth the splurge. But if you have all day and are willing to wait, I say save your money.
Best Time to Visit? Do I need Park Pass Reservations?
So when are the best times to visit Epcot? As a general rule of thumb, avoid school holidays and weekends. And if you happen to be planning a trip during a runDisney race, be prepared for larger crowds. But remember, even on the busiest days, there are ways to beat the wait times and spend less time in line.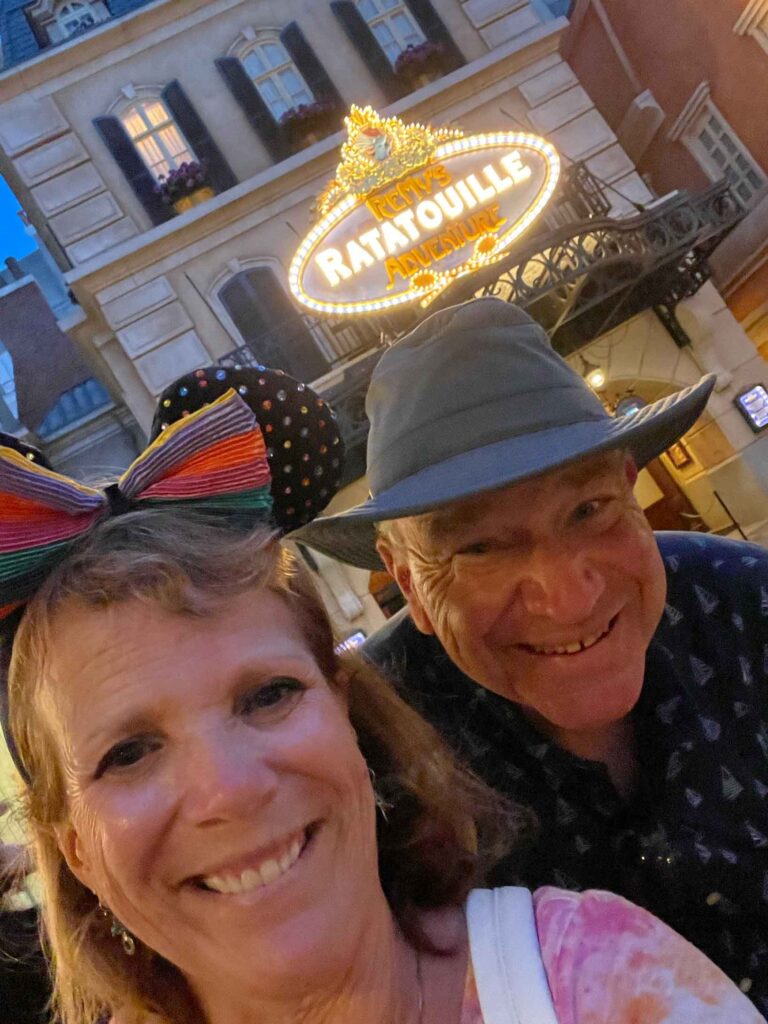 But hold your horses, there's a plot twist brewing. Starting from January 2024, Disney is changing the game again. If you have a date-based ticket, you can just waltz right into the park, no reservations needed. It's like being at the front of the line on opening day for a new Star Wars movie – no more waiting, just straight to the action! However, for us glorified regulars, the annual pass holders, we don't get off that easy. We will still need to secure a park pass reservation. Yes, my friends, we will still be playing the online equivalent of Musical Chairs, trying to snag those sought-after reservations. So keep those fast fingers ready and turn on those push notifications. It's all part of the Disney thrill!
Grab your FREE Ulitmate Packing Checklist– It will make your next trip a breeze to plan!
Disney World Crowd Calendar? Yes … No?
Now, I know what you're thinking: "How can I predict the ebbs and flows of the Disney crowd?" Well, my fellow Mouseketeers, let me introduce you to the magic of Disney World Theme Parks crowd calendars! These calendars, which can be easily found online, claim to provide a day-by-day forecast of crowd levels at the parks and wait time data.
They're color-coded for easy reading, with green for "go" (low crowds), yellow for "slow down" (moderate crowds), and red for "stop, drop, and roll" (high crowds). But as a seasoned Disney veteran, I have to say… take these forecasts with a grain of pixie dust. While they can give a rough idea (like predicting higher crowds when school's out or during runDisney races), they're not always spot on. Why, you ask? Because life, like a ride on Space Mountain, is full of unexpected twists and turns. So, my advice is to use these calendars as a general unofficial guide, not an oracle. Keep your My Disney Experience app handy, stay flexible, and remember: a crowded day at Disney still beats a quiet day almost anywhere else!
Get more of our Disney tips… Click here
Wait Times
Now let's get down to business – which Epcot attractions usually have the longest wait times and which ones have the lowest wait times? I've got a couple of insider tips for you. First up, Soarin'. This popular ride can have wait times upwards of 2 hours on peak days. So either buy a Lighting Lane pass or visit early in the morning or later in the evening when crowds die down.
On the flip side, rides like Living with the Land and Journey into Imagination usually have much shorter wait times. And let's not forget about my personal favorite, Spaceship Earth. This classic ride rarely has long lines, so it's a great option for when you need a break from the crowds.
Virtual Queue
Disney's newest rides like the Guardians of the Galaxy: Cosmic Rewind use what's known as a virtual queue. It's like a FastPass on steroids, and let me tell you, it's a game-changer. Here's how it works: instead of standing in line, you use the My Disney Experience app to join the virtual queue for the ride. Once you're in the queue, you're free to roam around Epcot, enjoy other rides, or maybe grab a Mickey pretzel (highly recommended, by the way). When your spot in the queue comes up, you'll get a notification on your phone, and you have a certain amount of time to make your way to the ride.
One pro tip: just like those limited-edition Disney pins, spots in the virtual queue can go quickly, so make sure you join as early as possible. Remember though, even the Guardians of the Galaxy need to wait their turn, so be patient. The virtual queue is another great tool to make the most out of your Epcot experience. So go ahead, join the queue, and let Star-Lord and his crew take you on a wild ride across the universe!
Epcot Favorites
Another heavy-hitter on the Epcot ride roster is Remy's Ratatouille Adventure. Now, if you're a Pixar fan (or just love a good, immersive 4-D experience), this ride is a non-negotiable. It's like stepping straight into Gusteau's renowned kitchen, and let me tell you, the sights and smells are a chef's kiss. But here's the rub: this ride can draw lines longer than the bread queue at a French bakery. And while I do love that little culinary rodent, I'm not quite ready to donate 2 hours of my precious Epcot time to the queue. My strategy? I keep a hawk-eye on the My Disney Experience app, pouncing on the Ratatouille Adventure queue the second those wait times drop. Like a cat…or a very determined rat. Trust me, it's worth the vigilance. After all, who wouldn't want to join Remy's kitchen brigade without giving up half their park time?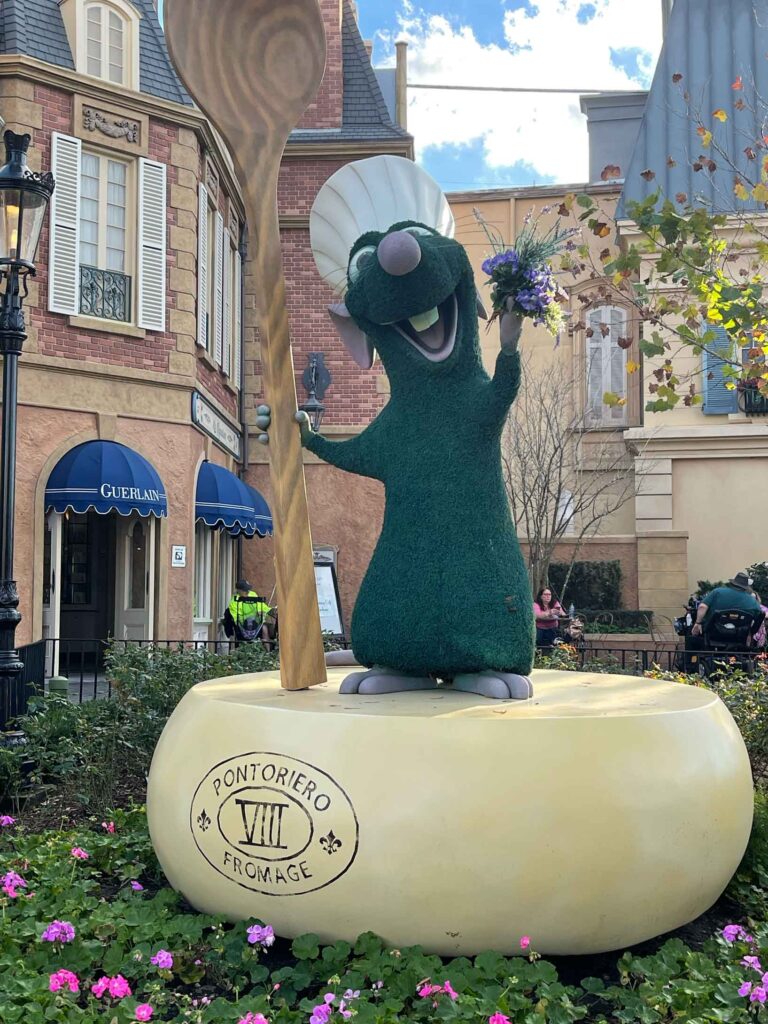 Frozen Ever After
Now let's talk about the chilly charm of Arendelle: Frozen Ever After. As an annual pass holder (and huge fan of Olaf), this ride holds a special place in my heart. It's like stepping into a winter wonderland, complete with iconic songs, lovable characters, and a magical storyline that never fails to give me the warm fuzzies (ironic, I know).
But let's not kid ourselves, this ride is as popular as Elsa's Ice Palacewait times and the wait times can be as enduring as an eternal winter. But fear not, fellow adventurers! Just like with Remy, I keep my eyes glued to the My Disney Experience app. The moment I spot a dip in the ride wait times, it's go-time! So grab your parka and prepare to embark on an enchanting journey through Arendelle – and hey, maybe you'll get lucky and not have to wait as long as it took Anna to thaw Elsa's frozen heart!
Gran Fiesta Tour
And now, let's salsa our way over to the Gran Fiesta Tour, nestled in the heart of the Mexico Pavilion. Ah, the charming boat ride through the Mayan pyramids, the cheerful tunes, and those three lovable birds from the classic Disney flick, "The Three Caballeros". A delightful experience, isn't it? But what about the wait times, you ask?
Here's the scoop: while it's not usually a frenzy like Frozen Ever After, the Gran Fiesta Tour generally has manageable wait times. It's one of those hidden gems that somehow flies under the radar of the Disney crowds and offers a good time for all. As a seasoned pass holder, I've breezed in and out of there more times than Donald Duck has lost his temper. So, if you're looking for a fun, less hectic Disney ride to hop onto during peak park times, the Gran Fiesta Tour is your ticket to a wait-free fiesta!
Strategies for lower wait times
Let's dive into some strategies for minimizing those pesky wait times. First, you've got to embrace the early bird mentality! That's right, getting to Epcot just as it opens can help you beat the rush and get on those popular rides with less of a wait. Second, consider the order of attractions. In my experience, the World Showcase tends to be less crowded in the morning, so hitting that first could be a smart move.
Also, don't forget about Single Rider lines. If you don't mind potentially splitting up your group, these can be a huge time-saver. Remember, it's all about strategy here, folks! 
Mother Nature
Ah, and let's not overlook one key player in this game of wait times: Mother Nature herself. You see, here in Florida, we're no strangers to a good old-fashioned afternoon thunderstorm. Now, while some folks see a rain cloud and pack up their Mickey ears faster than you can say "supercalifragilisticexpialidocious," I see an opportunity. When the heavens open up and that sweet Florida rain starts to fall, the wait times start to drop faster than a ride on the Tower of Terror. Why? People scurry for cover or decide to call it a day. But not us, no siree. A little water never hurt anyone – we're ducks in the rain, ready to swoop in on those shorter lines.
Similarly, as the day turns into night and the Epcot sky gets ready for a dazzling display of fireworks, another window of opportunity opens up. While the majority of folks start staking out the perfect fireworks viewing spot, we shrewd few make a dash for the rides. The result? Reduced wait times and a bonus nighttime ride experience. Trust me, Soarin' over the world at night is a whole different ball game. Just remember to get back in time for the grand finale in the sky! So in this game of Epcot wait times, remember, every cloud (or firework) has a silver lining!
Remember, with a pinch of planning, a spoonful of strategy, and a dash of flexibility, you can master the art of beating the queues.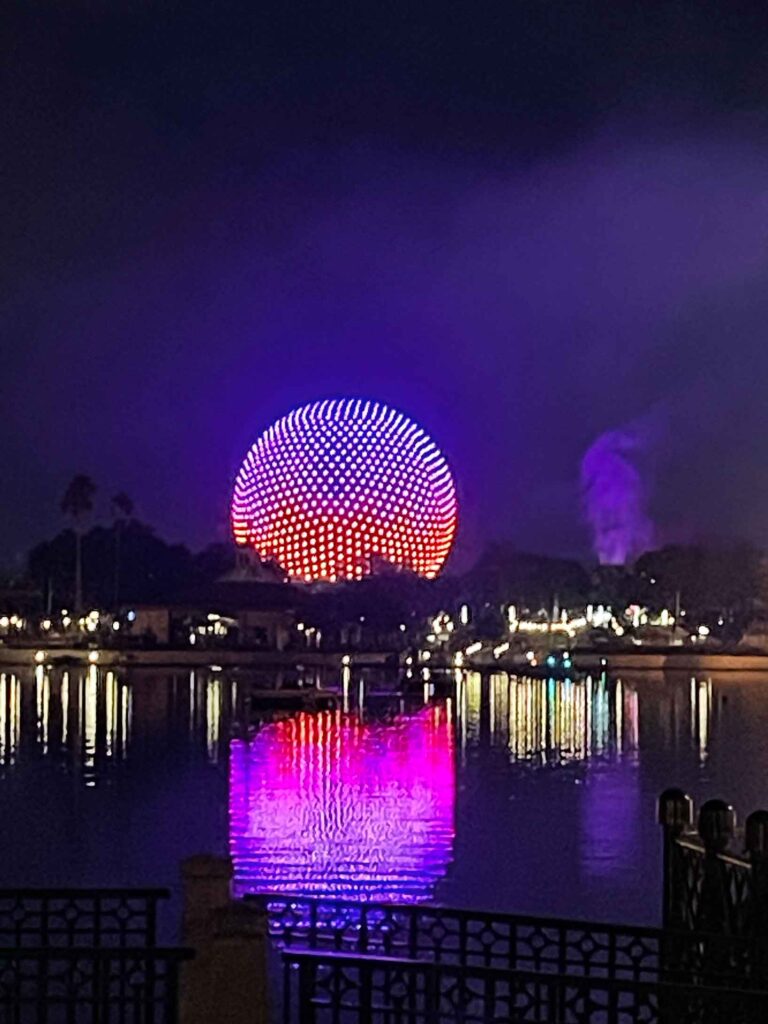 Park Hopping
But wait, there's more! As an annual pass holder, I've learned that park hopping can be a lifesaver when it comes to avoiding long wait times. If Epcot is packed, you can easily hop over to nearby Hollywood Studios or Magic Kingdom using the Disney transportation system. Plus, these parks usually have different peak times, so you can plan your visits accordingly.
Hollywood Studios
Ready to hop over to Hollywood Studios? And no, you don't need to hail an enchanted pumpkin carriage or ride a magic carpet. The best way to get there, my friends, is the Disney Skyliner! Just think of it as your personal flying carpet, minus the talking parrot. Operating like a high-flying taxi, the Skyliner will whisk you from Epcot to Hollywood Studios in no time, offering bird's eye views of the park that even Dumbo would be jealous of. There's no better way to make a grand entrance into the world of movie magic.
Plus, the Skyliner bypasses those pesky road traffic jams—you'll be soaring over them with a smug grin on your face. So once you've said your goodbyes to Elsa and Mickey at Epcot, just head over to the International Gateway station, buckle up, and enjoy the ride! Remember, in Disney, the commute is just as fun as the destination itself!
Longest waits??
Now, let's talk about those notoriously long line rides for the popular Hollywood Studios attractions. First on the list? The Hollywood Tower of Terror. This ride is a fan favorite, and you'll often see wait times that soar as high as the tower itself! Then there's Slinky Dog Dash, which is as popular as a dog chasing its tail. The queue might seem like it's stretching to infinity and beyond, but I promise you, the ride is worth it!
Finally, there's Star Wars: Rise of the Resistance. This ride is as hot as a lightsaber right now, and its wait times can be longer than the Star Wars saga itself. So, if you love a good thrill and don't mind a wait, these are the rides for you! But remember, with your trusty My Disney Experience app and a keen eye on those wait times, you'll be zipping through the lines faster than you can say "Mickey Mouse". So, keep your ears up and your app open, and may the queue-beating force be with you!
Shortest Waits?
On the flip side, there are some rides at Hollywood Studios where the lines are about as short as Dopey, our favorite vertically-challenged dwarf! Take Muppet*Vision 3D, for instance. This hilarious 3D romp through the Muppets' lab typically has a wait time shorter than the time it takes to whistle "It's a Small World." Similarly, Star Wars: Path of the Jedi and Walt Disney: One Man's Dream often have wait times that are as fleeting as Tinker Bell. Don't get me wrong – these attractions might not make your heart race like the Tower of Terror, but they're charming, entertaining, and offer a welcome respite from those longer lines. So, next time you're at Hollywood Studios, give these under-the-radar attractions a whirl. You might just find a new favorite!
Epcot and Food
Now, let's not forget about the most crucial reason we visit Epcot…. the food. Epcot is a gastronomic jackpot that foodies will relish. From quick bites at the Sunshine Seasons in The Land pavilion to a more gourmet experience at Monsieur Paul in the France pavilion, there's a culinary adventure waiting at every corner.
When we're talking about dining, Epcot truly is the crème de la crème of Disney parks. Picture this: You've just conquered the Test Track, and the adrenaline rush has stirred up quite the appetite. Where do you dine?
Well, if you're in the mood for some mouth-watering sushi or teriyaki, head over to the Japan Pavilion and visit Teppan Edo. Prepared right in front of you, the food here is as much a performance as it is a meal.
Craving something with a little more…hops? Make your way over to the Germany Pavilion, where you'll find Biergarten. Here, you can enjoy a hearty meal with schnitzel, sausages, and pretzels, accompanied by a refreshing German beer.
If it's pizza you're after, you can't beat Via Napoli in the Italy Pavilion. The thin-crust pizzas, baked in wood-burning ovens, are as close as you'll get to Naples without taking a plane there.
For those of you with a sweet tooth, end your culinary journey in France at Les Halles Boulangerie-Patisserie. From macarons to mousse, they've got your sugar cravings covered.
Remember, Epcot is a world of flavors waiting to be explored. So, don your explorer's hat, adjust your belt, and get ready to eat your way around the world!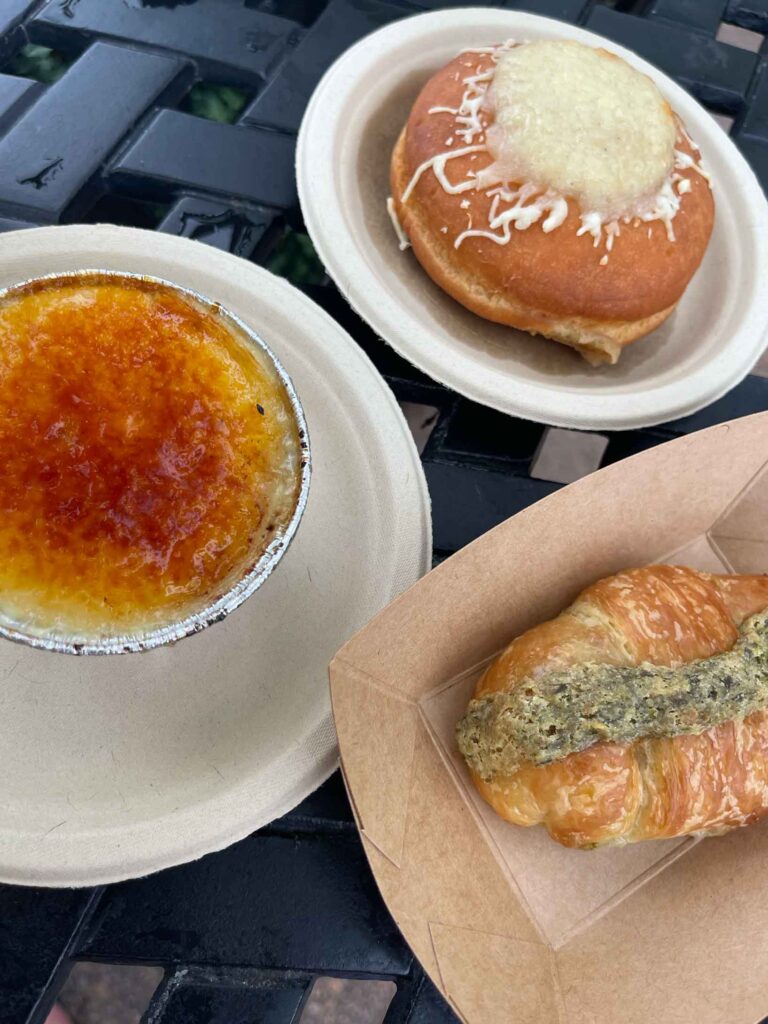 Dining Reservations
On the topic of dining, let's get real. Sure, you can try your luck and just walk up to the restaurant of your choice, but with Epcot's popularity, there's a good chance you might have to deal with—wait for it—more lines. But don't worry, I've got a fix for you: dining reservations. You can reserve your spot at any table-service restaurant up to 60 days in advance.
Oh, and a quick tip: if you're planning to dine at one of the fancier joints like Le Cellier or Via Napoli, book your reservations as early as possible, like the moment you wake up 60 days before your trip. These places fill up quicker than the line for Soarin' Around the World on a sunny Saturday. With reservations, you can skip the line, enjoy your meal, and get back to the attractions faster than you can say "Supercalifragilisticexpialidocious". Now, that's what I call a win-win!
In the end, my best advice for avoiding Epcot wait times is to be smart about when and how you visit. Use the My Disney Experience app to monitor wait times and plan your day accordingly. And remember, don't stress too much about waiting in line – after all, you're at the happiest place on earth! Just be sure to pack some snacks and entertainment for those longer waits for your next Disney World trip. Trust me, it's worth it for all the magical experiences that await you at Epcot. Now go forth and conquer those wait times like a pro!