Road trips have always been my favorite way of traveling. There's something magical about hitting the open road, discovering new places, and creating memories that will last a lifetime. But this particular road trip was unlike any other I had experienced before – it was an epic adventure with my 80-year-old dad.
For years, my husband and I have been making the trek down to Florida to visit our son and explore all the Sunshine State has to offer. After every trip, we could count on one thing for sure – my dad would ask us about the traffic, the roads, and the gas prices. We always tried to get him and my mom to come along with us on these adventures, but it never seemed to work out. After we lost my mom, however, I knew it was the perfect time to get my dad out of the house and take a road trip together. When I pitched the idea to him, he said yes without hesitation. And so began the journey of a lifetime – a chance to spend quality time with my dad, explore new places, and make memories that will last a lifetime.
And so it begins…
Our adventure began in West Virginia on what would have been my mom's 80th birthday. To start our journey on a special note, we celebrated dinner at Texas Roadhouse, which was her favorite restaurant. As we raised a glass to her, we wished she could join us on our adventure. But deep down, we knew she would be tagging along.
After dinner, we grabbed a few hours of sleep before embarking on our road trip early the next morning. Packed into the car was my dad, Kevin, our dog – Mr. Coffee, and myself. We were a motley crew ready for adventure, eager to explore all the hidden gems that this world has to offer. Our first stop? Summersville, WV at Sheetz for gas, a delicious breakfast sandwich, and a potty break for our furry granddog. As we hit the open road, we felt a sense of excitement and anticipation, wondering what amazing sights and experiences awaited us along the way.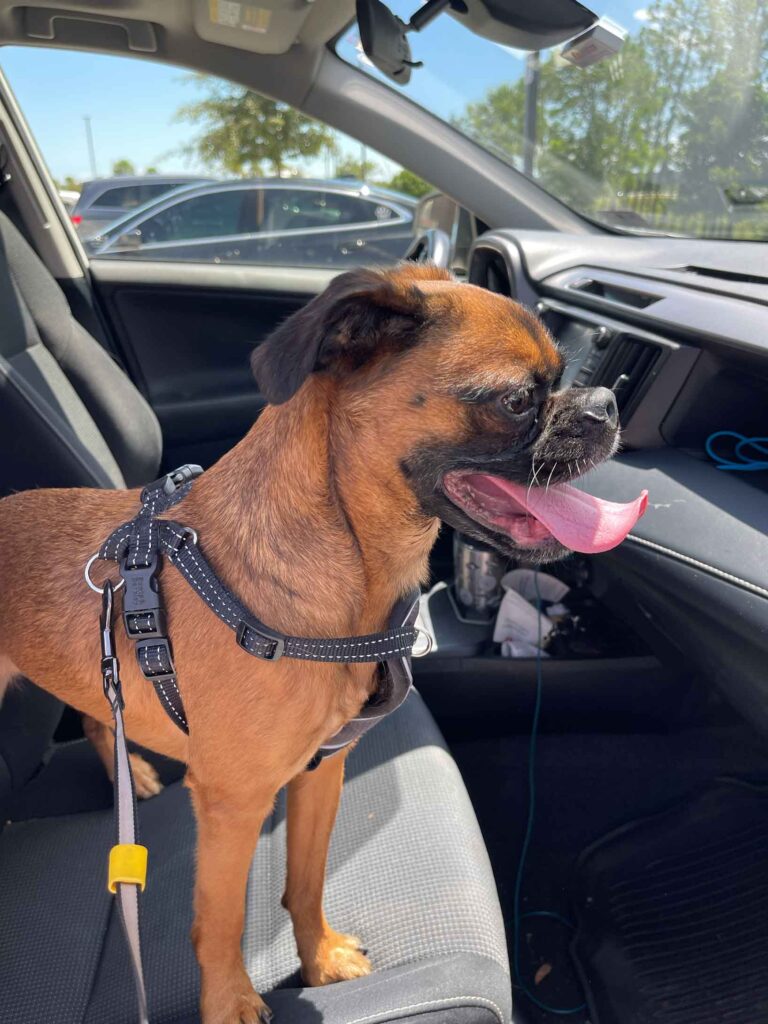 Our adventure continued as we made our way south to see the New River Gorge Bridge. We weren't sure if my dad had ever seen it before, but that didn't stop us from feeling excited about the prospect of seeing it again. And this morning, it was a beautiful sight to behold. As we approached the lookout, we could see that the bridge was surrounded by a layer of fog, making the view even more breathtaking. We took a moment to soak it all in, marveling at the stunning scenery and feeling grateful for the opportunity to experience such natural beauty.
The Journey South

As we drove further South, my dad took in every sight with enthusiasm. He noted the number of trucks on the road and pointed out the stunning views. It was as if the beauty of the world had suddenly come alive for him, and he was determined to immerse himself in it. Every time we passed a field, he eagerly looked out for cows or crops of any kind. It was heartwarming to see how much joy he found in the simple things, and it reminded us of the importance of embracing our own sense of wonder and adventure. He also noted, how flat the land became, once we left his beloved mountains.
We made great time driving that day so we decided to stop for dinner in Daytona Beach, and guess where we ended up? Buc-ee's, baby!
Now, if you've never been to Buc-ee's before, let me tell you – it's a game-changer! I had been trying to convince my dad about this place for years, and finally, he got to see it for himself. And let me tell you, he was impressed! The store is amazing, and the food is top-notch. My dad got a sandwich for dinner, and he loved every bite of it. After filling our bellies with delicious food and our car with gas, we headed on toward Orlando
The Magic of Disney World
The next, we headed out to explore the parks. I decided to get my dad a 4-day park ticket so that we could take our time and leisurely stroll through each of the parks. And if we wanted to, we could even park hop!
I was beyond thrilled to show my dad Disney World. He had never been before, although he had been to Disneyland multiple times. He kept asking how they compared, but we just kept telling him – no comparison! And when he saw the sheer size of Disney World, he was completely blown away.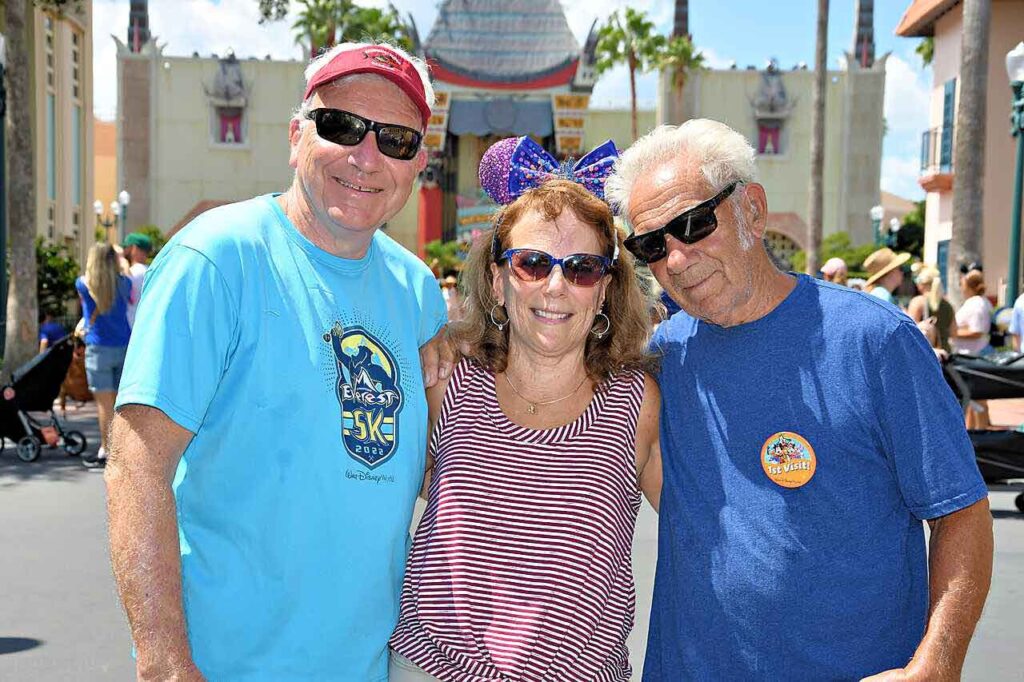 Hollywood Studios
We started our Disney adventure at Hollywood Studios, and let me tell you, it was the perfect place to kick off our trip. With Star Wars land and all the other amazing attractions, my dad and I were in for a real treat. And if you follow me, you know that I'm a huge fan of Hollywood Studios. It's my go-to place for unwinding after a long day, and I just love the vibes there.
Our first stop in the park was Baseline for a beer, and let me tell you, it was the perfect spot to sit, relax, people watch, and enjoy a cold brew. My dad was impressed with the ambiance and understood why we loved the place so much. But here's where things got funny – I suggested that we check out the Indiana Jones Spectacular, but my dad said he needed to finish his beer first.
We chuckled and told him that he could take it with him, and he was blown away that he could walk around with a beer in his hand. That moment set the stage for the rest of the week.
Snakes. Why did it have to be Snakes?
Our next stop was the Indiana Jones Spectacular. As we entered the theater, my dad's eyes lit up like a kid in a candy store. I could swear he was secretly hoping to find his own whip and fedora combo! The show began, and I have to admit, it was mesmerizing. The daring stunts, the thrilling storyline, and the incredible special effects had us on the edge of our seats. I couldn't help but agree with my dad – this is a must-see show for any adventurer at heart.
After indulging in our Indiana Jones fix, we dusted off our fedoras and continued our exploration of Hollywood Studios. We stumbled upon the Mickey and Minnie Vacation Fun animated short and decided to duck in. Not only did it give us a much-needed break from the scorching heat, but it also provided some giggles and adorable moments with our favorite animated duo. It was the perfect way to rest our tired feet.
In a Galaxy Far Far Away…
But the real highlight of the day awaited us as we made our way to Star Wars land. Oh boy, was I excited to share this experience with my dad! Trying to explain the immersive nature of this place is like trying to describe the taste of chocolate to someone who has never had it – you just have to experience it yourself. The sights, the sounds, the droids roaming around… you truly feel like you've stepped into a galaxy far, far away. It was a geek's dream come true.
As we made our way to Smuggler's Run, the excitement was palpable. It's no secret that my dad has a knack for striking up conversations with random strangers, and the line for this ride was the perfect opportunity for him to exercise his social skills. He effortlessly engaged with fellow adventurers, getting their backstories and sharing laughs while we patiently waited for our turn. I swear, he could have his own talk show right there in the queue.
Finally, it was our turn to board the Millennium Falcon. Let me tell you, this ride is an absolute blast! Every time you jump into the cockpit, it's a different experience altogether. The interactive nature of the ride makes you feel like a true member of Han Solo's crew. And let's not forget the look on my dad's face – pure joy and childlike wonder. He truly believed we were cruising through space aboard the fastest hunk of junk in the galaxy.
After our exhilarating adventure in the Falcon, we couldn't resist heading over to Rise of the Resistance. Now, I don't throw around the term "best ride on property" lightly, but in my humble opinion, this one takes the cake. The attention to detail, the immersive storyline, and the jaw-dropping special effects had us all in awe. As we stood in line, my dad continued his tradition of striking up conversations with those around us. By the time we reached the boarding area, it felt like we were part of a tight-knit group of rebels ready to take on the First Order.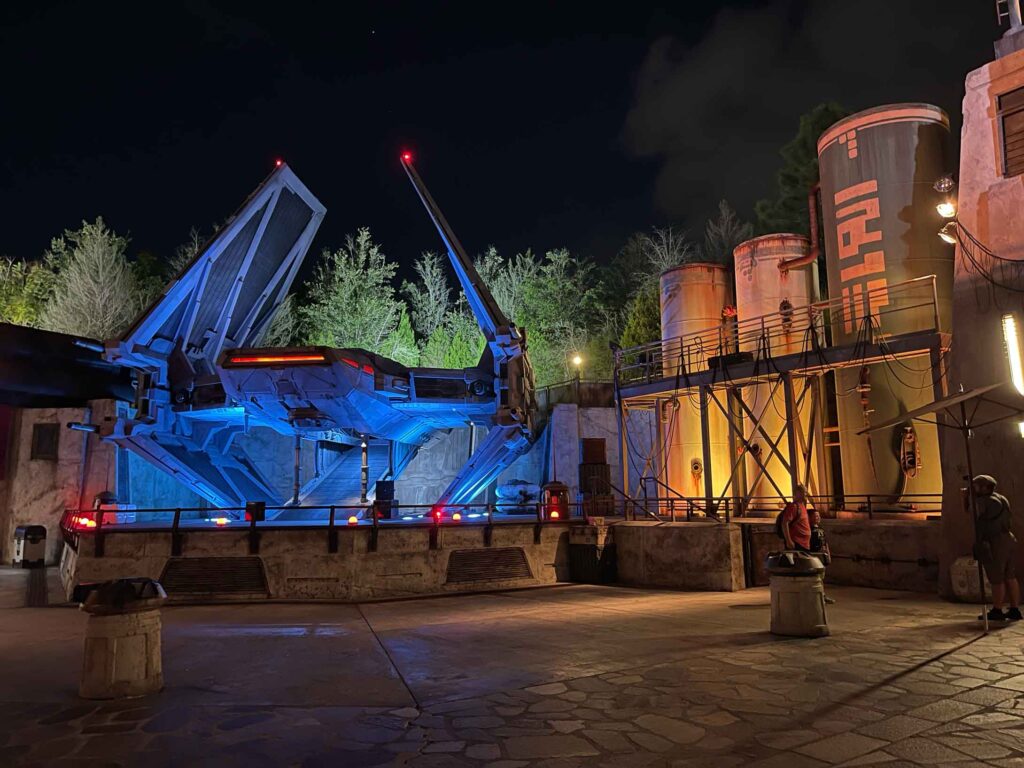 Dinner and Coffee
By this point in our Disney adventure, our stomachs were growling and we were ready to refuel. Luckily, the youngest grandson had joined us and we managed to snag a reservation at Prime Time Cafe. Let me tell you, folks, the food was absolutely mouthwatering! From the classic comfort dishes to the delectable desserts, every bite was a delight. But my dad, being the coffee connoisseur that he is, had a special request – he wanted his coffee served piping hot. The waitress graciously tried to accommodate his request, but not with much success. Not her fault, Dad's version of hot and normal people's version… very very different.
With our bellies satisfied, we decided to venture out and explore the nearby resorts. And what better way to do it than aboard the Skyliner? I have to admit, I wasn't sure if this counted as a ride or not, but boy, did it provide us with an exhilarating experience! The sensation of flying through the air combined with the breathtaking views of the surrounding landscape made it a ride in its own right. We hopped on and marveled at the beauty of the resorts from above. Our first stop was Pop Century, where we indulged in a delightful ice cream snack. Because let's be honest, you can't resort hop without treating yourself to a tasty treat, am I right?
Skyliner Adventure
After our sweet interlude, we made our way back to Hollywood Studios to experience the park at night. And let me tell you, dear readers, it's a whole different world when the sun sets. The twinkling lights, the enchanting music, and the nostalgic atmosphere transport you to another time entirely. My dad finally understood why we often head over to the park after work just to take a leisurely stroll and stretch our legs. It's a magical escape from reality that we can't resist. He got it, he really did!
And how did we cap off the evening? We hopped aboard Mickey and Minnie's Runaway Railway, a ride that I knew would be extra special for my dad, who has a deep fondness for trains. And boy, was I right! The whimsical journey through the cartoon world had us giggling like kids. It was a fitting end to a day filled with laughter, adventure, and cherished moments with my dad.
Magic Kingdom
The next day of our Disney adventure brought us to the enchanting realm of Magic Kingdom. And let me tell you, I have a personal preference when it comes to entering the park – I love taking the Ferry! There's something grand and majestic about gliding across the water and arriving at Magic Kingdom in style. I think my dad agreed with me on this one. As we sailed towards the park, he couldn't help but marvel at the stunning resorts dotted around Bay Lake. It was dawning on him just how massive this place really is!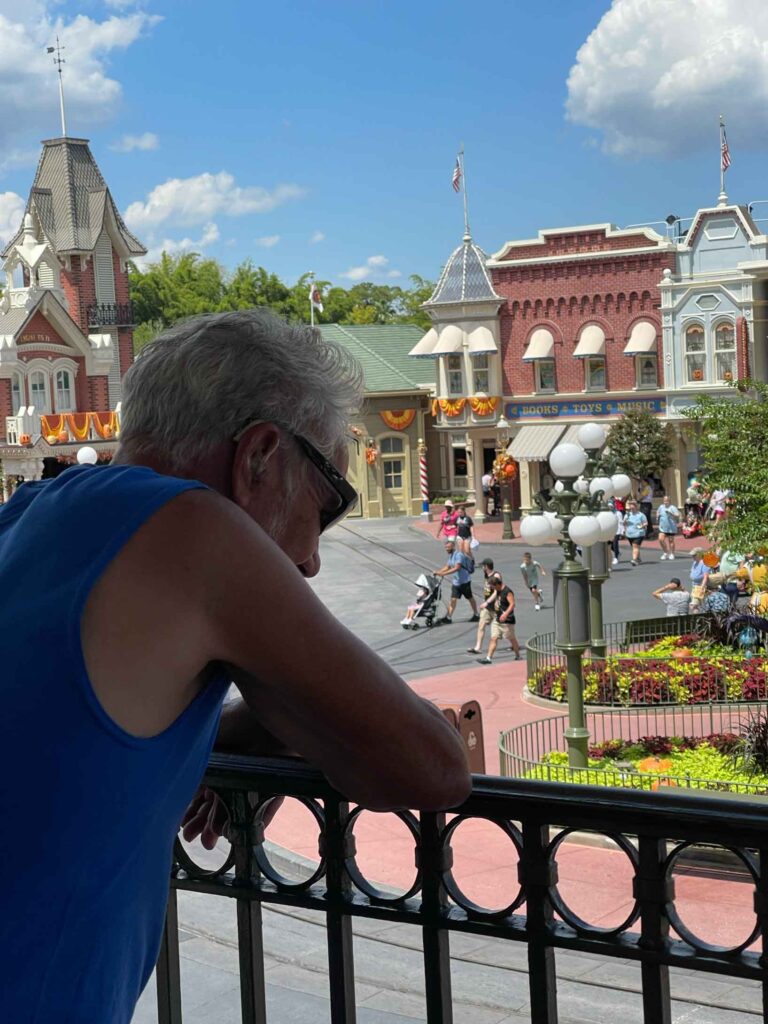 Our first stop was supposed to be the beloved Railroad, but alas, it was temporarily down. But hey, that's the beauty of Disney – there's always a next time! Undeterred, we decided to explore the sights and sounds of Main Street. Now, here's a little secret for you: not many people take the time to truly explore the stores and storefronts lining Main Street. But with my dad by my side, I made sure we slowed down, taking in all the magic that surrounded us. The firehouse with its intriguing history caught our attention, and my dad found the glass shop on Main Street particularly fascinating. The price tag on those glass castles blew him away, and of course, being the social butterfly that he is, he struck up conversations with anyone who happened to pass by the display.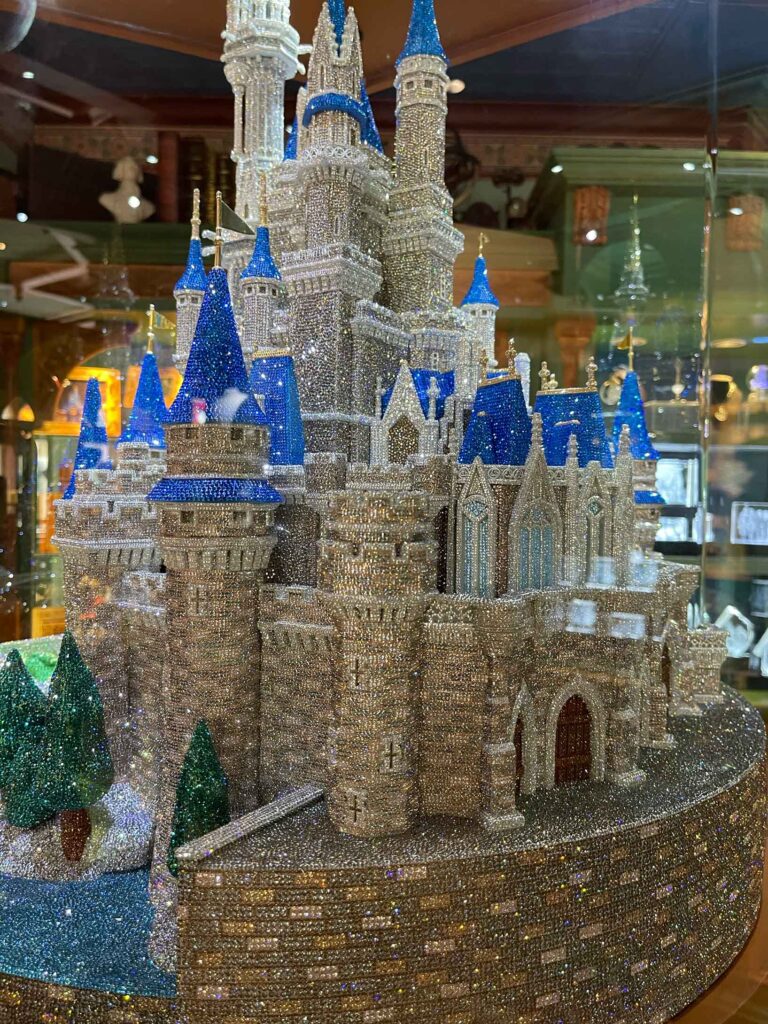 Hot Dogs… Get your Hot Dogs
It was time for a snack break. Now, I don't know about you, but my go-to spot is always Casey's Corner. There's just something magical about those mini corn dogs that makes them taste better there than anywhere else. Maybe it's the Disney pixie dust they sprinkle on them, who knows? And of course, we couldn't resist grabbing some ice-cold drinks to help cool us down in that sweltering September heat. Seriously, it was hotter than Hades out there, and I'm pretty sure even Olaf was starting to melt.
With our hunger satisfied, it was time to explore the thrilling rides of Magic Kingdom. First up, we embarked on a daring climb up the Swiss Family Treehouse. The views from up there were absolutely spectacular, and my dad couldn't help but be impressed by the engineering marvel that went into creating this attraction.
Rides, Adventure and So Much Fun
But, dear readers, the best way to rest your weary feet and take in all of Tomorrowland is undoubtedly the People Mover. It's like gliding on a gentle breeze through a futuristic wonderland. We hopped on and let the hypnotic motion lull us into a state of relaxation and awe. It's the perfect way to recharge and see the sights!
Of course, no visit to Magic Kingdom would be complete without paying a visit to some classic attractions. We escaped the scorching Florida sun at the Carousel of Progress, where we traveled through time and learned a thing or two about technological advancements. And don't even get me started on the Tiki Room! It had that old-school charm that reminded my dad of Disneyland and brought back a flood of cherished memories. It truly was a tropical treat for the senses!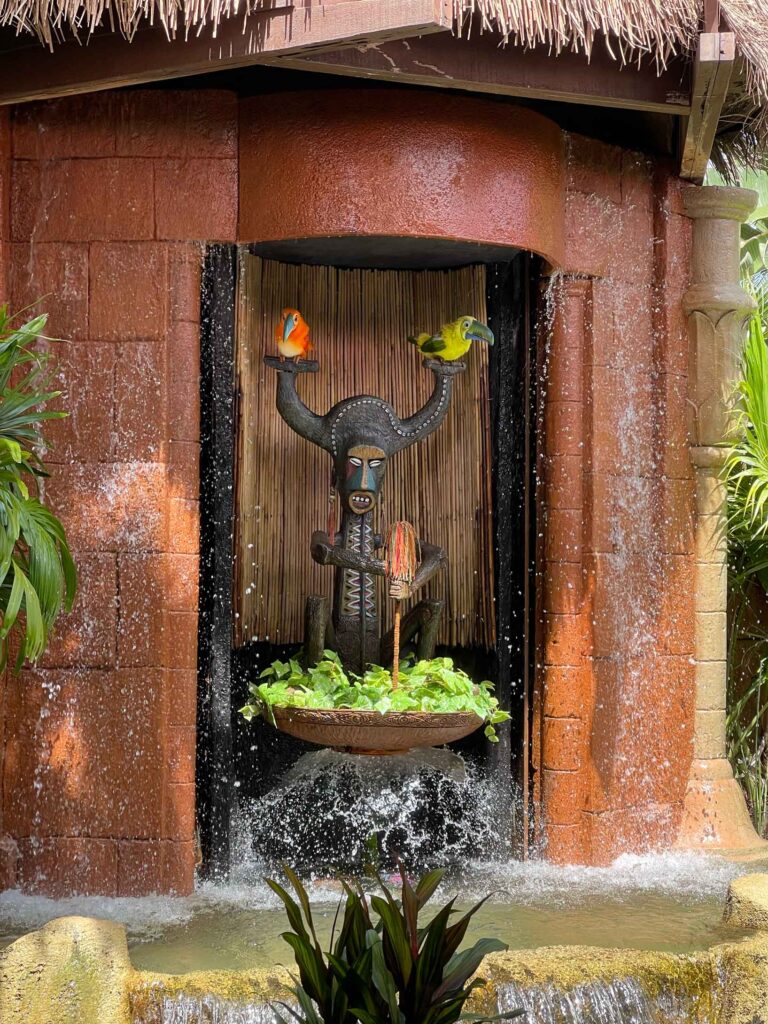 Pirates and Ghosts
But wait, there's more! We couldn't pass up the opportunity to sail the treacherous waters of Pirates of the Caribbean. Now, this version may be a bit different from the one in Disneyland, but boy, did my dad love it. The smell of gunpowder in the air, the swashbuckling pirates singing their "yo ho's," it was pure pirate perfection! And speaking of perfection, the Haunted Mansion had us waiting in line for what felt like an eternity, but let me tell you, it was worth every spine-tingling minute. The intricate details and captivating storyline make this spooky abode an absolute must-see. Even though I'm not usually a haunted house kind of gal, I can't help but fall in love with this eerie ride.
And just when we thought our Disney day couldn't get any better, we made sure not to miss the classic Country Bear Jamboree. It's a timeless Disney show that never fails to get your toes tapping and put a smile on your face. Those singing bears sure know how to entertain!
What's for Dinner? And Check out that View!
Ah, the familiar routine continued as our rumbling tummies reminded us it was time to sit down and enjoy a delicious meal. And you know what they say, folks – happy dad, happy life! So when it came to choosing a dinner spot, my dad's face lit up with nostalgia as he remembered a place just like it that he had dined at with my mom. It was settled, and Columbia Harbour House was our destination for the evening. Dad and Kevin opted for the trio platter, savoring every mouthwatering bite. As for me, I indulged in a scrumptious New England Shrimp Boil. Oh, and here's a little secret for you – try snagging a seat upstairs. It's usually less crowded, offers fantastic views, and is a bit quieter. The perfect spot to sit back, relax, and reminisce about the wonderful day we had so far.
Shall we Ride the Monorail?
With our bellies full and spirits high, we decided to embark on another grand adventure – a ride on the iconic monorail. Can you believe it? My dad had never experienced the monorail before, so we knew we had to change that. What better way to see the area and soak in the sights than gliding along on this futuristic mode of transportation? We zipped through the Contemporary Resort, taking in the sleek architecture and modern marvels, before making our final stop at the Polynesian Resort. As a kid, I had spent countless vacations in Hawaii with my mom and dad, so I knew this place would hold a special place in my dad's heart. And boy, was I right! We settled ourselves outside at the Tiki bar, enjoying the lively music, a stunning view of Cinderella's castle, and refreshing cold beverages. It was the perfect way to end the evening, creating new memories while basking in the nostalgia of the past
But, as if on cue, just like clockwork, the heavens opened up and rain poured down upon us. Talk about timing, right? We quickly made our way inside and, realizing I had forgotten to bring umbrellas from home, purchased some to shield ourselves from the downpour. Once the rain started to subside, we made our way back to the car, bid farewell to the magical world of Disney, and headed home, satisfied with a day well spent.
Epcot
Our third day at Disney brought us to the magnificent world of Epcot. And let me tell you, it was Food and Wine Festival time! Now, you'd think we would dive headfirst into all the delicious food stops, but surprisingly, we didn't take full advantage of them. We had a different agenda in mind, dear readers – getting our thrills and exploring the wonders of Epcot!
Our journey kicked off with a trip on Spaceship Earth. Now, if you haven't experienced this gem, let me just say, it's a must-ride! And riding it with my dad was an absolute blast. At the end of the ride, you get to create your own version of your future world. My dad picked options I hadn't even considered before, and he loved his unique vision of the future. It fit him like a glove!
The Land
Next up, we made our way to The Land pavilion. Knowing that my dad is a farmer at heart, I knew he would absolutely adore how Disney has imagined the farming of the future. The ride through Living with the Land was pure magic. We marveled at the innovative techniques and futuristic concepts being applied to sustainable agriculture. It truly was a feast for the eyes and the imagination.
And then…dun dun dun…we braved the mighty Soarin'! Believe it or not, the line was only 30 minutes long, so we couldn't resist giving it a go. Now, this is where I confess my deepest fear – heights! So when I turned to my dad and said, "This should prove how much I love you because I'm doing this ride just for you," he couldn't help but chuckle. But let me tell you, my dad fell head over heels in love with Soarin'. It quickly became his favorite ride, and he talked about it for days afterward. The sensation of flying through the air, the breathtaking views…it truly captivated him.
After our exhilarating adventure, we decided to replenish our energy with a snack. And my dad's version of a snack? Two large Disney cookies and a piping hot cup of coffee. Ah, there's nothing quite like the aroma of freshly brewed coffee wafting through the air. And here's a little secret I'll share with you – if you like your coffee super hot, head to a quick-service location and pour it straight from the urn. Guaranteed to be piping hot and ready to kickstart your senses.
America and All of that History
My dad is the ultimate history buff! This man is a walking encyclopedia of historical facts, always ready to quiz anyone within a 10-foot radius. So you can bet your Mickey ears that I made sure to take him on all the historic attractions and shows that Disney had to offer. It was like a history nerd's dream come true.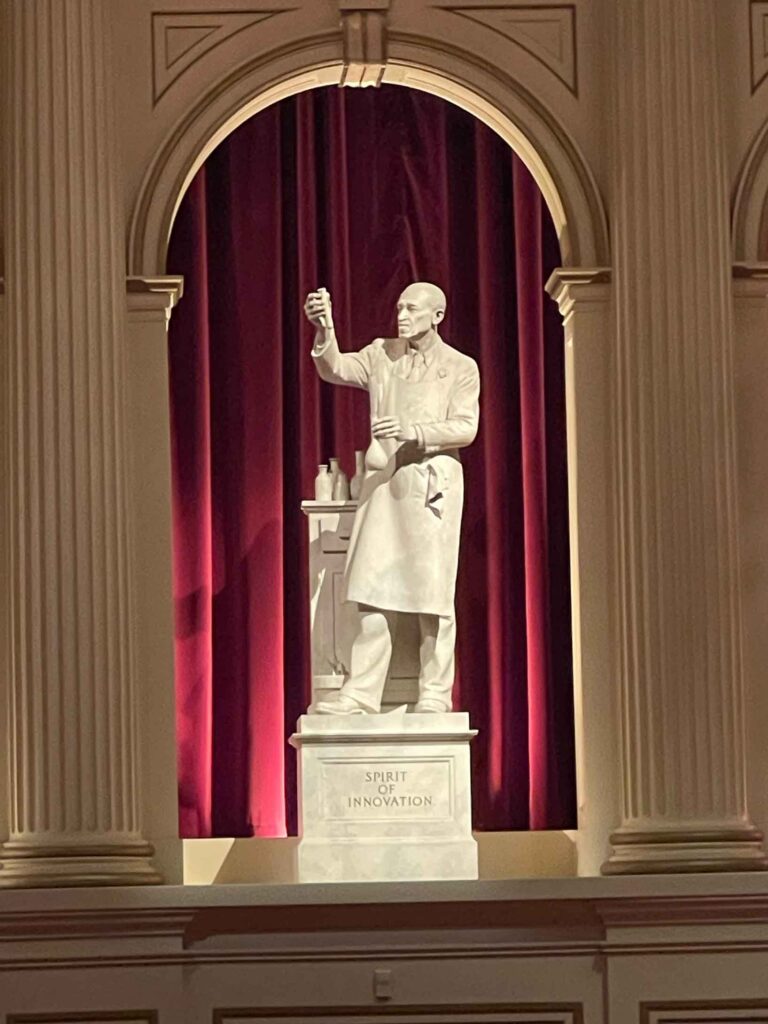 We ventured into the American pavilion at Epcot. And let me just say, the American Adventure show gave me goosebumps. But for my dad, it was pure euphoria! He was practically jumping out of his seat with excitement as he absorbed every bit of historical knowledge that was thrown our way. The music, the storytelling – it was a symphony of patriotism that left us both in awe.
But the historic fun didn't stop there, my friends. Oh no, we had journeyed to the magical realm of Magic Kingdom, where the Hall of Presidents awaited us. Now, I don't know if you've experienced this gem, but let me just say, when those animatronic presidents stand up and introduce themselves, it's a moment of pure emotion.
Let's raise a pint in England and then check out the French Kitchen
We couldn't resist taking a beer break in jolly old England. We made a beeline for the Rose and Crown pub, where we indulged in a refreshing pint of cold brew. Ah, it was like a sip of liquid magic after a long day of walking. And you know what's even better? Finding a cozy seat in England, where we could rest our weary feet and enjoy some good old-fashioned people-watching. Trust me, dear readers, it's the perfect spot to soak in the ambiance of the park while sipping on your beverage of choice.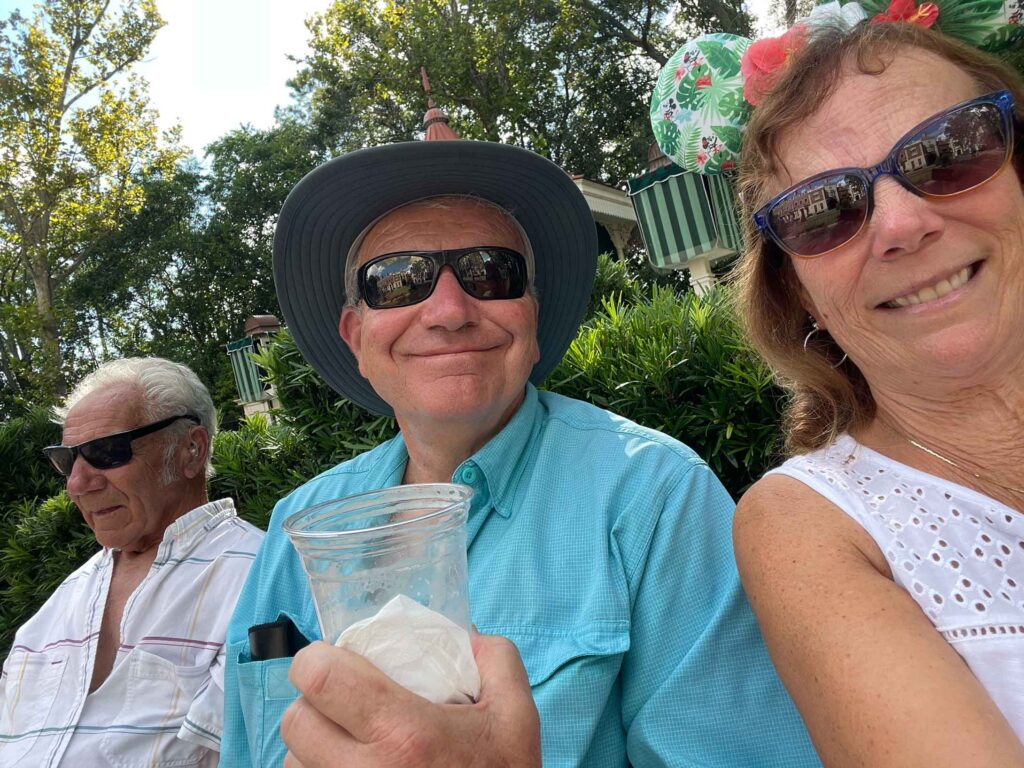 Next up, we ventured into France to experience the thrilling Ratatouille Adventure ride. Picture this – you shrink down to the size of a mouse and embark on a whimsical adventure through Remy's kitchen. It's an absolute blast! And let me tell you, I never tire of this ride. But here's the funny part – my dad struck up a conversation with someone in line who happened to be a car enthusiast. They chatted away, exchanging stories and trivia about their favorite automobiles.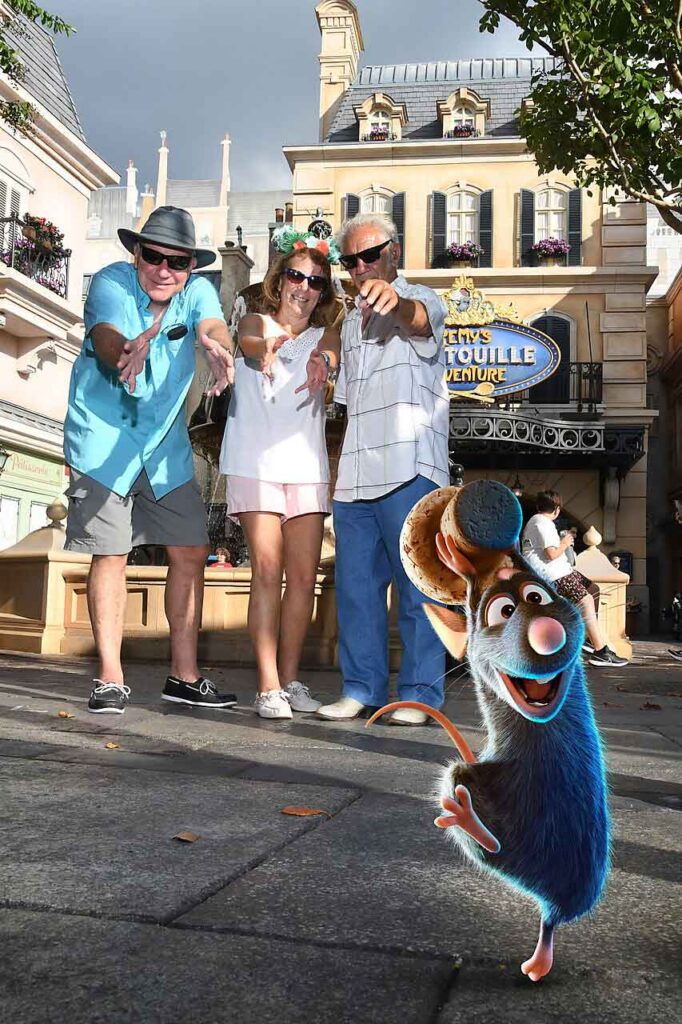 Dinner and a Fireworks Show
When dinnertime rolled around, we found ourselves at the American Pavilion, where the Regal Eagle awaited us. Let me just say, I love the food there. It's always delicious, and the service is quick, which is perfect when you're hungry and eager to refuel.
As the sun started to set, we made the executive decision to stay for the evening fireworks. The day had flown by so quickly that we found ourselves in awe as the sky lit up with bursts of color and magic. My dad was especially taken with how the fireworks were perfectly synchronized to the music, creating a symphony of sights and sounds. It was a grand finale to a day filled with adventure and wonder.
But the fun didn't end there, my friends. We decided to take a leisurely stroll through the World Showcase after the fireworks. With the crowds thinning out, it was the perfect opportunity for my dad to soak in all the sights and enjoy a leisurely tour. He savored every moment, taking in the architecture, the performances, and the unique cultural experiences each pavilion had to offer. It was a peaceful and enchanting way to end our day at Disney.
Animal Kingdom
Ah, the adventures continue at Disney's Animal Kingdom! Let me tell you about our fourth day, which turned out to be a roaring success, especially for my dad. I had a feeling this would be his favorite park, and boy, was I right! He couldn't get enough of the peaceful atmosphere, the lush greenery, and, of course, the magnificent animals that call this place home.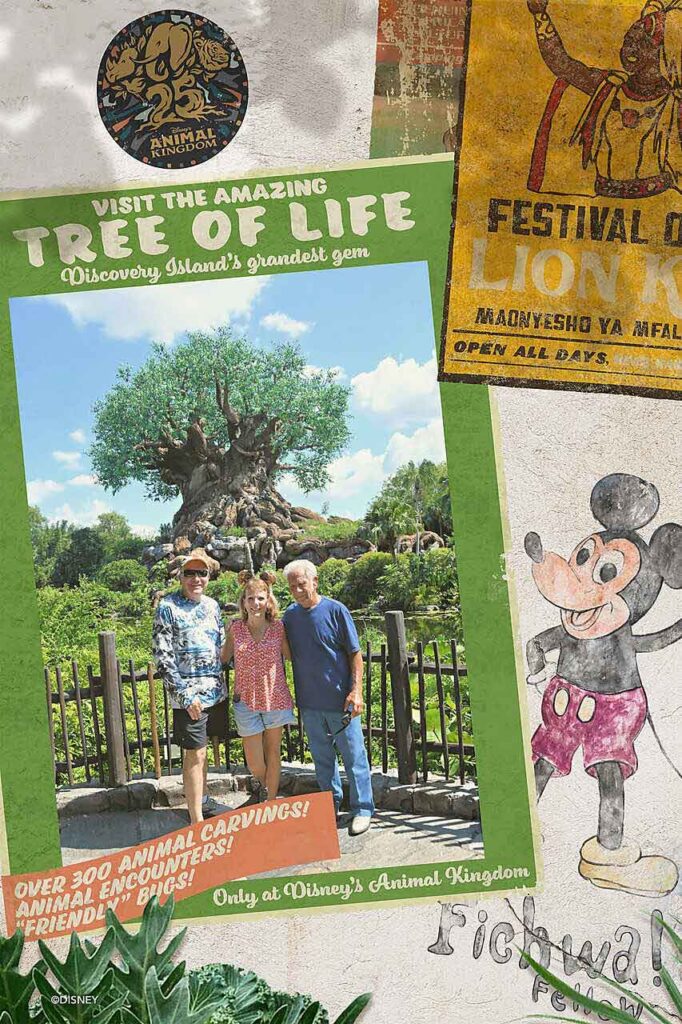 We started our day by wandering around the iconic Tree of Life. And let me tell you, my dad was like a kid in a candy store. He spotted so many animals intricately carved into the tree's bark. It's like a treasure hunt for animal enthusiasts! Pro tip: If you have some time to spare, make sure to explore around the base of the tree. There's a charming little garden with a tranquil stream flowing through it. It's a hidden gem that often gets overlooked by visitors, so you'll probably have it all to yourselves. Pure bliss!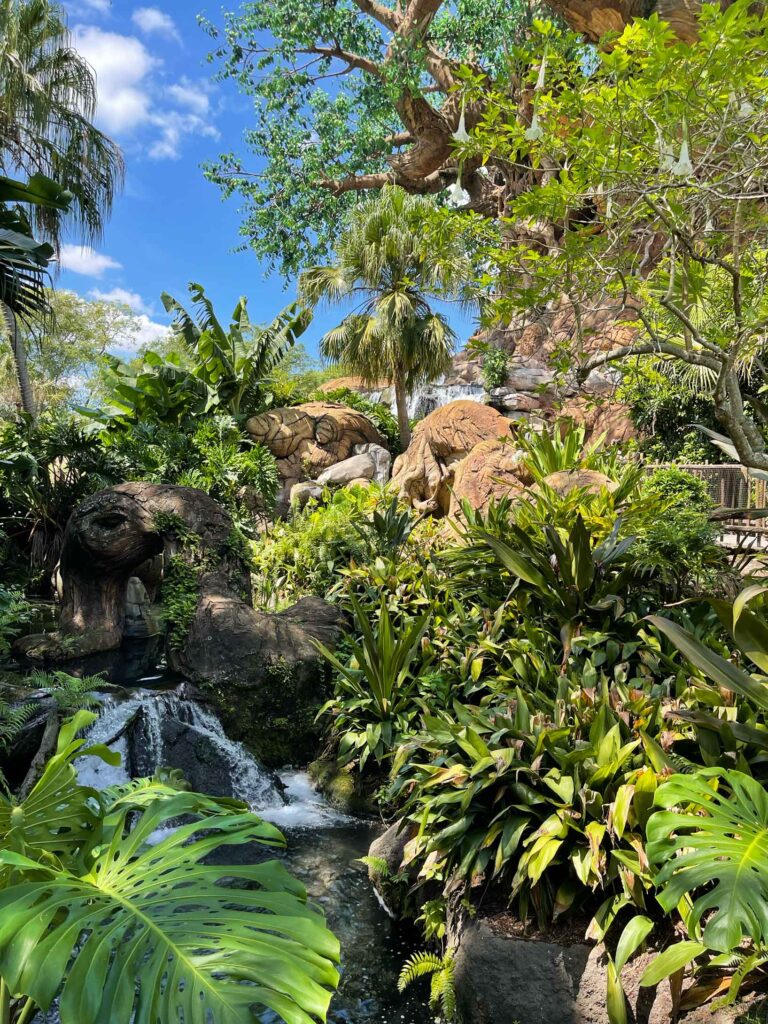 Next on our agenda was the Birds of Flight show. This show is an absolute delight! You get to witness the grace and beauty of some truly remarkable birds as they soar through the sky and perform jaw-dropping tricks. Not only is it entertaining, but it's also pretty funny. The trainers have a way of adding humor to the mix, making it a memorable experience for everyone. My dad couldn't stop laughing and marveling at the incredible talents of these feathered friends.
Exploring the Savannah and Cold Beers
Of course, we had to make a pit stop at the Dawa Bar for a refreshing cold beer. The crowds were light that day, so we managed to snag a table and indulge in some prime people-watching. My dad was absolutely amazed when he realized that the average age of the people he saw was older than he had initially thought. It was then that he truly understood why Disney is not only cool for kids but also really, really cool for adults. It's a place where you can relive your childhood and create new magical memories, whether you're a couple, a group of friends, or just young at heart.
One of the highlights of our day was the Kilimanjaro Safari. We embarked on a wild adventure through the African savannah, spotting an abundance of majestic animals along the way. From elephants to giraffes, lions to rhinos, it was a safari like no other. My dad was in awe of the incredible diversity of wildlife, and I couldn't help but feel a sense of wonder myself. It's like stepping into another world, right in the heart of Disney.
To wrap up our time at Animal Kingdom, we caught a showing of "It's Tough to be a Bug." And let me tell you, my dad had a blast! He laughed along with the show and delighted in the reactions of those around him. It's a hilarious and immersive experience that brings out the kid in all of us. The theater comes alive with surprises and laughter, making it a fitting end to our day filled with animal encounters and unforgettable moments.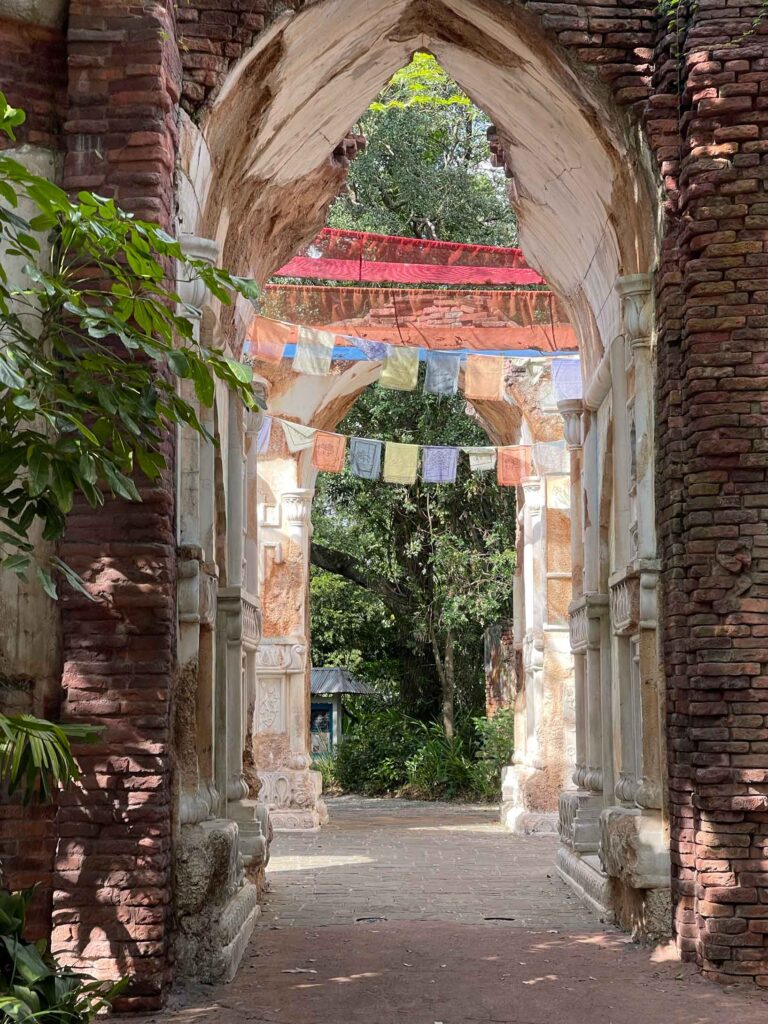 Disney Springs
The next day, another batch of relatives arrived – another one of our sons, his wife, and our adorable granddaughter. Knowing that they had a long travel day, we decided to give them some time to unwind and adjust. So, we did what any smart Disney-goer would do – we headed over to Disney Springs! This place is an absolute gem. You've got shopping, drinks, amazing food, and the perfect opportunity to simply wander around and people-watch to your heart's content. It's like a mini city of fun within the Disney bubble.
One of my personal highlights at Disney Springs is grabbing a cocktail and soaking in the live music. The House of Blues knows how to bring the house down! It's the perfect spot to kick back, sip on a refreshing beverage, and enjoy the sounds of talented musicians filling the air. There's just something about the combination of good tunes and a good drink that puts a smile on my face.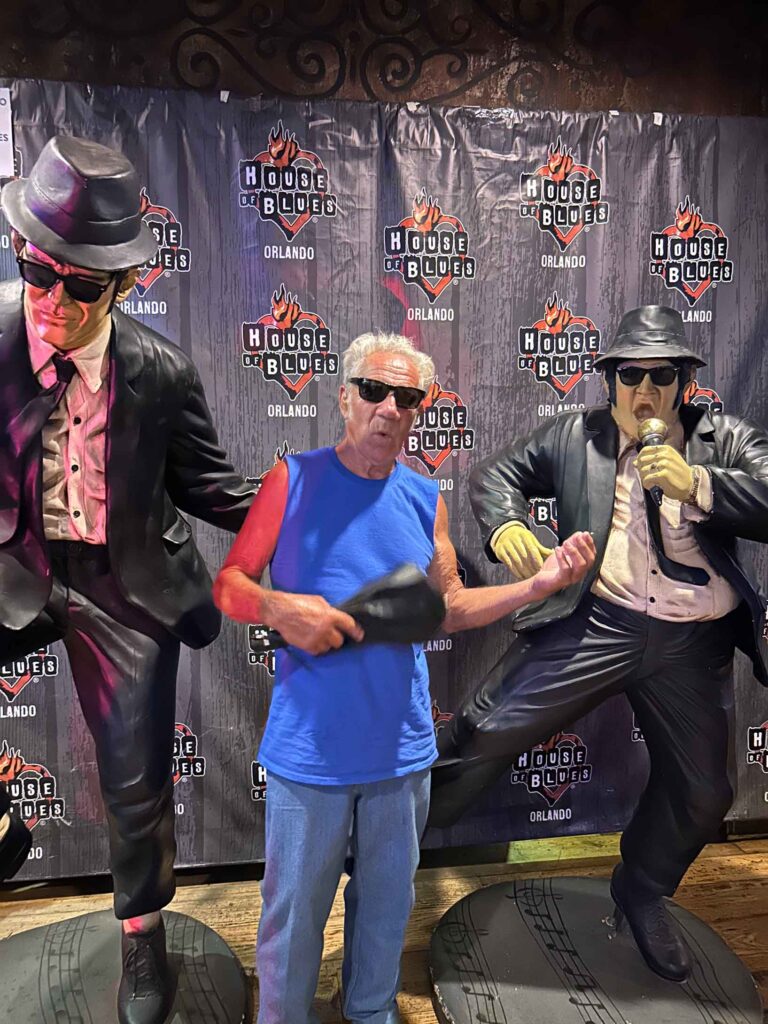 Homecomin' and Shopping
Now, let me take a moment to talk about Homecomin'. Oh boy, this place takes Southern Florida food to a whole new level. I'm talking about finger-licking, lip-smacking deliciousness that leaves you completely satisfied, even if you have to loosen your belt a notch or two. It's one of my absolute favorite spots to dine at when I'm at Disney. The fresh mahi-mahi was a hit for my dad, and he couldn't resist trying one of their house specialties – moonshine! Yep, we had ourselves a grand ol' time indulging in delectable Southern cuisine and sipping on a little bit of that good ol' shine.
After dinner, we continued our adventure by strolling through the shops, admiring the displays, and taking in the lively atmosphere. It's the perfect way to walk off all that delicious food while enjoying each other's company. And let's not forget the joy of window shopping and discovering little treasures along the way. The night was filled with laughter, music, and family bonding – truly a memory worth cherishing.
Check out all of my Disney Adventures!
Pool Time
Oh, let me paint a picture of the epicness that continued during our trip with Dad! The following day, another son and our other adorable granddaughter joined the festivities. And what's the first thing you do when you're in Florida? You hit the pool, of course! It's practically a rite of passage. We spent most of the day splashing around, sliding down the water slide, and having an absolute blast. The kids were in their element, and even the adults couldn't resist the allure of the cool water on a hot day. As for Dad, well, he soaked up the sunshine, enjoyed everyone's company, and reveled in the simple joy of being surrounded by family in such a beautiful setting.
After we wore ourselves out at the pool, it was time to refuel our hungry bellies. So, we decided to take the whole gang to our newest favorite spot – Island Wings. Now, let me tell you, this place is a game-changer. They don't fry anything on their menu, which means you can indulge guilt-free in some seriously delicious food. It's like a flavor explosion in your mouth. And the best part? We didn't have to wait forever to be seated. We snagged a table outside, where we could enjoy the warm breeze, engage in lively conversations, and create more unforgettable memories. It was the perfect opportunity to catch up with all the family members and share stories while savoring the delectable cuisine.
Scavenger Hunts in Disney Springs
But the night didn't end there, my friends. No, no, we had another exciting twist in store. You see, my brother-in-law was due to be picked up at the airport. Yep, it was truly a family reunion in full swing. So, Kevin (the superhero of the evening) headed off to the airport to fetch his brother, while the rest of us made our way to Disney Springs. Now, you might be wondering, how do you make an evening at Disney Springs even more special when you've spent a lot of time there? Well, my creative genius kicked in, and I came up with a brilliant idea – a scavenger hunt!
Dividing into two groups, we unleashed our competitive spirits and set out to find all the items on the scavenger hunt list. Laughter filled the air as we raced through the lively walkways, discovering hidden gems and creating magical moments together. And here's the secret ingredient – creativity! We encouraged everyone to think outside the box and put their own unique spin on each challenge. The photos captured during the hunt became treasured mementos, and when we gathered back together, Kevin and his brother assumed the roles of judges, carefully evaluating each snapshot based on its creativity. Let me tell you, folks, it was a tough decision, but in the end, everyone emerged as a winner. The joy and excitement were palpable, and as we basked in the triumph of our scavenger hunt adventure, the unanimous consensus was clear – "Let's do this again when we come back!"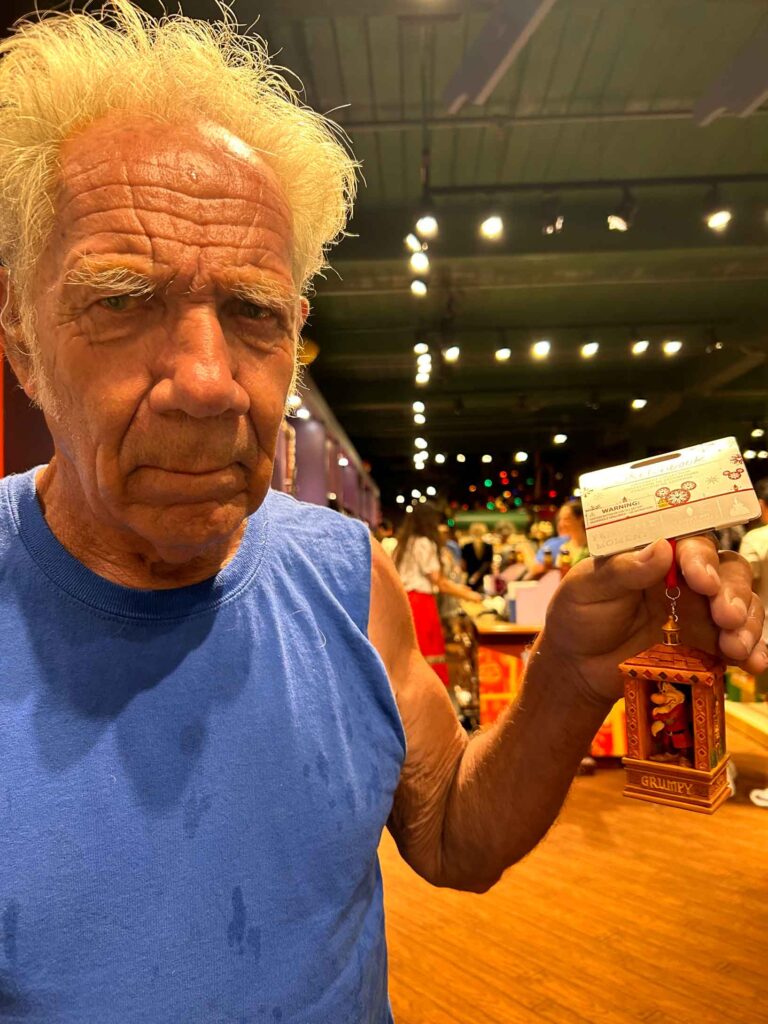 SeaWorld
Oh, buckle up, my friends, because our epic trip with Dad is far from over! The next day, we all rose bright and early, fueled by excitement and anticipation, ready to tackle a full day at SeaWorld. Now, let me tell you, this place may be smaller compared to some other theme parks, but it's incredibly family-friendly and packs a punch of fun into every corner. You can conquer the entire park in a day without feeling completely wiped out. It's like a carefully crafted dose of fun that leaves you satisfied but still craving for more!
Now, here's my pro tip: If you have family members who are wild about roller coasters, it's worth considering splurging a little extra on the Quick Queue pass. Trust me, it's a game-changer! With the Quick Queue, everyone in our group who wanted to experience the popular rides got to skip those long lines and ride to their heart's content. Some even managed to ride multiple times! It's like having a VIP pass to coaster paradise. And hey, if you're planning on spending the entire day at the park (which I highly recommend), don't forget to add the All Day Dining Deal to your agenda. It's totally worth it, my friends. Fueling up throughout the day with scrumptious eats will keep you energized and ready for all the aquatic adventures that await.
Penguins, Orcas, Sea Lions, oh my!
Now, let's talk penguins. Get ready to cue the "awws" and prepare for cuteness overload. Our longest line at SeaWorld was for the penguin exhibit, but trust me when I say it's worth every minute. Those little waddlers are absolutely adorable, and seeing them up close is truly a delight. It's like witnessing nature's tuxedo-clad comedians in action. And speaking of majestic creatures, the orca encounter is not to be missed. Watching these magnificent animals showcase their power and grace is simply breathtaking. It's a truly unforgettable experience that will leave you in awe.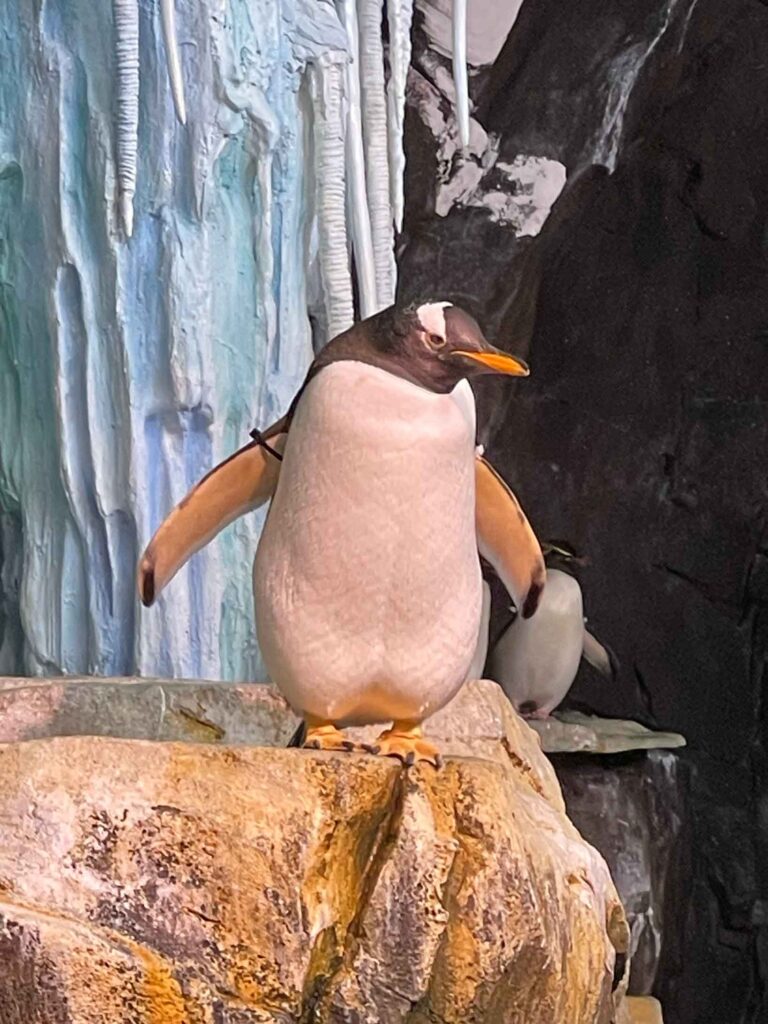 SeaWorld is not just about thrilling rides and jaw-dropping animal encounters, my friends. It's also a park where you can leisurely stroll around and enjoy the fantastic shows they offer. The sea lion show, in particular, had our entire group laughing out loud. Those talented sea lions and otters sure know how to put on a hilarious performance. Laughter filled the air and created memories that will last a lifetime.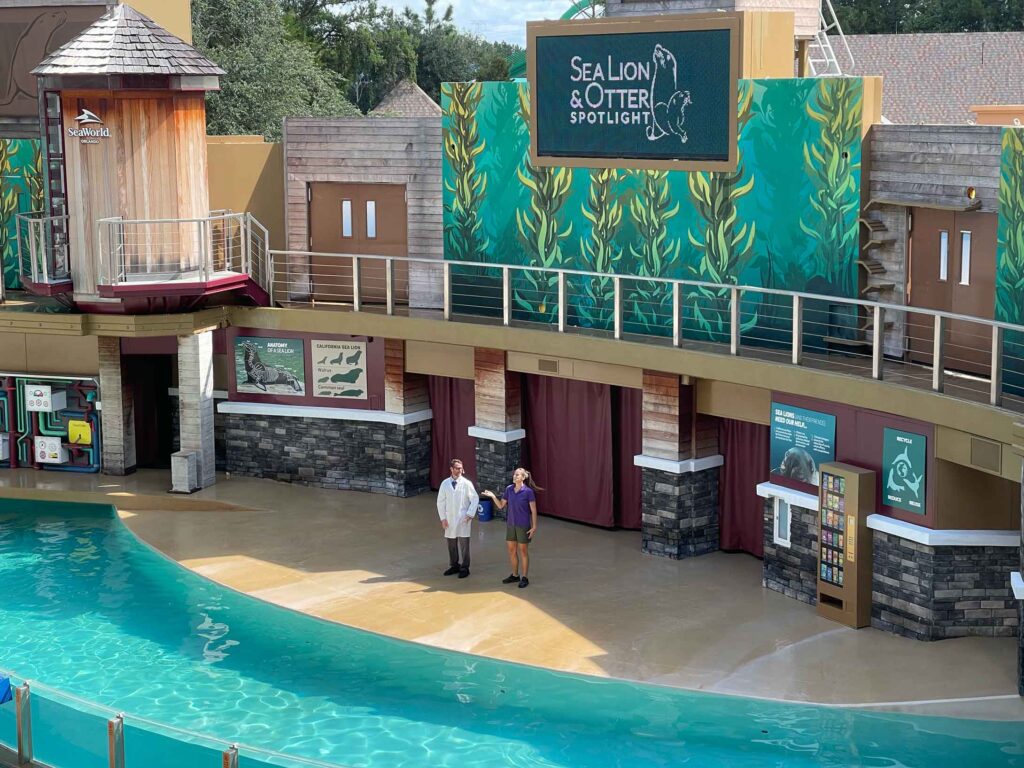 But here's where the magic truly happened. We were all standing near the Journey to Atlantis ride, which is part water ride and part roller coaster. And guess what? My dad, the true daredevil at heart, looked at the group, smiled mischievously, and declared, "I'm in, let's go!" I managed to snap a photo of him on the ride, capturing a moment of pure magic and joy. It was a testament to the fact that age is just a number and that the thrill of amusement parks transcends generations. Truly unforgettable!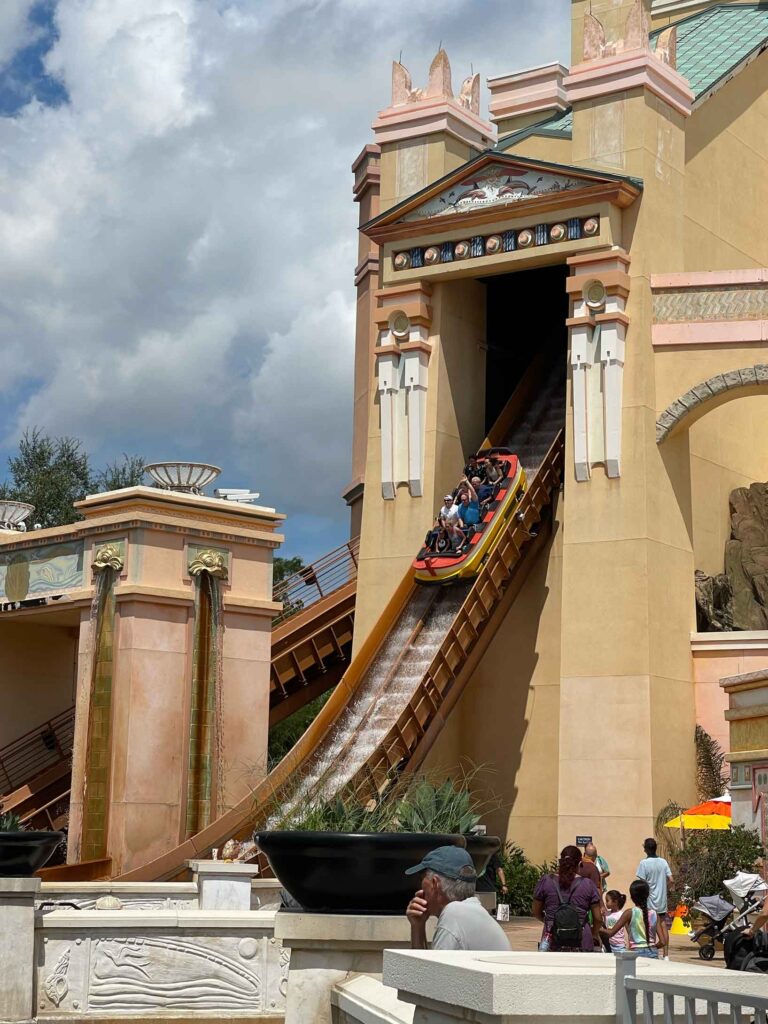 Car Shows and Great Evenings
And just when we thought our action-packed day had come to an end, we had more excitement on the agenda. Some of the group decided to head back to the pool for some water-filled fun, while the rest of us made our way to Sunset Walk for a car show. Let me tell you, my dad was in his element! He strolled up and down the rows, striking up conversations with car owners, swapping stories, and reveling in his automotive glory. It was a beautiful sight to see – my dad surrounded by classic cars and a twinkle in his eyes.
But alas, all good things must come to an end. Dad's flight was scheduled for an early departure the next morning, so we headed back to prepare for his journey home. There was packing to be done, hugs to be shared, and a sense of bittersweetness in the air. Our time together had been nothing short of magical, filled with laughter, thrills, and cherished moments that will forever hold a special place in our hearts.
How about a little Jazz?
As the last of the kids bid us farewell and the house gradually returned to its peaceful state, it was just Kevin and me left to savor the final moments of our extraordinary trip with my dad. We tidied up, reminiscing about the laughter and adventures we had shared with our loved ones. And for our last evening together, we decided to make it a memorable one.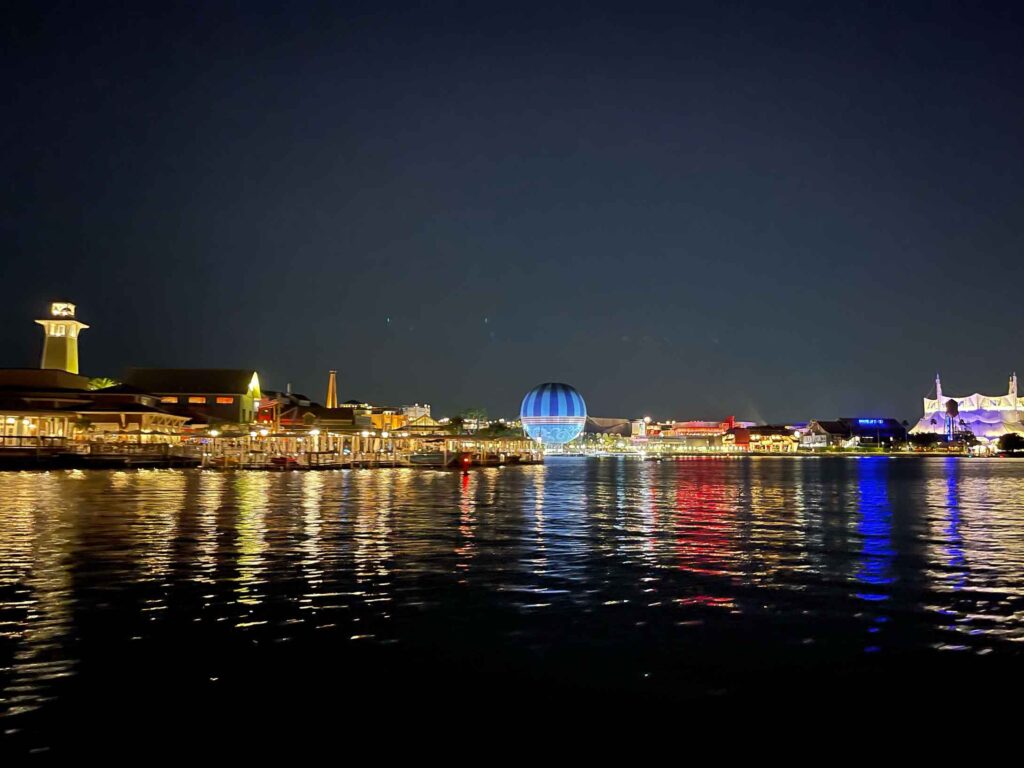 We made our way back to Disney Springs, drawn again by its magnetic charm. But this time, we veered off the beaten path and ventured over to Port Orleans, eager to experience the soulful vibes at Scat Cat Cafe. The jazz show awaited us, promising an evening filled with toe-tapping rhythms and enchanting melodies. It was the perfect grand finale to our epic week of family bonding and magical moments. The smooth sounds of jazz enveloped us, washing away any remnants of stress and leaving only pure bliss in their wake. We laughed, swayed to the music, and savored every last note as the night gently embraced us.
Final thoughts…
And now, as I reflect on the entirety of our adventure, I can't help but feel overwhelmed with gratitude and joy. These precious moments spent with my dad, my family, and the people I hold dear will forever be etched in my heart. The memories we created, the laughter we shared, and the love we felt were priceless treasures that no amount of money could ever buy.
So, here's my advice, my friends – take the trip, spend the money, and embrace every single moment. Life is fleeting, and time slips through our fingers like grains of sand. We owe it to ourselves to seize every opportunity to create beautiful memories, to explore new horizons, and to relish in the company of those who mean the most to us. Embrace the adventures, big or small, and cherish the connections that make life truly meaningful.