So, you want to see the magical parade that takes place every day at Magic Kingdom? Well, you've come to the right place! I'll give you all the scoop on what time the Festival of Fantasy parade starts at Magic Kingdom and everything else you need to know to have a blast at the parade.
What Time?
If you're a planner, like me, then you'll definitely want to know what time the parade starts. Well, my friend, the answer is simple – it depends! The parade timing changes according to different factors such as park opening times and seasonal events. But don't worry, just check out the My Disney Experience app for up-to-date information on the parade timing for your day at Magic Kingdom.
Here's the thing about Disney – they know how to put on a show. Or in the case of the Festival of Fantasy Parade at Magic Kingdom, two shows! Yes, you read it right. These enchanting Disney parades usually happen twice a day. That's two chances to see your favorite characters, two chances to join in the fun, and two chances to make unforgettable memories. But don't take my word for it, always check and double check the Disney app for that day's start time.
Check out all of our Disney adventures and tips – Click here
The Route
Now, let's talk about the route of this enchanting Magic Kingdom parade. It starts from Frontierland and makes its way through Liberty Square and then finally ends in Main Street, U.S.A. And trust me, every section of the Festival of Fantasy parade route offers a unique experience!
Impact on Park Attendance
Do you think the parade's just a show? Think again, buddy! Magic Kingdom's Festival of Fantasy parade at Magic Kingdom is not just a spectacle of color and magic – it's also a crowd magnet! This daily event has an astounding impact on park attendance. You'll see more Mickey ears in the crowd than stars in the sky (well, you get the idea). The time leading up to the parade sees an impressive surge in visitors, all jostling for the best viewing spot. So, if you're planning to visit on a parade day (which should be every day because who wouldn't want to see it?!), prepare for larger crowds and longer wait times for attractions. But don't let that deter you – the magic is absolutely worth it!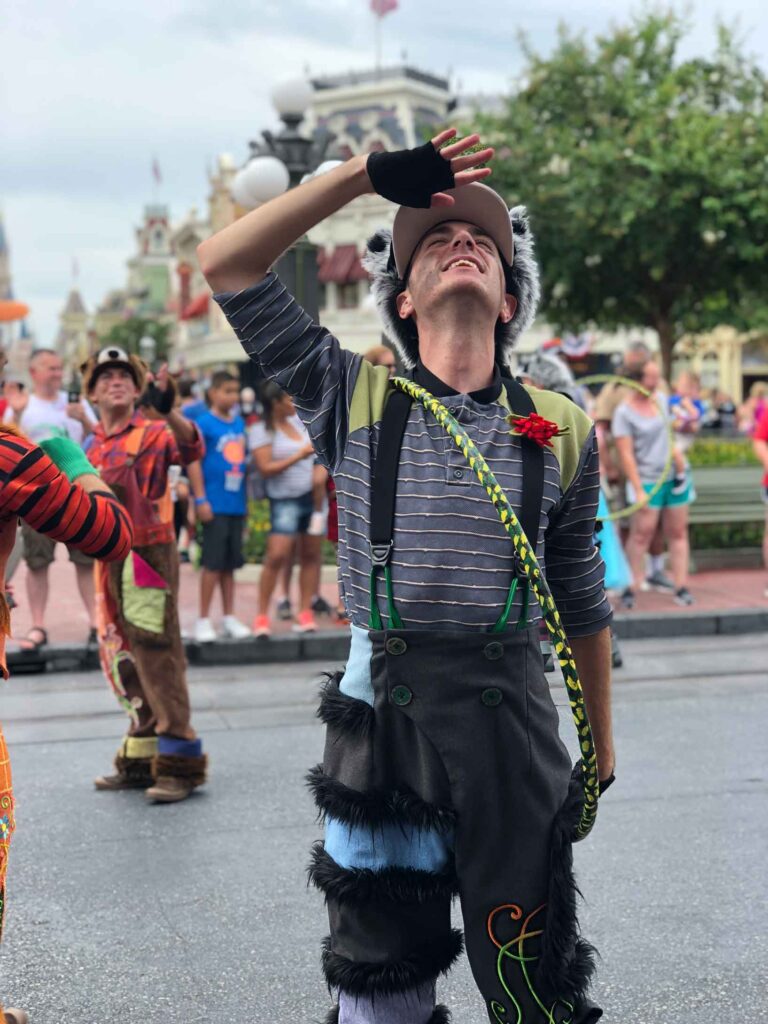 Inclement Weather
Ok, let's talk about the elephant in the room: weather. Because even Cinderella had to deal with a downpour once in a while. Now, Disney magic may be powerful but it doesn't control the weather (yet!). In case of inclement weather, the safety of the performers and the guests becomes the top priority. So, the Festival of Fantasy parade might be delayed, or in some extreme cases, even cancelled. But don't worry, Disney's always got a plan B. When the rain gods decide to join the party, you'll get to witness the Rainy Day Cavalcade instead! It's like the original parade, but with rain ponchos, umbrellas, and even more smiles (if that's possible!). So, even if it's raining cats and dogs, Magic Kingdom still ensures that it's raining fun!
Heading to Disney? Grab our FREE Ultimate Travel Checklist
Best Places to See
Now, this is where opinions may differ as to the best view. Some people prefer to be near the beginning of the parade route in Frontierland, while others like to be at the end in Main Street USA. Personally, I think the best place to see the parade is right in front of Cinderella Castle – it gives you a perfect view of all the floats and characters!
Securing the Best Spots
Here's the tricky part, securing your dream spot for the parade. It's no less than finding that perfect parking spot at a crowded mall – you know, the one right next to the entrance! Now if you're aiming for that ideal snapshot in front of the Cinderella Castle, you need to be an early bird. Try to secure your spot at least 30-45 minutes before the parade starts. And remember, patience is key. It'll be worth the wait when you see your kids' eyes light up as they see their favorite characters waltz by. Another hot tip – if you're not picky about the backdrop but want fewer people around, try Liberty Town Square or Frontierland. The crowd tends to be a bit thinner there and you can snag a spot just 15-20 minutes before the parade begins. Voila, pretty simple, right? Happy parade-watching, folks!
Who's in the Parade?
Oh boy, where do I even start? From beloved Disney characters like Mickey and Minnie to rare ones like Merida and Tiana, this parade has it all. And let's not forget about the iconic floats – my personal favorite is Maleficent's fire-breathing dragon float!
Of course, how could I forget the grand finale, the cherry on top of the Disney sundae? Mickey and Minnie themselves, the couple that makes Romeo and Juliet look like they need to step up their romance game. They always close out the parade, waving their little gloved hands from atop a spectacularly decorated float. It's like the end credits of a great film – you don't want to miss it! Even if you just came for the popcorn. Or in this case, the over-sized turkey leg. There's nothing quite like the sight of Mickey Mouse, in his dapper suit, and Minnie Mouse, in her classic polka-dot dress, gracing us mere mortals with their presence as they wrap up the parade. It's the Disney seal of approval that you've just had an experience of a lifetime. So, stick around until the end folks, because as the saying goes – save the best for last!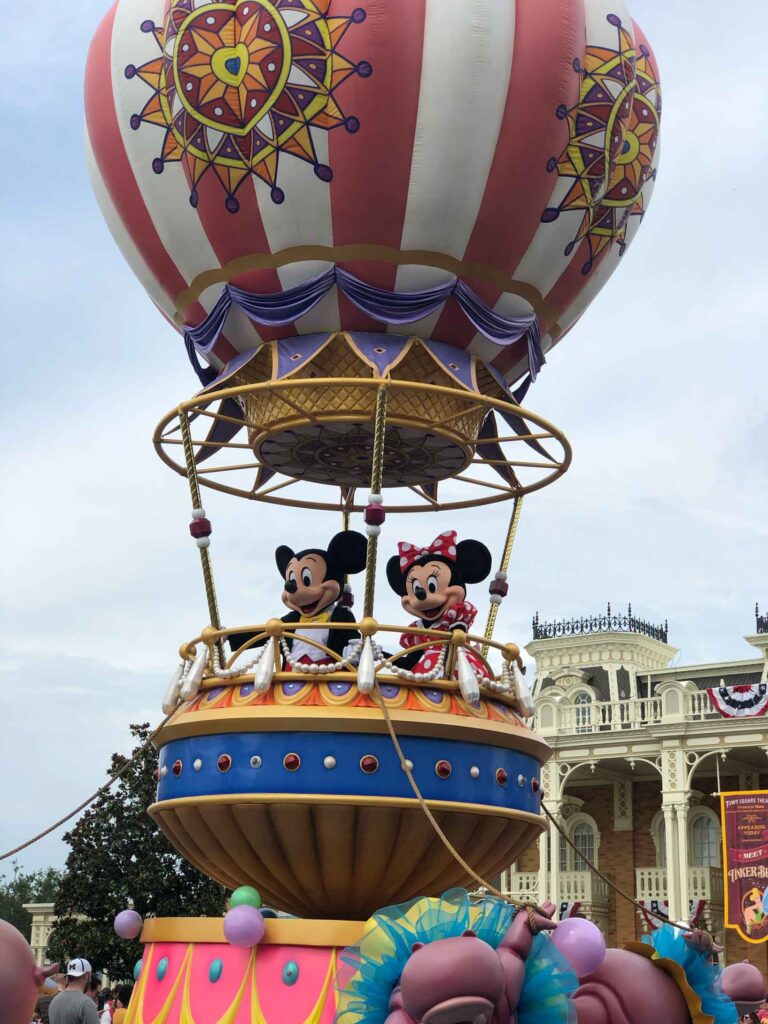 Which Disney Princesses Can You See in The Parade?
Okay, this is the juicy bit! We all love our Disney Princesses, don't we? Disney's Festival of Fantasy Parade is like a star-studded event where you can spot your favorite Disney Princesses. You can see Snow White, Cinderella, Belle, Ariel, and Rapunzel all on their individual, stunning floats. If you are a fan of 'Frozen', Anna and Elsa make an appearance too! They glide down the parade route in a magical float that is as cool as ice. (See what I did there?) And last but not least, we have the dreamy Princess Tiana and the Brave Merida! So, get your cameras ready because this is a fan moment you don't want to miss!
Ah, how can we possibly forget about the petite powerhouse, Tinker Bell? She doesn't need a fancy float because she's got the best ride in the house – Peter Pan's pirate galleon. Honestly, it's a scene straight out of your favorite fairy tale. Our little pixie friend waves her magic wand, sprinkling pixie dust all over the crowd, spreading magic and mischief wherever she goes. Tinker Bell, in her sparkling green dress, fluttering about with her iridescent wings, is an enchanting sight to behold. She is the embodiment of the childlike wonder and whimsy that the Magic Kingdom Park is all about. So, keep your eyes peeled and your cameras at the ready when the pirate galleon floats by, because it's not every day you get to witness magic in motion!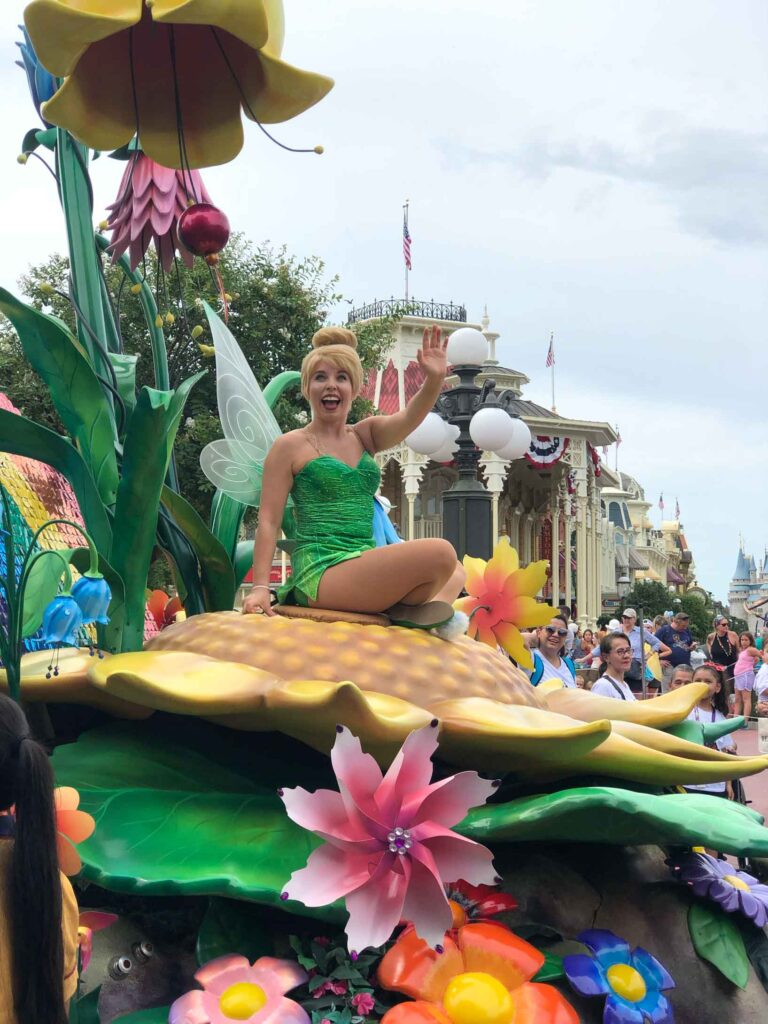 Fun Facts About the Parade Floats and Characters
Let's dig into some delightful trivia, shall we? You know, the Festival of Fantasy Parade is like a magical potpourri of characters and floats. With over 100 performers and 9 magical floats, this parade is a dream come true for Disney lovers. Did you know that the Tangled float is a massive 36 feet long? It's so long, in fact, that it has to be folded in half to be stored backstage! Then there's the Princess Garden float, which is like a royal Disney reunion with Cinderella, Belle, Tiana, Elsa, and Anna all on the same float. Talk about a star-studded carriage ride!
Let's not forget our friends from under the sea. The Little Mermaid float features Ariel, Flounder, and a whole school of spinning Bubble Girls. And here's a fun tidbit – the float is designed to give the illusion of being underwater. So, it's like watching a live-action version of the movie!
And then, of course, there's the pièce de résistance – Maleficent in dragon form. She stands at a whopping 26 feet tall and 53 feet long, making her the largest parade float in Disney history. And guess what? She actually breathes fire! I mean, how cool is that? Remember, folks, it's not just a parade – it's a magical spectacle!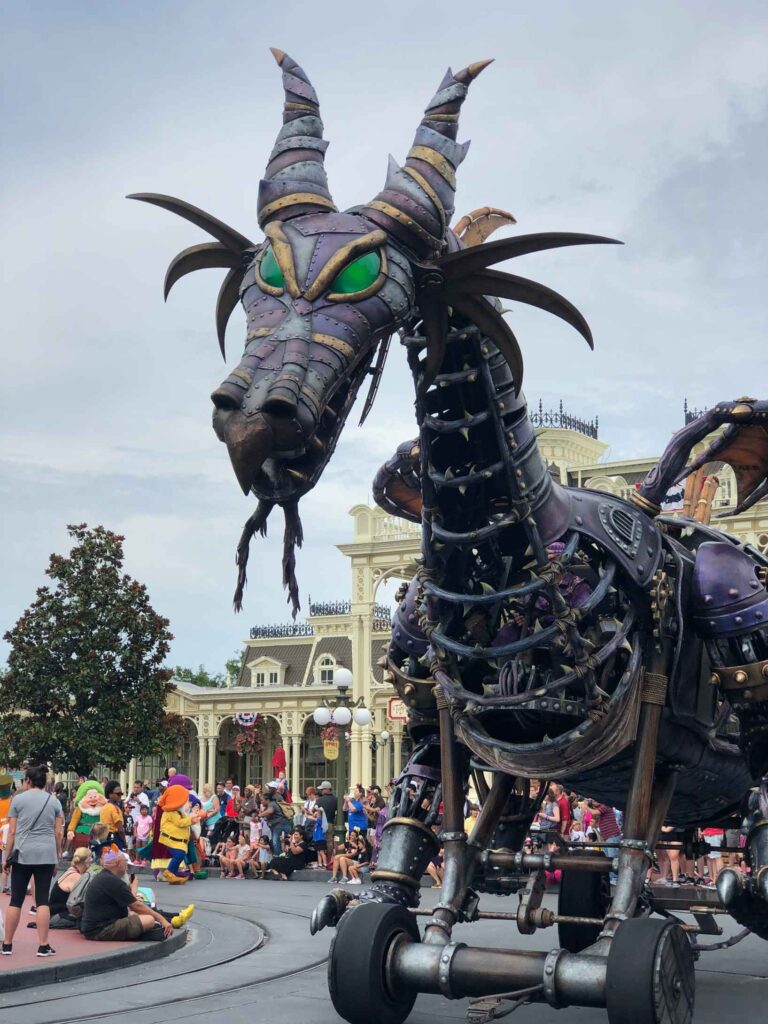 Interactive Elements of the Parade
The Disney Festival of Fantasy Parade is not just about floats passing by while you crane your neck to get a glimpse. No, siree! It's a full blown interactive performance. There's energetic music that makes even the grumpiest in the crowd tap their foot (I've seen it!). And every now and then, the parade stops, and some lucky park-goers get to interact with the characters. One moment you're watching Peter Pan duel with Captain Hook, and the next, you might be chosen to join the Lost Boys for a quick dance off.
The cast members do a fantastic job of engaging with the audience. They wave, blow kisses, wink, and sometimes even have a quick chat. And if you're really lucky, you may catch Tinkerbell's pixie dust – it's said to bring good luck!
Of course, the best interaction happens with the kids. The characters will go out of their way to make a child's day, and trust me, their reactions are priceless. So remember to bring your camera, folks. Catching these moments on film? Now, that's magic!
Other Events at Magic Kingdom
If you're planning to spend the whole day at Magic Kingdom, then you definitely don't want to miss out on other fun events happening throughout the day. From live shows on the Main Center Stage featuring your favorite Disney characters to lively cavalcades popping up unexpectedly – there's always something exciting going on at Magic Kingdom! Again, check the My Disney Experience app for all of that day's showtimes.
What are Disney Cavalcades and What Does That Word Even Mean?
Alright, you got me. I'll confess, the first time I heard the word 'cavalcade', I did a double take too. Sounds like something straight out of a spelling bee championship, doesn't it? But worry not, dear reader, your friendly neighborhood Disney guide is here to crack the code.
In simple terms, a cavalcade is essentially a parade… just a mini one. Think of it as a parade's younger, sprightlier sibling. Instead of a long, structured procession, a cavalcade is a spontaneous burst of joy that can pop up anywhere, at any time. It's a small group of characters, often on floats, who suddenly appear and travel through the park to wave hello to everyone. It's like a surprise party, but everyone's invited!
And as for the word 'cavalcade', it comes from the Italian word 'cavalcata', which means 'to ride.' So, literally, it's a ride by or procession of people. In Disney speak, it's a magical surprise that'll make you feel like the guest of honor, every time!
Special Seasonal Parties
Now, let's talk about Mickey's Not-So-Scary Halloween Party and Mickey's Very Merry Christmas Party. These special events, during the Holiday season, are not to be missed, especially if you're a Disney fan! From special character meet and greets to exclusive fireworks shows, these parties offer a unique experience that is definitely worth the extra ticket.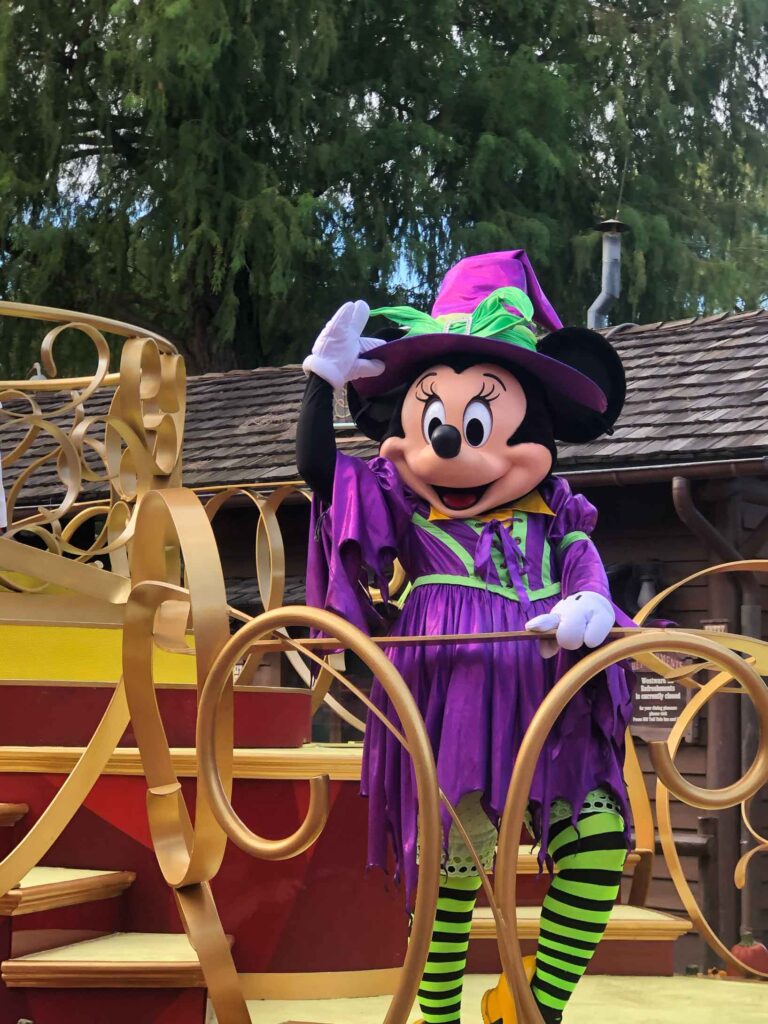 Pro Tip: Timing Your Visit to Magic Kingdom
Alright, folks, here's a Disney pro-tip that might just turn you into the savvy park-goer you never knew you could be. If you're like me and you love a good empty park day (because let's be honest, who doesn't love a shorter line for Space Mountain?), keep an eye out for these extra-ticket seasonal parties. Why, you ask? Well, on the days when either Mickey's Not So Scary Halloween Party or Mickey's Very Merry Christmas Party are scheduled, Magic Kingdom typically closes early for regular guests. Yes, I hear your gasps. But wait, it's not as bad as it sounds. In fact, it's actually a hidden blessing!
On these days, many guests will skip Magic Kingdom altogether to avoid the early closure. They'll flock to the other Disney parks, leaving Magic Kingdom less crowded during the day. So, if you're not planning on attending the party, it's the perfect time to visit! You can hit all the major attractions with minimal wait time and enjoy the park at a leisurely pace. Remember, it's all about strategy, my friends. So why not make the most of your day and rule the Magic Kingdom like a pro?
Are They Worth It?
Now, this is a common question – are these seasonal parties worth the extra ticket? Well, in my opinion, it's a definite yes! Not only do you get to experience Magic Kingdom in a whole new way, but you also get access to exclusive events and shows that are only available during these parties. And let's not forget about all the fun Disney-themed snacks and treats that are offered – trust me, they're delicious!
 So, if you're looking for a one-of-a-kind Disney experience, then these parties are definitely worth it!  So what are you waiting for? Grab your tickets and get ready to have a good time at Magic Kingdom!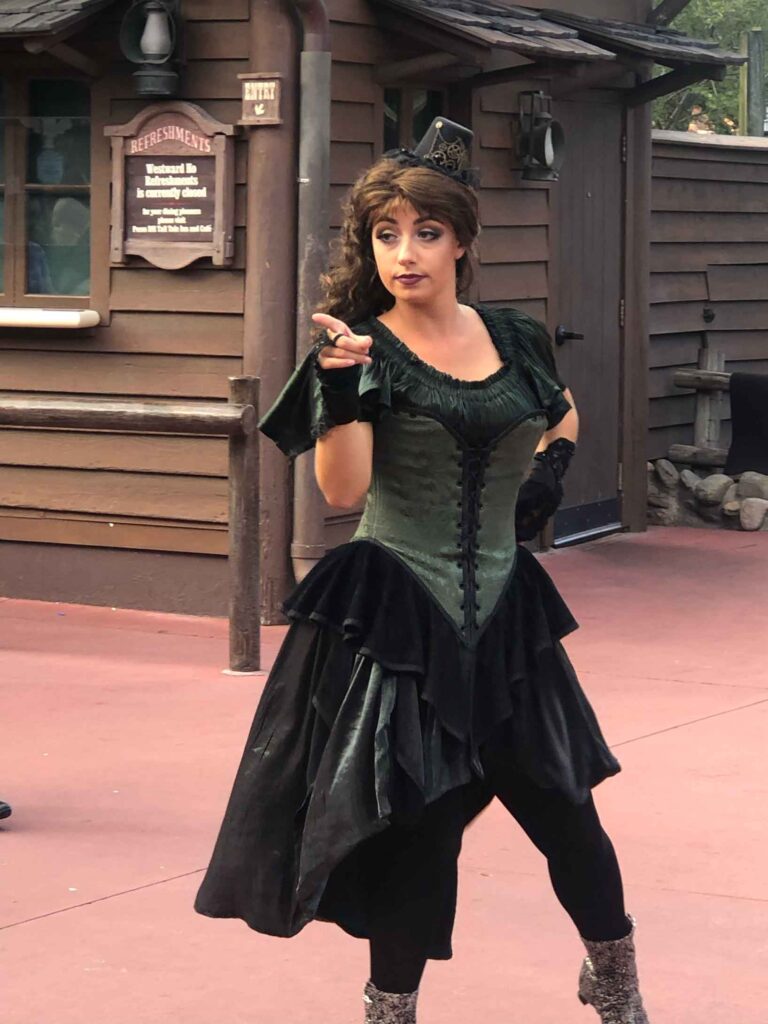 In Conclusion
The Festival of Fantasy parade at Magic Kingdom is truly a must-see event any time you visit Walt Disney World Resort. With its vibrant floats, beloved characters, and catchy music – it's a parade that will leave you feeling happy and nostalgic. And while the parade itself is a highlight of any trip to Magic Kingdom, don't forget to also check out other events happening throughout the day.
From live shows on the Main Stage to seasonal parties like Mickey's Not So Scary Halloween Party and Mickey's Very Merry Christmas Party – there's always something magical happening at Magic Kingdom. So, make sure to plan your day accordingly and use the My Disney Experience app to stay updated on all the happenings. And who knows, you may even catch a glimpse of your favorite character during one of the cavalcade! So come join in on the fun and experience the magic of Disney at Magic Kingdom today.