Gin and vodka are two very different spirits. When I think of gin, I think of herbal flavors, especially juniper and pine. But, vodka, is clear, tasteless, and odorless. Pretty easy to see the difference, but, even though these two spirits are different… they are similar as bartenders use them interchangeably between cocktails. In fact, the alcohol content of vodka and gin and very similar. So, let's explore gin vs vodka, and how they are used in recipes, like martinis and gin or vodka and tonics. Even though gin's flavors are much different than vodka, but it does complement cocktails traditionally made with vodka.
As I mentioned, vodka is clear and flavorless by design. Although, the new flavored vodkas now are very good and mixed with tonic or soda, are a nice cocktail. The U.S. Government defines vodka as a "neutral spirit or alcohol" that is filtered or treated "so as to be without distinctive flavor, aroma taste or color". Hmmm…. sounds slightly boring… but is it??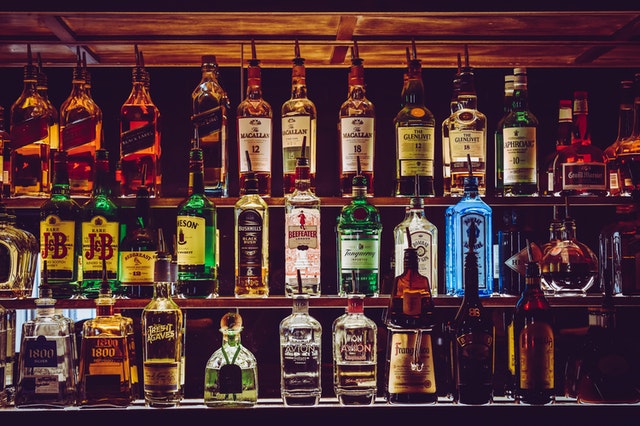 According to VinePair.com, vodka is the most consumed alcohol by volume since 1970 and 32 percent of the liquor market is vodka. Overall, Americans drink more than 3.5 shots of the stuff per month (probably more with COVID). But, in Russia and Eastern Europe, where vodka originated, they consume more than three times that amount. Russians average 17.28 shots per month. Wow!
Vodka comes from the Russian word "voda" which means water. No wonder they drink over 17 shots a month. Vodka can be made anywhere and with just about anything. Think about it… there's vodka made from grains such as corn, rye, or wheat. While others are made from potatoes, molasses, grapes, and even rice.
Popular vodka brands include Grey Goose, Three Olives, Ketel One and Tito's.
Some popular vodka cocktails made with vodka include (see recipes below):
Bloody Mary
White Russian
Moscow Mule
Vesper Martini – the drink of choice for James Bond
Gin has a juniper flavor and is at least 40 percent alcohol and has a distinctive character. The U.S. Government defines gin as a liquid "produced by distillation or mixing of spirits with juniper berries and other aromatics or extracts". Gin's origin can be linked to the Dutch genever, which is a wine based spirit. The English, during the 17th century, discovered this spirit and quickly renamed it "Dutch courage".
Over the years, genever moved away from being a wine based spirit but kept its floral and pine, and herbal notes. The United Kingdom, after gin was introduced in their country, renamed this concoction "mother's ruin" because of how much people were consuming the drink. This period is also known as the Gin Craze.
Classic cocktails can trace their roots to gin, which was very popular in the United States, especially during Prohibition. Gin and Tonic probably come to mind as one of the primary cocktails made with gin. I am not a fan of tonic water. Tonic has that distinctive bitter taste and I prefer soda over tonic. The bitter comes from the quinine dissolved in the carbonated water. Originally, quinine was used to prevent malaria, today's tonics have far less of it, but nonetheless, I still find it bitter. The gin was added to the tonic to help mask the bitter flavor of quinine. The gin and tonic was created in the British colonies and a medicinal spirit.
Gin is made one of three ways, either through a distillation process (distilled or redistilled) or compounded. It's a complicated process of mixing juniper berries, aromatics, and a neutral base spirit with fermented mash. But the outcome is a wonderful spirit.
Interesting fact (in case ever asked at a trivia night), there are five different styles of gin.
London Dry Gin- which has no sweetness
Plymouth Gin – must be made in Plymouth, England
Old Tom Gin – a bit sweet
Navy Strength – at least 57 percent alcohol
American Gin – more herbal
Popular brands of gins include Tanqueray, Bombay Sapphire, and Aviation.
Some of my favorite cocktails made with gin are the Negroni, classic Martini, and the ever popular Gin and Tonic. (See recipes below)
As you take some of the new knowledge with you to the liquor store, keep in mind, sloe gin is not a brand of gin. It's more of a liqueur, because of its sweetness than a distilled spirit like gin. Also, sloe gin is red in color. Its made from the sole berry and usually has a lower alcohol content than gin. Also, you may want to gather items to make a martini. Dry vermouth will probably be on your list. What is dry vermouth? It's a fortified wine that is flavored with herbs and spices. Guess you could say it's a modern day genever. Dry vermouth originated in France while sweet vermouth comes from Italy. Sweet vermouth is used in negronis. So, grab one of each.
Let's make some cocktails with these popular spirits.
Bloody Mary
Celery Salt
Lemon Wedge
Lime Wedge
2 oz vodka
4 oz tomato juice
2 teaspoons prepared horseradish sauce
2 dashes Tabasco sauce
2 dashes Worcestershire sauce
Pinch ground black pepper
Pinch smoked paprika
Garnish – parsley sprig, green olives, lime wedge and celery stick
Pour celery salt onto a small plate
Rub the lemon wedge on the rim of a pint glass
Roll edge of the pint glass in the celery salt until coated
Squeeze lemon and lime wedges into shaker and drop them in
Add the vodka, tomato juice, horseradish sauce, Tobasco, Worcestershire, black pepper, paprika, pinch of celery salt along with ice and shake.
Strain into pint glass and garnish
Moscow Mule
1 1/2 oz vodka
1/2 oz lime juice
1/2 cup ginger beer
lime wedge for garnish
Pour vodka and lime juice into a mug.
Add ice cubes and ginger beer
Stir to combine
Garnish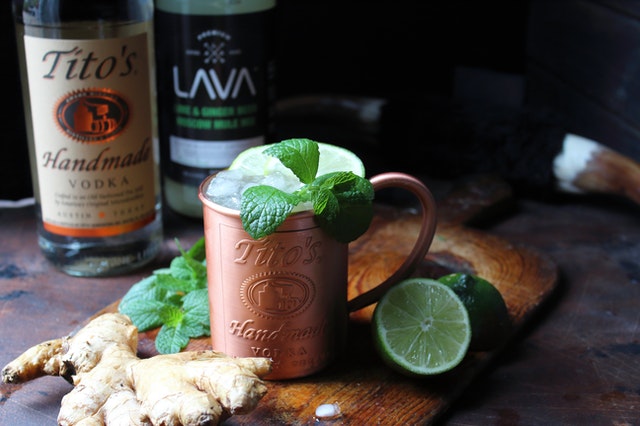 White Russian
2 oz vodka
1 oz Kahlua
Splash heavy cream
Add vodka and Kahlua to a rocks glass filled with ice.
Top with heavy cream and stir.
Tom Collins
2 oz London Dry Gin
1 oz freshly squeezed lemon juice
1/2 oz simple syrup
Club soda to top
Garnish with lemon wedge and maraschino cheery
Add gin, lemon juice, and simple syrup to a Collins glass
Fill with ice, top with club soda and stir
Garnish
Classic Gin Martini
2 1/2 oz gin
1/2 oz dry vermouth
ice
Lemon peel twist or olives for garnish
Chill martini glass in freezer
Combine gin and dry vermouth in a mixing glass
Add ice and stir until chilled, about 30 seconds (to make a stirred martini) or put into a cocktail shaker and shake about 10 seconds (for a shaken martini)
Strain into chilled martini glass
Garnish with a lemon peel, rub the peel around the rim of the glass and then drop in. Or garnish with speared olives.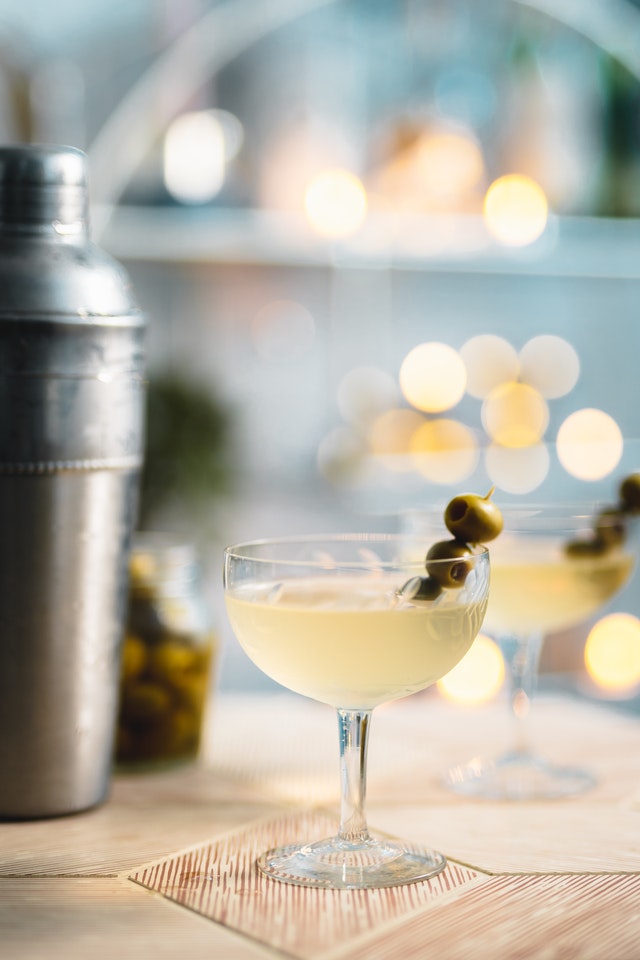 Gin and Tonic
2 oz gin
4 oz to 6 oz tonic – to taste
Lime wedge for garnish
In a highball glass filled with ice, pour in the gin and top with tonic
Gently stir
Garnish with lime wedge
Negroni
1 oz gin
1 oz Campari
1 oz sweet vermouth
Garnish orange peel
Add gin, Campari, and sweet vermouth to a mixing glass filled with ice. Stir until well chilled
Strain into a rocks glass filled with large ice cubes
Garnish with orange peel
Now to combine both vodka and gin….. let's make a Vesper Martini
3 oz gin
1 oz vodka
1/2 oz dry vermouth
Combine the gin, vodka, and dry vermouth into a cocktail shaker.
Shake and then strain into a chilled cocktail glass
Garnish with lemon peel